NEWS from BIC (OLD)
Branding + Integrated Communications
Human Rights Poster Finalists: THREE from BIC
In March 2015 it was announced that BICsters won BIG at the 2nd Annual Human Rights Poster Contest organized by the CCNY Human Rights Forum. The competition called for poster submissions from across the entire CUNY university system. Andy Kwan and Himani Gupta (BIC 2016) joined the #whyistayed #whyileft conversation by focusing their poster on domestic violence. BIC Class of 2017 student Naushika Perera invoked the right to clean water and sanitation with her powerful image of a child.
Stuart Elliot comes to campus as Lunch w/Leaders Lecturer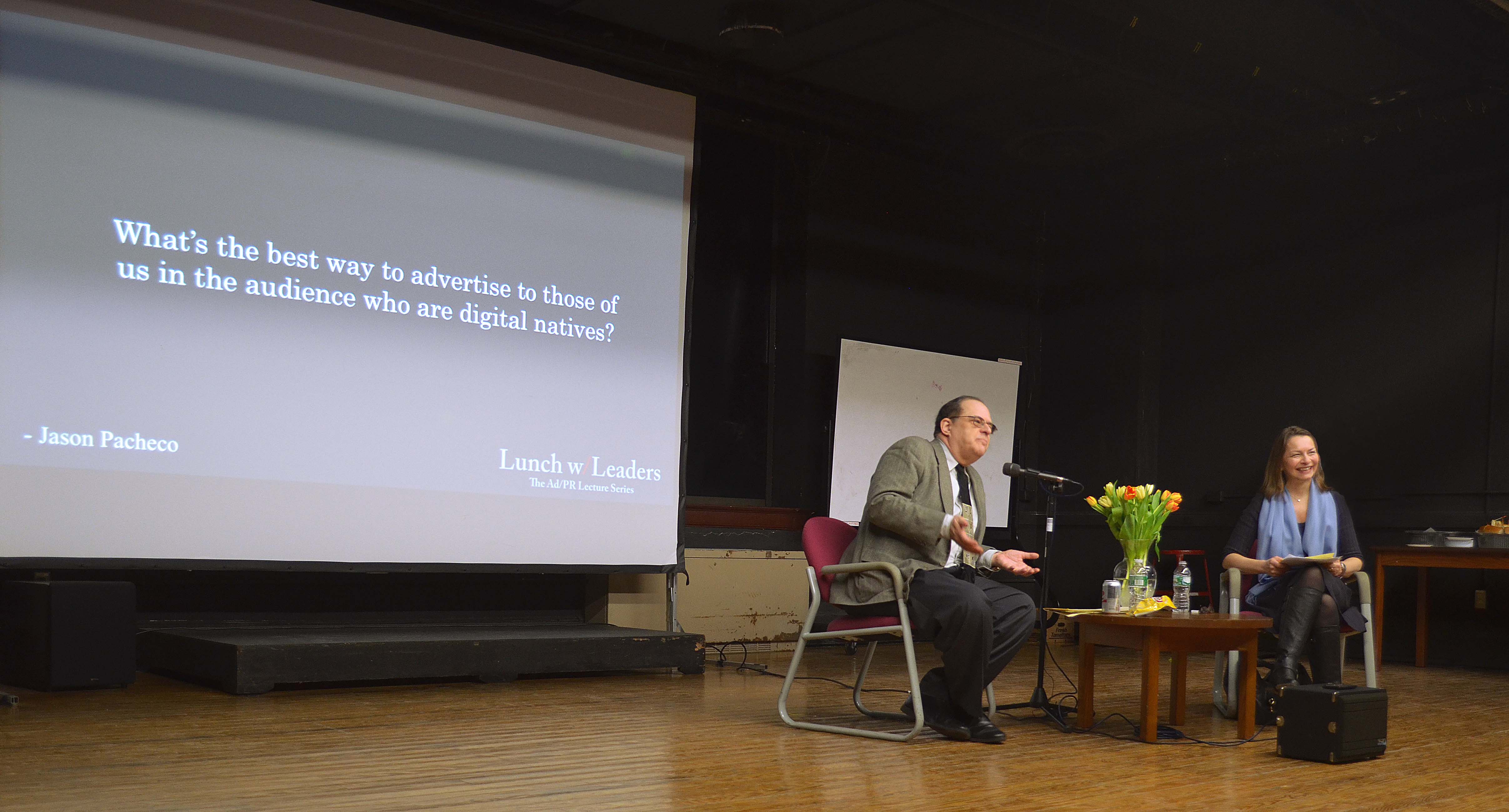 For nearly 25 years, Stuart Elliott was the advertising columnist of The New York Times writing the weekday advertising column to a circulation of 1.8 million readers. His weekly e-mail newsletter, In Advertising, was required reading for anyone in the media and communications business. And on Thursday, March 19, 2015, Stuart Elliott was CCNY's guest in the Ad/PR lecture series Lunch w/Leaders to an SRO crowd.
Interviewed by BIC Program Director Nancy Tag in a Q&A format, Mr. Elliott had a lively back and forth with students as he nimbly displayed his deep expertise of advertising past, present, and future.  While admitting that he's not a good forecaster of trends (he confessed that he didn't think Facebook would ever catch on with adults), he predicted that the rise in social media would create even greater opportunities for advertisers in the next five years. He advised students to study "just about everything" in order to be competitive for the industry. He also mentioned that while there are fewer "three martini lunches" than in Mad Men days, today's fast paced professionals could really use a bit more relaxation. Other topics included how to advertise to digital natives and ethical dilemmas he's faced while covering the advertising business.
Ivan Ramirez is BIC's latest MAIP Winner

Ivan Ramirez is BIC's latest MAIP Winner

 

 

BIC adds to its list of students who will be a part of the MAIP legacy with Ivan Ramirez who will be interning this summer in the Creative Department at McCann here in New York City. This follows last year's winner, Chris Villanueva, who interned at TBWA's Creative Department as part of MAIP. Another BIC student, Jacques Epangue, made it to this year's list of finalists. Three undergraduates of CCNY's Advertising and Public Relations program will also be MAIP interns: Joanna Ventour, Jerry Louis, and Rohan Patrick -- the last two for a second year in a row.

 
BICsters present at 2015 ARF RE:Think Conference
BIC Class of 2015 students Edmund Balogun and Nehal Mahmoud were featured speakers at The ARF's Re:Think 2015 conference In March at the New York Hilton. Their presentation on storytelling asked audience members to share a story in just six words and drew several participants. BIC professor Madonna Deverson, Head of Intelligence Group at Ogilvy & Mather, praised the presentation as "best of the day."
Douglas Davis Leads Inaugural BIC Class to First Capstone: A Pitch to Brand Columbia Children's Health
On December 18, 2014 in Shepard Hall, the inaugural BIC class pitched their 360 degree communications campaigns to its client, Columbia Children's Health. Located in northern Manhattan, Columbia Children's Health offers comprehensive health services to children, especially to those in need of special care. Its renowned Columbia network is a braintrust of the world's best physicians, surgeons, and caregivers who are passionately dedicated and embrace collaboration with colleagues over ego.
Fall 2014 Mix+Mentor at McCann Welcomes George Lois
BIC's annual Mix+Mentor event was graciously hosted by McCann Worldgroup in its NYC headquarters this past Thursday evening, December 4th.. The celebratory event allowed incoming BIC students (class of 2016) to mingle with industry professionals from agencies such as McCann, Y&R, Gravity, Ketchum, Weber Shandwick, IPG, Ogilvy, BBDO, Commonground, jacobstahl, the ARF as well as special guest and BIC Board Member George Lois in McCann's beautiful entertainment space featuring grandiose views of the city.
Fall 2014: SILVER in Young Glory Competition  

Touted as "Advertising's Tour de France for young creatives," Young Glory just awarded BICsters Javier Garcia and Batikan Aslan  (Class of 2015) a student Silver for their submission to this prestigious worldwide creativity competition. Responding to its brief for Ebola management, Javier and Batikan were asked to come up with a tool or service to help better manage Ebola outbreaks from prevention to faster notice and action.
3% Conference Poster Winners Win Trip to San Francisco Conference
BIC students Nehal Mahmoud and Luz Corona shared these pictures from their trip to The 3% Conference in San Francisco, November 3-4. Thanks to the 3% Conference, female talent and leadership are being celebrated and championed this week and we couldn't be more proud to have two of our brightest students there to share in the limelight. Luz and Nehal were among the 3% Student Competition scholarship winners awarded an all expenses paid trip to the conference!
ADCOLOR Future goes to...Amber Jackson
I
n an all-star announcement at the Time Warner Center, Amber Lynn Jackson earned a spot in the 2014 ADCOLOR Futures Program, a highly selective program in which young professionals receive training and mentorship via a sponsored trip to the annual ADCOLOR Awards and Industry Conference. To qualify, student applicants must embody the program's creed of Rising Up while Reaching Back.
Chris Villanueva wins highly selective ANA Multicultural Scholarship
Chris received the award in front of 500 industry people, composed of MAIP interns, alumni, and industry professionals of all levels during the Diversity Leadership Luncheon at the 4A's Face of Talent event. The Face of Talent is a two-day symposium that celebrates, challenges, and connects MAIP interns and industry professionals through an interactive forum, leadership luncheon, career fair, and evening reception. It provides an optimal platform to recognize talented multicultural individuals and agencies committed to diversity, as well as honor rising stars from 2014 MAIP.
Winning this award was especially sweet for Chris who interned at TBWA's creative department this summer as a MAIP intern. When the ANA Multicultural Scholarship was announced, Doug Melville, Chief Diversity Officer at TBWA\Worldwide, who was in the audience, proudly tweeted about it on behalf of TBWA\Chiat\Day.
BICster Maxime Menant Wins at Griffin Farley's Beautiful Minds Competition
Summer was especially productive for Maxime Menant, BIC '15. In addition to interning at Experian Marketing Services, he applied and was accepted to BBH's intensive program for strategic planners called Griffin Farley Search for Beautiful Minds. It's in honor of Griffin Farley, a Strategy Director at BBH New York who dedicated much of his time to aspiring planners/strategist hoping to break into the business.
This hybrid bootcamp and networking event is a free crash course in planning from some of the top planners in the industry. Afterwards, teams pitched their work at Google headquarters in front of a room packed full of department heads and recruiters. An auction at the end of the event gave executives an opportunity to bid on who they want to mentor. Maxime's team won "Most Culturally Relevant Strategy" -- as well as a ton of business cards from contacts who will remember them long after the summer of  2014.
BIC's first submission to the Zahn Social Innovation Competition is Semi-Finalist
It's one thing to be the first, but it's especially astonishing and gratifying to be the first in our first year: Debra Jones became our first BIC student to be selected by the Zahn Center to present her social innovation project to a panel of entrepreneurs, faculty, and venture capitalist (including Peter Zahn himself) in a competition worth $30,000. Her submission, MoYA -- or The Museum of Your Art -- allows non-artists to be part of and to amplify urban renewal through art. 
Mix+Mentor Special SPRINGTIME Edition...Just for the INAUGURAL Class
Ketchum's world headquarters office in New York graciously hosted, on May 28th, the end-of-academic-year Mix + Mentor reception for the first class of BIC students. 
BIC students and faculty, representatives from several additional advertising and public relations agencies in New York, and a number of Ketchum New York office employees representing the range of services and capabilities of the agency, met to celebrate BIC's students' achievements. 
Rob Flaherty, Senior Partner, CEO & President of Ketchum provided a warm and enthusiastic welcome. Barri Friedman Rafferty, Senior Partner and CEO North America, of Ketchum -- and Member of the BIC Board of Advisers -- joined discussions with students.
Nehal Mahmoud named Colin Powell Graduate Fellow
Ms. Mahmoud entered the BIC program in the fall of 2013 as a public relations specialist, and along with completing her Master of Professional Studies next year, she will pursue a research project on how brands can positively impact the conversation on diversity in the United States. She will also, as a Colin Powell Graduate Fellow, take part in weekly seminars and in public and networking events with distinguished public figures. The Graduate Fellows receive a cash stipend as well as individualized mentorship opportunities. 
Ms. Mahmoud has earned the Public Relations Diploma, from MacEwan University (Edmonton, Alberta, Canada) and holds a BS in Physical Sciences from the University of Alberta.
The Colin Powell Fellowship for Graduate Students is designed for high achieving City College of New York graduate students of any CCNY program, department, or school. Some fellows enter with interest and experience in public policy; others are students in engineering, science, the health science, the humanities, architecture, and film studies. All fellows are united by a desire to use their field of study to influence policy or social change. The Colin Powell School for Civic and Global Leadership at City College of New York is named after its Founder, General Colin L. Powell, U.S.A. (Retired) (CCNY class of 1958).
BICsters take FIRST and THIRD in CCNY Grad Symposium for Research and Creative Achievement
BIC students Raj Andrew Nicholas Gomes and Luz Corona received top honors at the CCNY competition for their development of an integrated communications campaign concept for the New York City Citi Bike program, "Create Your Own Stop," a project originally developed for their BIC class in Idea Development taught by CCNY Professor and BIC Program Director, Nancy Tag. 
Edmund Balogun received the third place recognition for his paper on "Market Research Bias," a paper he first developed for his BIC course,  Research and Measurement, taught by BIC adjunct professor, and EVP of Global Research at Y&R, Belle Frank.  (Mr. Balogun will also present this paper on April 24 at the State University of New York Graduate School at The College of Rockport annual Master's Level Graduate Research Conference.)
2014 LAGRANT Scholarship awards to BICsters Amber Jackson and Frederick Garcia
Two among BIC's first class of students, Frederick Garcia and Amber Jackson, have been selected -- among just 20 graduate students nationwide -- to receive The LAGRANT Foundation (TLF) scholarship for students who share the Foundation's mission of increasing ethnic diversity in the advertising, marketing and public relations industries.
Nancy R. Tag, BIC Program Director and CCNY Media & Communication Arts Professor said, "Our BIC student TLF scholarship recipients competed against students in long-established, high-profile graduate advertising, design, and MBA programs from leading universities throughout the country. Most of all, we are thrilled for Fred and Amber. We are also very proud that in our very first year, the BIC program has been acknowledged among the top tier of programs preparing the next generation of leaders in integrated communications professions."
SPRING 2014: BIC partners with Memorial Sloan Kettering to win $750,000 NIH grant.
The Immigrant Health and Cancer Disparities Service at Memorial Sloan Kettering Cancer Center together with the BIC master's program in the Media and Communication Arts Department at The City College of New York were awarded $250,000.00 a year for three years by the National Cancer Institute to develop, promote and raise awareness of the HPV vaccine in various VDS activities. With the help of the Mexican Consulate here in New York City, this program is expected to target and help parents of Mexican origin with age appropriate children access the HPV vaccine, raise awareness on the benefits of vaccination and promote active participation in regular visits to health centers and ultimately reduce the rates of cervical cancer and other infections associated with the virus.
November 2013: BIC professor is finalist for prestigious global ad award -- leveraging brand power to save lives. 
BIC faculty member Gerardo Blumenkrantz was art director and creative director for a campaign designed by Ogilvy Indonesia for the UNICEF (United Nations Children's Fund) that is a finalist for public service/social welfare in the London International Awards (LIA), a global creative competition of advertising, digital, branded content, design, production, and music & sound. The campaign leverages our engagement with the processes of social media to demand our attention and thoughtfulness about a significant health problem (that can be remedied with sufficient support) -- malaria among children in Indonesia. 
Blumenkrantz' campaign is a great example of branding at its best -- effective and compelling for its inherent communications attributes, but also arresting for its ideological and moral power.  For more info, go to our BIC blog.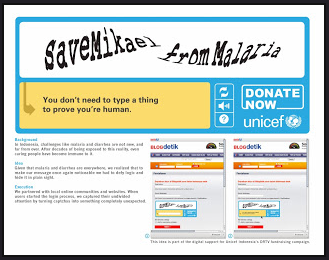 October 2013: BIC announces its inaugural Industry Advisory Board:
We are SO excited to introduce our inaugural Industry Advisory Board. The board members have extended their offers to provide professional development and various other kinds of support to the BIC curriculum and individual BIC students. The enthusiasm of these advisory board members, along with support from their organizations, is a testament to strategic direction of BIC in preparing the next generation of communications professionals. For more info, go to our BIC blog and see our new Advisory Board site to the left. 
Read BIC's first White Paper about the State of the Industry and what challenges the Leaders of the Future will take on.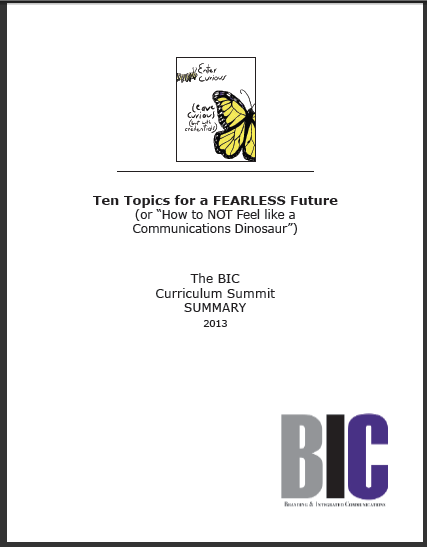 The Annual BIC Mix and Mentor Event. October 17th 5PM-7PM
Meet the incoming BIC Class, cultivate some relationships, offer to mentor a student, or get a jump on recruitment!
Hosted by Y&R
Entertainment Marketing 101. October 10th 6PM-8:30PM
Short Form Storytelling. November 21st 6PM-8:30PM
How to Market Film and Television: From Cutting Your Own Trailers to Engaging Audiences Across Media Platforms. 
Sponsored by PromBDA
Lunch w/Leaders: "Managing Yourself" October 10th 12:30-2PM
Katerina Zacharia, VP Industry Development & Diversity, lectures on strengthening the "soft skills" for success in the industry.
Lunch w/Leaders: "See What You Hear November"  21st 12:00-1:30PM
Roy Eaton, CCNY '50, the first person of color to break into the Creative Department of a major agency (Y&R), presents a lecture that showcases his musical gifts and writing talent.
Sponsored by Ad/PR Program and the CCNY AAF Club
BIC welcomed its first class with an Orientation and Lunch on August 20th. What an AMAZING group of students!!