Campus and Community Services: Get Involved
Colin Powell School for Civic and Global Leadership
Campus and Community Services: Get Involved
City College of New York Admissions Ambassadors
Admissions Ambassadors are not only academic achievers, but are recognized leaders on the City College campus. They generally serve as the first contact, and essential link, between the City College of New York (CCNY) Admissions Office and all prospective students.  Admissions Ambassadors come from diverse backgrounds, and are individuals who have:
•Skills and enthusiasm to present to groups
•The ability to think on their feet
•Knowledge of the CCNY Campus
City Tutors
The City Tutors (CT) was founded in 2013 by students and faculty interested in directly tackling the low retention and graduation rates at schools and in preparing  students for life after college, using volunteer tutoring as a vehicle to accomplish both goals. School departments gain trained tutors and tailored programming that assists in supporting their at risk populations; tutors in return gain professional experience, and access to long term professional development. A win-win model that ultimately benefits the school and its students.
Health Leads
Health Leads aims to expand the current health care system to address all patients' basic needs as part of the standard health care model. Student volunteers, called Health Lead Advocates, join the Health Leads clinic team and are trained to work with patients in various resource landscapes, including gas and electric assistance, health insurance, food pantries, etc.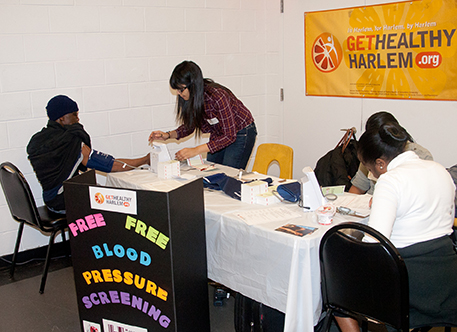 Let's Get Ready
Let's Get Ready, an educational nonprofit, prepares low-income high school students for college through SAT training and assistance with the college application process. Undergraduate students, known as coaches, teach different SAT components in math and reading for nine weeks and lead ongoing workshops on career development, financial aid assistance, application essays, and transitioning into college from high school. 
The Let's Get Ready chapter at CCNY started in response to a policy proposal from CCNY's chapter of Roosevelt Institute and the Community Engagement Fellowship. 
Contact Let's Get Ready                        Learn More
Peer Health Exchange
Peer Health Exchange provides a comprehensive health curriculum to teenagers in public high schools that lack health education so that all students can make informed decisions about their health. Volunteer CCNY students are trained to lead thirteen workshops on topics ranging from decision-making to substance abuse to nutrition and serve as role models in healthy behaviors and making the transition from high school to college. 
Peer Health Exchange was a Community Engagement Fellowship project from Fall 2011 to Spring 2013. 
Contact Peer Health Exchange                Learn More
Strive for College
Strive for College is a nonprofit addressing college access inequalities by partnering undergraduate students with low-income high school students to guide them through the college application and enrollment process. Undergraduate students, called mentors, meet with high school students on a weekly basis to communicate the application process and share their college experiences. 
Contact Strive for College                         Learn More