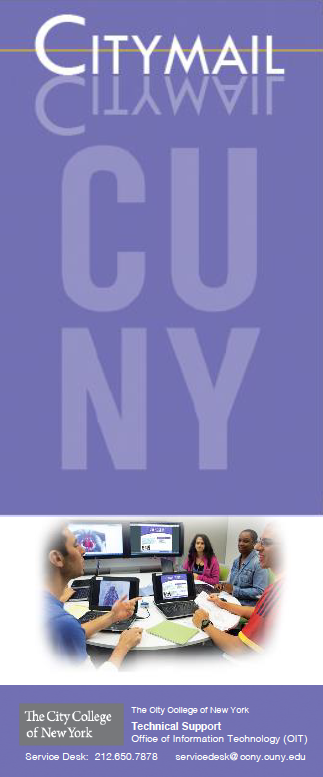 Activating Your CityMail
Activating your CityMail account is an important step in your transition to becoming a full member of the City College Community.  
All 
matters related to your admission and enrollment at the College will be sent through your CityMail e-mail account, as well many important alerts and official announcements.   
Your e-mail username also allows you to access the CCNY Wi-Fi, to log in to computers in the CWE Computer Lab (Closed temporarily due to the Pandemic).
 
Your CityMail account is automatically generated 72 hours after you register for classes. Activate your account
HERE.
I'm a new CCNY student. What's my e-mail address?
If you are a new CCNY student you will be assigned a username using the following convention: the first initial of your first name + up to 6 characters of your last name + 2 or 3 digits followed by
'@citymail.cuny.edu
' domain (i.e.
jdoe00@citymail.cuny.edu
).
How do I find my e-mail address and set my password (all students)?
As a new
'citymail'
user, you need to use the Office of Information Technology
'Password Reset (CCNY) '
or for students that first registered in
Fall 2016
or later in the
CUNY School of Medicine
use this form
' Password Reset (CUNY Med)'
. From this form, select both the
'Student'
and '
Change Password'
options. You will be prompted for information that will be used to look up your e-mail account username and allow you to set an initial password. If you ever need to lookup your username or to your username or to change your existing password, you should always use
'Password Reset (CCNY)'
.  
Instructions on how to activate your account can be found 
here.
Instructions on how to connect your mobile device to your CityMail e-mail can be found 
here
Last Updated: 01/31/2021 00:43