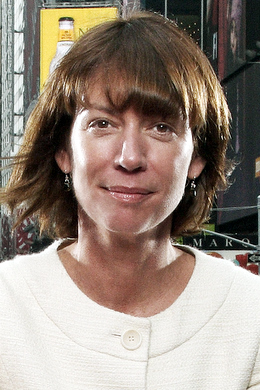 Transportation Commissioner Acclaimed for Innovations to Improve Safety, Reliability and Sustainability of New York Highways and Bridges
New York City Transportation Commissioner Janette Sadik-Khan will deliver the 8th Lewis Mumford Lecture on Urbanism 6:30 p.m. Thursday, April 5, at The City College of New York. Her topic will be "It's Not Impossible To Change A City." The lecture, held in The Great Hall of Shepard Hall, located at 160 Convent Avenue, Manhattan, is free and open to the public.
Ms. Sadik-Khan, who has served as transportation commissioner since 2007, is internationally recognized for her expertise in transportation issues, public policy development and innovative finance. Under her leadership, the transportation department has implemented an ambitious program to improve safety, mobility and sustainability throughout New York.
"Janette Sadik-Khan has been instrumental in transforming the character and use of New York's streets, our most foundational and important public space," said Distinguished Professor Michael Sorkin, director of the Spitzer School of Architecture's graduate program in urban design, which presents the Mumford Lecture.  
"Her work has dramatically advanced both our freedom of movement and of association, a change that has not simply enlarged the city's transportation system but its avenues of democracy and pleasure."
Beginning with "Sustainable Streets," the Department of Transportation's first strategic plan, which was published in 2008, Ms. Sadik-Khan has implemented a series of innovative projects. They include: creation of Broadway Boulevard; new Select Bus Service routes in the Bronx and Manhattan; the installation of 18 plazas and more than 260 miles of on-street bike lanes; car-free summer streets; weekend pedestrian walks, and the publication of a "Street Design Manual" and a "Street Works Manual" that define new standards for creating more durable and attractive streets.
In addition, she has initiated major rehabilitations of New York's bridges and has worked to bring city roads and sidewalks to a state of good repair. With a priority on transparency and customer service, Ms. Sadik-Khan has reshaped and expanded outreach to address the concerns of community boards, elected officials and individual citizens.
Ms. Sadik-Khan's contributions to public service and the field of transportation have been recognized with awards from the Rockefeller Foundation, the American Institute of Architects, the Municipal Arts Society, the National Resources Defense Council and NYU Wagner's Rudin Center for Transportation Policy & Management.  Pratt Institute, The New School and Occidental College have conferred honorary degrees on her for her work in New York City.  
Ms. Sadik-Khan holds a BA in Political Science from Occidental College, where she serves on the board of trustees, and a law degree from Columbia University.
About the Lewis Mumford Lecture
Named for writer, architecture critic and urbanist Lewis Mumford, who attended City College, the series invites the world's most distinguished urbanists to speak freely and publicly about the future of cities.  The series was initiated and is organized by the Graduate Program in Urban Design in the Spitzer School of Architecture.  Jane Jacobs, author of several seminal books on urbanism, including "The Death and Life of Great American Cities," delivered the first lecture in 2004.  For more information about the Lewis Mumford Lecture, contact Distinguished Professor Michael Sorkin at msorkin@ccny.cuny.edu.