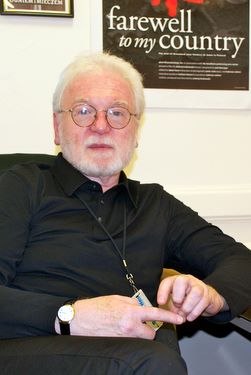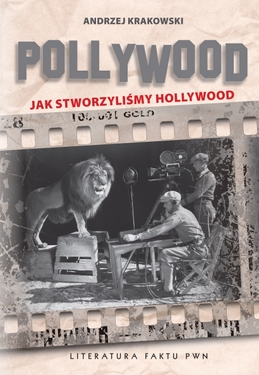 Andrzej Krakowski's New Volumes Tell Story of Poles in Early Hollywood, Offer Perspective on Art of Screenwriting
Andrzej Krakowski, City College professor of film and video, apparently spent little of his 2010-2011 sabbatical playing golf or lying on the beach. The Hollywood screenwriter, producer and director has two books coming out next month, including one written in his native Polish that is being made into a movie and stage play.
"Pollywood," published by PWN (Polish Scientific Publishers), tells the stories of many of the Polish immigrants who played pivotal roles in Hollywood's early development. Among those profiled are: Siegmund Lubin, inventor of the first movie projector; Samuel Goldwyn, who produced the first film shot in Hollywood, and Louis B. Mayer, who pioneered the studio system and co-founded the Metro-Goldwyn-Mayer studio.
"All these people knew one another, but they behaved like a dysfunctional family," Professor Krakowski said. "They fought with, stole from and badmouthed one another, but they closed ranks when they were in danger." For example, when Goldwyn almost went broke because the original print of his first film could not be played on the projectors of the era, Lubin produced a copy that would.
The genesis of "Pollywood" dates to 1995, when a Polish filmmaker sought his help in acquiring artifacts for an exhibit on the history of filmmaking. The exhibit was never produced, but, in the process, Professor Krakowski discovered that hundreds of people of Polish heritage played a role in creating the film industry.
With little effort, he built a list with more than 450 names. Most of them were of Jewish background.  They came from different circumstances than other immigrant groups such as Italians, Scandinavians and Irish, he noted. "They were used to reinventing themselves and circumventing rules as a way to survive. Also, they had no place to go back to. Film was a big equalizer for them. They saw it as the future."
Professor Krakowski, who came to the United States in 1968, says he wrote the book in his mother tongue because he wants his country to take pride in the contributions of their countrymen in film, just as they do in such Polish icons as composer Frederic Chopin and scientist Marie Curie.  "There's no reason a new generation can't learn the truth.  People should be proud of their roots," he said.
Other than a screenplay, this is his first project in Polish since he left Poland.  The movie produced from that script, "By Fire and Sword," which was released in 1997, is the highest-grossing Polish film to date.
Additional notable figures profiled in "Pollywood" include the Warner brothers, the Schubert brothers, Al Jolson, Paul Muni, Pola Negri and Billy Wilder.  In addition to the book, which was exhibited this month at the Frankfurt International Book Fair, film and stage versions of "Pollywood" are currently in production.  Professor Krakowski says he is planning a second volume that will include animator Max Fleisher, television pioneer David Sarnoff and director Otto Preminger.
His other new book, "The World Through the Eyes of a Screenwriter," fills a niche between textbooks, many of which are dry, and biographies.  It is being published by Linus Books.
 "A lot of the book is autobiographical, but it delves into the nitty-gritty," says Professor Krakowski, whose 18 script credits holds the U.S. record for writers born and educated in non-English speaking countries.  "I discuss how to find a story and the process of writing in a very unorthodox way.  All the canons I was taught 40 years ago are dead today."
On the Internet
Professor Krakowski's profile
/prospective/humanities/bfafilm/faculty/bfa_akrakowski
Andrzej Krakowski on IMDb
http://www.imdb.com/name/nm0469373/