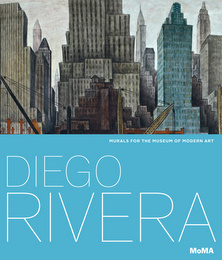 Eighty years after Mexican muralist Diego Rivera's record-breaking exhibition at New York's Museum of Modern Art (MoMA), the portable murals he created for that show are once again on display at the midtown Manhattan museum. City College of New York art historian Anna Indych-López co-authored with exhibit organizer Leah Dickerman, curator in MoMA's department of painting and sculpture, the accompanying book commissioned by the museum.
The exhibit from which the book takes its title, "Diego Rivera: Murals for the Museum of Modern Art," runs through May 14, 2012.
"The book casts Rivera as a highly cosmopolitan figure who traveled between Russia, Mexico and the United States and examines the intersection of art making and radical politics in the 1930s," said Professor Indych-López, a leading authority on Rivera and modern Latin American art.
Dr. Indych-López, an associate professor of art history, wrote essays on eight frescoes produced by Rivera for original exhibit, which was MoMA's second monographic show and set attendance records during its five-week run in late 1931 and early 1932. Five of the movable, freestanding murals are on display this time.  They depict events in Mexico and life in New York during the Depression.
Other essays she wrote for the book investigate the international politics of muralism, Rivera's history with MoMA and the iconography of the portable murals. The book is illustrated with reproductions of each panel as well as related paintings, drawings, prints and documentary photographs.  A section by MoMA conservators delves into the technical aspects of the artist's working process.
"Diego Rivera: Murals for the Museum of Modern Art" is Professor Indych-López's second book. Her first volume, "Muralism without Walls: Rivera, Orozco and Siqueiros in the United States, 1927-1940" (University of Pittsburgh Press), was published in 2009.
A frequent contributor to exhibition catalogues on modern Mexican and Latin American art, she fervently applies her research to her classroom work.  "My teaching benefits immeasurably from my in-depth research into Mexican muralism and other topics and I love sharing my research with my students. It provides me with the ability to have insights into the production and historical contexts of many of the works of art that I teach."
She noted that works by muralists such as Rivera, in particular, deal with issues such as public art, identity formation, race and class relations, popular art, reception and state patronage – topics that resonate with students.
A graduate of the Institute of Fine Arts of New York University where she received her PhD (2003), Professor Indych-López teaches graduate and undergraduate level courses on Modern Mexican art and Latin American and Euro-American modernism at CCNY.  In addition, this fall, she taught a seminar at CUNY Graduate Center on Mexican Muralism: Revolution, Public Art, and Vanguardism.