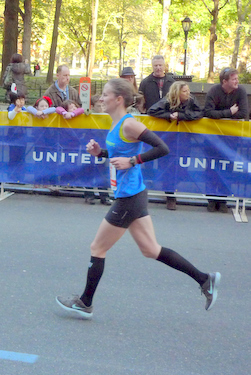 Megan Foster's Time Thrusts Her Into Sub-Elite Category of Women Marathoners; One of 18 from City College to Cross Finish Line
When she ran in the New York City Marathon three years ago, Megan Foster suffered stress fractures in her shins, forcing her to miss the next two years. This year, she adopted a new training regimen, and she completed the 26.2-mile course in just under three hours, a personal best.  
Her official time, 2:59:35, placed her 59th among all women in the race and thrust her into the sub-elite category, one notch below the world's best female marathoners. She averaged one mile in six minutes and 52 second. A veteran of five other marathons, her previous best time was 3:12.
Ms. Foster, a lecturer in The City College of New York art department, was one of at least 18 members of the CCNY community who went the distance in the November 6 event, which draws more than 100,000 applicants annually. They include faculty members, undergraduates and graduate student from CCNY's main campus as well as the Center for Worker Education in Lower Manhattan.
"I learned to trust cross-training and I was able to do more with less running," she says of her new training regimen; four days running, two days cross-training. Ms. Foster began marathon training four months ago and runs with Williamsburg Track Club.
When she began, she set a target of running eight to 10 miles at a time and eventually worked up to 22 miles. When not training, her average runs are between six and eight miles.
As for diet during training, "you can eat whatever you want," she says. "You can eat lots of fancy cheeses to keep up with the amount of calories you burn."
While Ms. Foster is a lifelong runner who competed for her high school growing up in Lynn, Mass., Corinna Messina, a lecturer in the foreign languages and literatures department, was a novice who says she woke up one day last February and decided she wanted to run in a marathon. "I wanted to acquire the discipline that comes with preparing for a marathon," she explains.
She trained alone, following a very precise, prescribed regimen of running four times a week. Things were going smoothly until last August, when she developed illiotibial band syndrome (ITBS), a thigh injury common among long-distance runners.
Even though she was unable to get rid of the inflammation, she was determined to participate and complete the course, which she did by walking. Her time was 7:05:59. "I had invested so much time and effort and people were expecting me to run, so I couldn't let it drop," she says.
Ms. Messina had raised $2,620 – $100 per mile – for Team for Kids, one of the charities supported by the marathon. She became interested in the charity because of its collaboration with public schools and the possibility of meeting some of the children it serves. Team for Kids supports free and low-cost school and community center-based health and fitness programs for children who otherwise would have little or no access to regular physical activity.
In addition to asking for contributions from friends, family and friends of friends, she organized a silent auction and three dinner events where she and a friend from Naples cooked Italian specialties.  
While disappointed she was unable to run, Ms. Messina, who hails from Rome, says she was glad just to be able to walk across the finish line. "This is what it is. You just have to deal with what life throws at you. I would do it again, even with the inflammation, but I still have to run one."
A list of members of The City College community who completed the 2011 ING New York City Marathon with completion times and place follows. Congratulations to all.
| | | |
| --- | --- | --- |
| Name | Time | Place |
| Megan Foster  | 2:59:35 | 1,088 |
| Margaret Murphy (McMahon) | 3:30:24 | 5,566 |
| Tony Ro | 3:41:20 | 8,427 |
| Catrin Svensson | 3:42:15 | 8,661 |
| Christian Fauerbach | 3:43:45 | 9,111 |
| David Rumschitzki | 3:44:12 | 9,191 |
| John Adamski | 3:44:44 | 9,370 |
| Evan Friss | 3:48:00 | 10,441 |
| Marco Tedesco | 4:22:41 | 23,369 |
| Jessica Lebron | 4:35:57 | 28,286 |
| Heather Laurel | 4:44:26 | 30,769 |
| Michael Levin | 4:44:36 | 30,976 |
| Don Mafria | 4:54:39 | 33,793 |
| Harris Falk | 5:10:46 | 37,987 |
| Mustapha Raha  | 5:34:10 | 41,680 |
| Yinka Akinsulure-Smith | 5:40:41 | 42,588 |
| Chen Chen | 5:50:47 | 43,555 |
| Corinna Messina | 7:05:59 | 46,266 |
Addendum: After this story was published, two other members of The City College community reported their finishing times. Andrew Pollard's time was 4:17:37 (21,492th place) and Amy Adams ran the course in 5:56:20 (44,108th place).