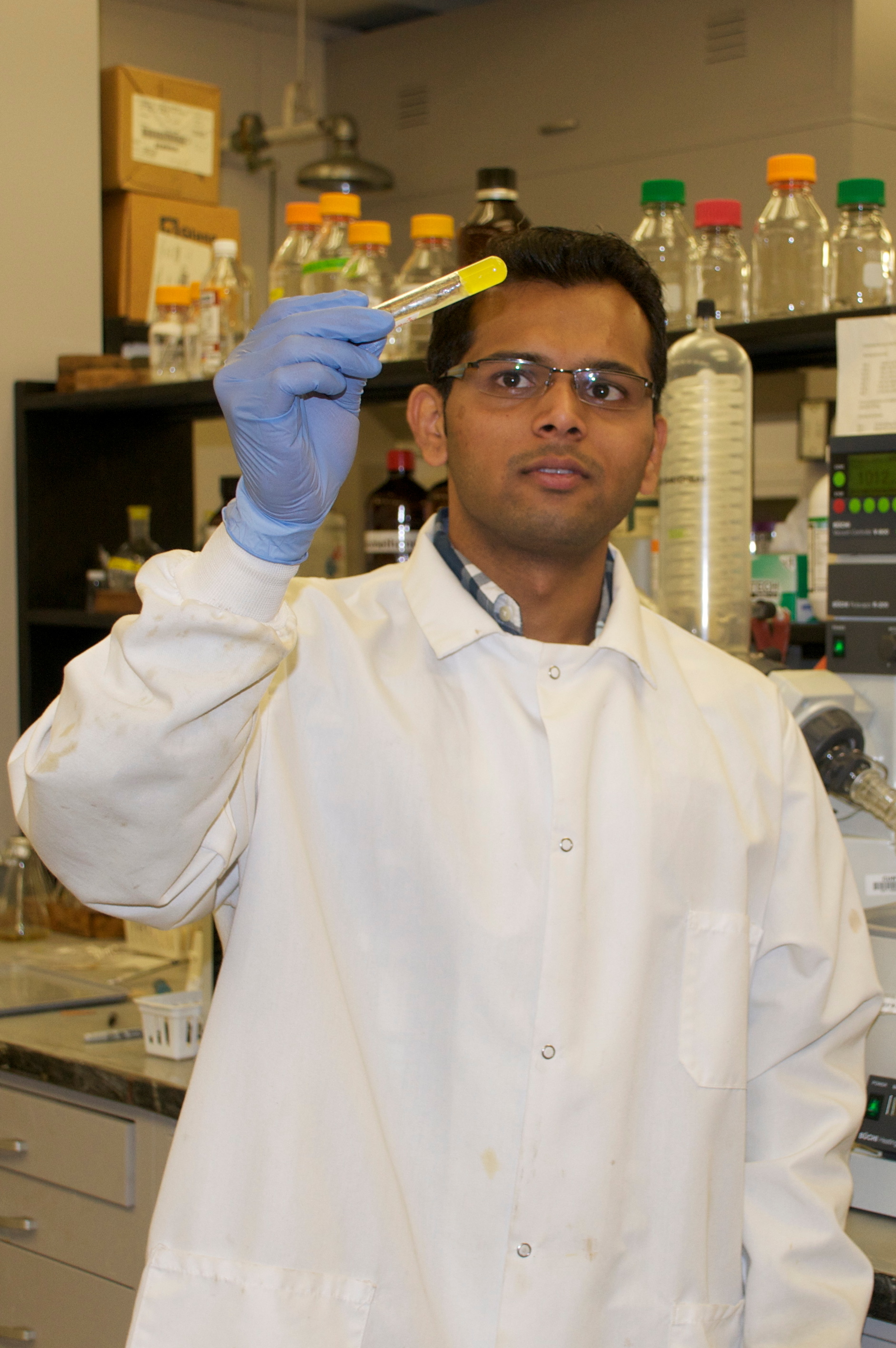 Swapnil Jadhav, a graduate chemistry student at The City College of New York, has received two scholastic merit awards from the American Chemical Society (ACS) and the American Oil Chemists' Society (AOCS).  Both honor graduate-level research he has conducted on green chemistry using renewable resources.
Mr. Jadhav is directing his graduate research on finding a way to reduce the usage of petroleum-based resources, which can prove to be harmful to the environment.  Part of his research includes testing biodegradable natural resources, like sugar, to create more environment-friendly products.
The Annual ACS Travel Ciba Award in Green Chemistry sponsors student participation in the American Chemical Society national conference, March 27 – 31 in Anaheim, Calif.  It provides up to $2,000 for travel expenses.
The AOCS 2011 Ralph Potts Award recognizes graduate research in the field of fats and oils.  After submitting his research on "multifunctional green surfactants from crops," Mr. Jadhav received a $2,000 honorarium and travel allowance to attend the 102nd AOCS Annual meeting and expo, May 1 – 4 in Cincinnati.
Mr. Jadhav, a native of India, came to CCNY with the help of his mentor, Dr. George John, associate professor of chemistry, who specializes in organic materials, bio-nanotechnology and green chemistry.  "After researching scientists who utilize renewable resources, I found out about Professor John," he said.  "I got in contact with him and he encouraged me to apply to CCNY, and motivated me with my research and academic achievements."
Professor John finds working with Mr. Jadhav easy. "As a mentor, your job is to engage students," he explained.  "It helps if the student has a focus so that it is easier to motivate them.  Swapnil already had a focus on green chemistry when I met him.  He's hard-working and passionate about what he does."
In addition to his studies, Mr. Jadhav is a member of the New York Academy of Sciences (NYAS), an organization whose mission is to advance scientific research and knowledge and to promote the resolution of society's global challenges through scientific-based solutions.
His research with Professor John has been published in two top journals, "Angewantde Chemie International Edition" and "Langmuir."
On the web:
Professor John's lab
http://www.sci.ccny.cuny.edu/~john/
American Chemical Society
http://portal.acs.org/portal/acs/corg/content
American Oil Chemists' Society
http://www.aocs.org/