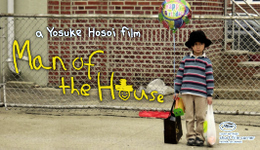 Ever since he began making films eight years ago as a teen living in the suburbs of Tokyo, Yosuke Hosoi has dreamt of going to the Cannes Film Festival. Next week, The City College of New York alumnus, who earned a BFA in film and video production in 2011, will fly to France today to fulfill that dream, exhibiting his thesis film, "Man of the House," in the festival's Short Film Corner. The festival runs May 16 – 27.
"He's been planning to do this for a few years," said CCNY Professor of Film Campbell Dalglish, who taught Yosuke in three classes. "He came in saying he wanted to do this and now he's made it. It's great news."
"Man of the House," tells the story of a five-year-old boy who takes seriously his father's charge to be "the man of the house and look after his grandmother" because the tsunami has prevented him from coming home after a business trip. The 13-minute film follows the boy as he goes out to buy a strawberry shortcake to cheer up his grandma, who fears for her son's safety.
The film won for best production design at City College's 2011 film festival and was exhibited this year at the Japan Film Festival in Los Angeles and the Queens World Film Festival.
Yosuke explains he had written the core story, which focuses on the relationship between the boy and his grandmother, prior to the tsunami. However, he says he was inspired to rewrite it just as he was set to begin filming by the dilemma of an American friend living in Japan whose mother wanted him to return home.
Most of the story is personal – a tribute to the relationship Yosuke had with his grandmother, Kin Hosoi, who often looked after him while his parents were working. The film is dedicated to her memory.
Last October, he returned home to visit with her shortly before her death and to volunteer for tsunami cleanup. He also filmed an additional scene for the film showing the aftermath of the tsunami and depicting his homeland recovering from the tragedy with life returning to normal.
"As a young person, I don't have much story to tell," the 26-year-old filmmaker says. However, one of his professors, Andrzej Krakowski, taught him to "act locally, but think globally. Your story can really be local, but its emotional level can reach out to others, even people who did not experience what you did."
"Yosuke knows how to tell a story with the camera, and that is something not a lot of students know how to do," Professor Dalglish says. "He focuses on visual details and puts human elements in to tell the story as the detail either moves or the action slows down to focus on an object. It's not what the character says, but what they do and what they see that drives the story."
Professor Dalglish adds that Yosuke possesses the two attributes needed to succeed as a filmmaker, talent and persistence. "I've never had a BFA student write and rewrite so many times and come in for pointers," he continues. "He wants advice, seeks advice, takes advice and then goes further with it. It's very rewarding for a professor when a student does that."
Another student of Professor Dalglish from Japan, Yoko Nagao, exhibited her thesis film, "Lost Memories," the story of a young girl and a mother afflicted with Alzheimer's, at Cannes in 2009. "Yoko was an inspiration for Yosuke," he adds.
After graduating from high school in Japan, Yosuke took a year off to make films in Tokyo with his friends. Then he moved to California and earned an associate's degree from Santa Monica Community College while "doing whatever film work I could get."
He decided to come to New York for his bachelor's degree because the city offered more culture and was more like his hometown than Los Angeles. He enrolled at City College because the film and video production major "seemed to teach everything" and the school's "beautiful campus" appealed to his senses.
While he thanks all of his professors and classmates for helping him, Yosuke credits Professor Dalglish with showing him in screenwriting classes how to tell stories, and in directing class how to talk with actors to get them to convey the emotion behind a scene. "You don't use adjectives to describe what you want. You give them the situation and let them own it."
He also says he was helped by editing lessons from Professor Babak Rassi. "The scales fell from my eyes when he cut my 20 minute rough-cut to 10 minutes and it still told the story. My message got even clearer."
Since graduation, Yosuke has kept busy working as a cinematographer and directing music videos and commercials. One of his regular clients is a production company that makes films for Brooklyn's Hasidic community.
On the Internet: