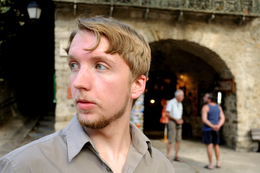 Alumnus Says Storytelling Skills Learned as Grad Student Helped Him Transform Happy Teenage Moment into Winning Commercial
The day his father bought him his first car was one of the happiest of Zachary Borst's teenage years. That joy provided the creative spark for a television commercial that will air during Super Bowl XLVI that the 2010 graduate of CCNY's MFA program in media arts production wrote, directed, produced and edited. His spot bested 200 other entries in a competition sponsored by Chevrolet, earning him tremendous exposure and a $25,000 cash prize.
"The exposure is worth millions!" said Nancy R. Tag, CCNY professor of advertising and chair of the Media and Communication Arts Department. "Last year, over 111 million people watched the Super Bowl. The cost to air a 30-second spot averages around $3.5 million. Already the buzz for Zach's spot is amazing. It is the rage on Internet previews." As of 11:15 a.m. EDT today, the spot had 892,455 views on YouTube.
 
In his winning spot, which Mr. Borst produced in 30- and 60-second versions, a robed high school graduate is blindfolded and led outdoors by his mother to see his graduation present, a mini refrigerator for his college dorm, placed near the sidewalk. However, when he removes the blindfold his eyes are drawn to a shiny new yellow Camaro convertible parked in front of his house, and he and his friends break into unrestrained elation thinking that the car belongs to him.
"The idea came from my childhood," he explained. "My dad was a cop and his big gift of childhood was getting us a car when we were seniors. A first car means the world to you, so we played off the cliché of the car as a gift, only the joke is that the kid does not get the car. It's wacky, funny and loud and what people look for in Super Bowl commercials."
Mr. Borst, a Long Island native who earned his bachelor's degree in moving image arts at Adelphi University's honors college, came to City College for graduate school at the suggestion of a classmate, Ryan Werner, who was already enrolled here.
 
While he had already learned a great deal about filmmaking techniques as an undergraduate, at City College Mr. Borst mastered an intangible: the art of storytelling. "Everyone here is focused on getting a good story down," he said. "Story is predominant. After that, everything else falls into place."
Mr. Borst said he had a "phenomenal two years" at CCNY, adding that the affordable CUNY tuition made it an unbeatable value. "The greatest thing I learned was how to get grounded in storytelling and writing and working with actors."  
In the classroom, his professors went into every facet of production in depth, including casting, crewing up and breaking down a set. Among those who he said influenced him were: Jerry Carlson, who teaches theory; Herman Lew, who teaches cinematography; Babak Rassi, who teaches editing; Campbell Daglish, who teaches screenwriting, and Antonio Tibaldi, who teaches storytelling and working with actors. "It's incredible that they are all working filmmakers," he added.
However, the diverse students who comprised his cohort had even greater influence on him. "The program picks students from all over the world," he noted. "I met people from Taiwan, Korea, India, Russia, Mexico and Argentina. It was a real global experience." He even accompanied classmate Mariano T. Rodriguez to France to film a documentary.
Since graduating from City College, Mr. Borst has supported himself primarily through production assistant gigs. However, when he learned about the Chevrolet contest he pulled out all the stops. "I'm a writer, director and editor," he explained. "I entered because I got to have full creative control. It was my baby. I wrote, produced and edited it. It was a dream come true plus I got to work with my friends."
Among the friends he worked with was an Adelphi classmate, Michael Ilkiw, who filmed the spot in front of his home in Floral Park, N.Y. Michael's father portrayed Mr. Johnson, the Camaro's real owner, who drives off with the car.
Having many of his friends help him enabled Mr. Borst to keep the spot's production budget under $500, which was spent mainly on renting the Camaro, gas and tolls. "The toughest production challenge was finding the Camaro," he said. Mr. Borst located the car at a rental agency at Newark Liberty Airport and had to take three trains from Long Island to New Jersey to pick it up.
Over the past year, Mr. Borst entered and won prizes in several advertising contests for spots he produced for New York Life, Sovereign Bank, Yellow Pages and AVAYA, among others. The commercial that will air on the Super Bowl is the third he has produced for Chevrolet to win a prize.
On the Internet
Zachary Borst's Chevy Happy Grad Spot
City College MFA Program in Media Arts Production
City College Media and Communication Arts Department