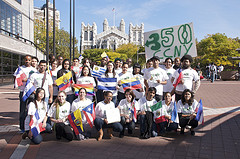 Responding to Environmental Crisis, Students Take Future Into Their Hands
In the lead-up to the 40th Anniversary of Earth Day, students from campuses around New York City are coming together to form the Amp Up Network.  The first Amp Up Student Summit will be held at The City College of New York (CCNY) 10 a.m. to 4 p.m. Saturday, March 27 in the North Academic Center Ballroom.  
The grassroots Amp Up Network will serve to connect environmental student activists on college campuses throughout the five boroughs.  More than 100 students from CUNY and private colleges in New York City plan to attend to share skills, information and resources that will enhance their organizing abilities. 
"I think an active citywide environmental network is something that has been needed for a long time, and I am glad to see it come to fruition," said Megan McNally, one of the principal organizers from Columbia University. "The Amp Up is the first step in increasing the energy and enthusiasm in the student environmental movement.  By coming together and problem-solving and skills-sharing, we will be stronger and more effective leaders of today and tomorrow."    
The event is being held at CCNY because of the strong commitment to environmental activities among its 16,000-strong student body. In addition to working on citywide Earth Day activities, CCNY students are planning an Earth Week celebration on campus.  
They have also conducted events to raise awareness among the student body about recycling and reducing paper consumption and worked on the CCNY Green Task Force, which recently completed a plan to reduce the College's carbon footprint and greenhouse gas emissions. Students also provide an orientation on sustainability for incoming freshmen.  
"I am very honored to know the students here," said Holly Kallman, sustainability coordinator at CCNY. "Our students are incredibly hard working and studious. For them to take on this extra responsibility to organize this, especially when they would otherwise be resting on spring break, is commendable and inspiring.  It speaks to their commitment and responsibility to their community, and these issues that most concern them."