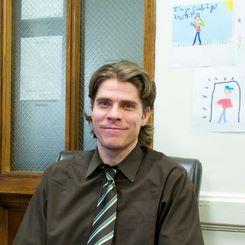 Award to Support Study of Music in Extremist Propaganda
Dr. Jonathan Pieslak, associate professor of music at The City College of New York, is one of 180 scholars, artists, and scientists from the United States and Canada awarded Guggenheim Fellowships for 2011.  His project, a study of the music of indoctrination and propaganda in extremist cultures, was chosen from among nearly 3,000 applicants.
Professor Pieslak's proposal grew out of his widely acclaimed 2009 book "Sound Targets: American Soldiers and Music in the Iraq War" (Indiana University Press), in which he devoted a chapter to the use of music as a recruiting tool by Al Qaeda of Iraq.  "There is a strong correlation between that kind of music and what happens in other extremist communities," he says.
A scholar who has published extensively on critical theory, popular and metal music and music and war, his goal is to study how extremist groups appropriate music as a propaganda and indoctrination tool.  While there has been much scholarship on the role of emotion in extremism, Professor Pieslak aims to take that a step further and examine how music can be used to take a message and animate it through emotion.
"These groups say to people 'you have something to fear.  It threatens your identity or race, and if you don't resist they will take everything you have,'" he explains.  "If you can project that through music you can play upon those feelings."
The music used for this purpose can be non-ideological.  For example, Tom Petty's "I Won't Back Down" was a campaign song for Democrats Hillary Rodham Clinton and Tom Suozzi (who ran for governor of New York in 2006) as well as Republicans George W. Bush and Ron Paul.  Even though the song alludes to a personal struggle Mr. Petty was dealing with, "when it is presented in the context of 'us vs. them' it takes on a different meaning," Professor Pieslak points out.
Further, ideology plays second fiddle to social bonding in extremist group recruitment, he notes, adding that music creates social bonds.  For example, neo-Nazi groups often play hard rock and heavy metal because the young adult males they want to recruit are drawn to that genre.  Country and western music is often heard at Ku Klux Klan rallies in the South for the same reason.
Another important aspect of music is its mobility.  It can easily be transported, especially in a world of iPods and MP3 players.  In the Middle East, Islamist extremists collect anasheed – sacred Islamic songs – from different countries.  Many of these have been integrated into the propaganda of extremist groups, says Professor Pieslak, who holds a PhD in music from University of Michigan.
Through his research, Professor Pieslak hopes to learn about the extent to which music makes people more receptive to extremist messages, as well as how and why.  "Having awareness of how the music can function empowers us as listeners," he adds.  "It means the difference between knowing that process and how it works and not being aware of it as it is happening to you."
 
About Guggenheim Fellowships
Often characterized as "midcareer" awards, Guggenheim Fellowships are intended for men and women who have already demonstrated exceptional capacity for productive scholarship or exceptional creative ability in the arts.
Fellowships are awarded through two annual competitions: one open to citizens and permanent residents of the United States and Canada, and the other open to citizens and permanent residents of Latin America and the Caribbean.  Candidates must apply to the Guggenheim Foundation in order to be considered in either of these competitions.
The Foundation receives between 3,500 and 4,000 applications each year.  Although no one who applies is guaranteed success in the competition, there is no prescreening:  all applications are reviewed.  Approximately 220 Fellowships are awarded each year.
On the Internet:
Professor Pieslak's profile
/prospective/humanities/music/faculty/jpieslak
American Soldiers on Music
http://jon.pieslak.com/asom/
Sound Targets
http://www.soundtargets.com/
Guggenheim Fellowships
http://www.gf.org/about-the-foundation/the-fellowship/