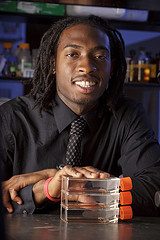 Bronx Resident to Attend SUNY Downstate in Fall
Maurice Selby, a senior at The City College of New York (CCNY), has been awarded the 2010 Jonas E. Salk Scholarship to study medicine. He is among eight CUNY students to receive the prestigious scholarship, which was presented in a ceremony May 12 at Baruch College.
Mr. Selby, a Bronx resident originally from Staten Island, will receive an $8,000 stipend to assist with medical school. The prestigious Salk Scholarships are awarded to students chosen by a panel of distinguished physicians for their outstanding academic records, quality of their research projects and volunteer work.
The scholarships are named for Dr. Jonas E. Salk, a 1934 graduate of City College who developed the polio vaccine in 1955. Dr. Salk turned down a tickertape parade in honor of his discovery, asking that the money be used for scholarships. That year, New York City provided initial funding for the Salk Scholarships.
At CCNY, Mr. Selby majored in English with a minor in premedical studies.  Next fall, he will commence his studies toward becoming an M.D. at SUNY Downstate Medical Center. He traces his resolve to become a doctor to the many asthma attacks he suffered as a child and the care of his mother, doctors and hospital staff.
Mr. Selby's research interests are in immunological development and function. His research used immunogold labeling and scanning electron microscopy to show distribution of the pH91 antigen on thymic nurse cells.  The discovery could have therapeutic relevance in development of reagents to combat autoimmune diseases.
He adds that he is excited by the many ways physician-researchers can positively influence lives, from teaching medical students to working with health maintenance organizations to health and safety programs.