CCNY Team Advances in 'Parks for the People' Competition
CCNY Team Advances in 'Parks for the People' Competition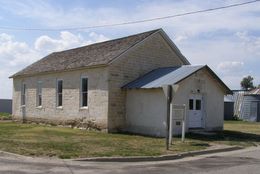 African Methodist Episcopal Church at the Nicodemus National Historic Site. Photo by Chris Light. (Used by permission under the Creative Commons Attribution-ShareAlike 3.0 license.)
February 3 Spitzer School of Architecture Event Commences Design Studio Focused on Historical Kansas Community Established by Freed Slaves
CCNY's Bernard and Anne Spitzer School of Architecture is one of nine institutions chosen from a field of 41 to advance to the second round of the "Parks for the People" design studio competition. Graduate landscape architecture students comprise the CCNY team, which will develop plans and designs for the Nicodemus National Historic Site in Nicodemus, Kan., a Reconstruction-era settlement of emancipated slaves, and participate in a jury review this summer.
"Parks for the People" is a competition to re-imagine America's national parks. A project of Designing the Parks, a public-private partnership to promote the importance of well-designed public parks in contemporary society, the competition aims to generate new ideas for the design and planning of national parks, their visitor experiences, the sustainability of their infrastructure and their relationship to the public.
The CCNY design studio, working in association with the J. Max Bond Center, will commence the project with a lecture, "Designing Cultural Landscapes: Nicodemus, Kansas, Negotiating National Heritage and Living Landscapes," 6 - 8 p.m. Friday, February 3. It will be held in the Spitzer School of Architecture's Sciame Auditorium, 141 Convent Ave. at W. 135th Street.
Olympia Kazl, director of the Van Alen Institute, which is collaborating with the National Park Service on the competition, and Shaun Eyring, chief of the Division of Resource Planning & Compliance for NPS' Northeast Region, will offer opening remarks. Mark Weaver, superintendent of the Nicodemus National Historic Site, will present an introduction to the site.  They will be followed by a panel discussion moderated by Toni L. Griffin, director of the Bond Center. Panelists will be:
•    Charles Birnbaum, president, The Cultural Landscape Foundation.
•    Dr. Setha Low, professor of environmental psychology, CUNY Graduate Center.
•    Dr. Clement Price, professor of humanities, Rutgers University, and vice chairman, the Advisory Council on Historic Preservation.
"We propose to strengthen the interpretative scope of Nicodemus National Historic Site in the context of other African-American and westward expanding settlements across the country," said Denise Hoffman Brandt, Spitzer School associate professor of landscape architecture and CCNY team leader. "We also want to connect it with institutions taking part in larger discussions of rights to ethnic identity and the often obscure mechanisms with which minority populations struggle to achieve equity."
Professor Brandt added that the project offers the potential to revitalize the community of Nicodemus and that the CCNY studio will explore design of information apparatus, both conceptual and physical, for Nicodemus that could be modified for use at other parks and historic sites.
Consisting of five historic buildings on 161 acres, the Nicodemus National Historic Site is the last remaining western town established by African Americans during and just after the Reconstruction era. The National Park Service established the site in 1996 to "preserve, protect, and interpret it for the benefit and enjoyment of present and future generations" and to interpret the town's historical role in the context of westward expansion.
On the Internet
Nicodemus National Historic Site
« BACK TO NEWS