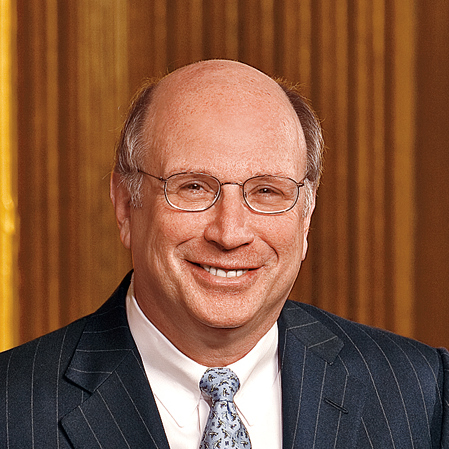 Sy Sternberg, '65 EE, former chairman and chief executive officer of New York Life Insurance Co., will receive the honorary degree Doctor of Humane Letters from his alma mater, The City College of New York (CCNY), April 23.  CUNY Chancellor Matthew Goldstein, '63, and CCNY Interim President Robert E. Paaswell will confer the degree on him in a ceremony at 4:30 p.m. during the "Frontiers in Physics" symposium presented by the CCNY Physics Department at The Harmonie Club in New York. 
The honorary doctorate recognizes Mr. Sternberg's "distinguished service to college, city and country," said CCNY Interim President Robert E. Paaswell.  "A true 'Son of City College,' he has through his industry and extraordinary generosity fulfilled the Ephebic Oath he took 45 years ago when he graduated from CCNY to leave this City and The City College of New York better off than it was when it was handed to him."
An electrical engineering major at CCNY, Mr. Sternberg made his mark in the insurance industry.  He rose to become the longest-serving chairman of the board of New York Life Insurance, the largest mutual life insurance company in the United States and one of the largest life insurers in the world.  He was appointed chairman in 1997 and retired in 2009.  He served concurrently as chief executive officer until 2008.
He has served City College and City University as a member of the City College 21st Century Foundation Board and the Colin Powell Center for Policy Studies Advisory Council and as chair of the CUNY Business Leadership Council.  As Chairman of the New York Life Foundation, he announced the Foundation's $10 million grant to establish the New York Life Endowment for Emerging African-American Issues at CCNY's Colin Powell Center for Policy Studies. 
In addition, he created the Sy Sternberg President's Fund for Excellence.  This endowment allows the College to support significant projects of benefit to the College and the larger community.
His other philanthropic activities have also focused mainly on education.  He serves as Chairman of the Board of Trustees of Northeastern University, where he earned a master's degree in electrical engineering in 1968, and on the board of the Hackley School in Tarrytown, NY.  Outside of education, he is a board member for Big Brothers Big Sisters of New York City and New York-Presbyterian Hospital, and director of CIT Group, Inc. and Express Scripts, Inc.
In 1999, President Clinton appointed Mr. Sternberg as one of three U. S. representatives to the Asia-Pacific Economic Cooperation Business Advisory Council, where he served through 2002.  In 2008, Mayor Bloomberg appointed him co-chair of the Mayor's Task Force on Career and Technical Innovation.  In addition, he is a member of the Council on Foreign Relations.