With visiting and permanent exhibits and public lectures throughout the school year, The City College of New York's (CCNY) Center for Worker Education (CWE) is rapidly becoming an artistic and cultural destination in Lower Manhattan.  The Center, located at 25 Broadway, is home to the College's Division of Interdisciplinary Studies, which sponsors the exhibits and lectures, which are free and open to the public.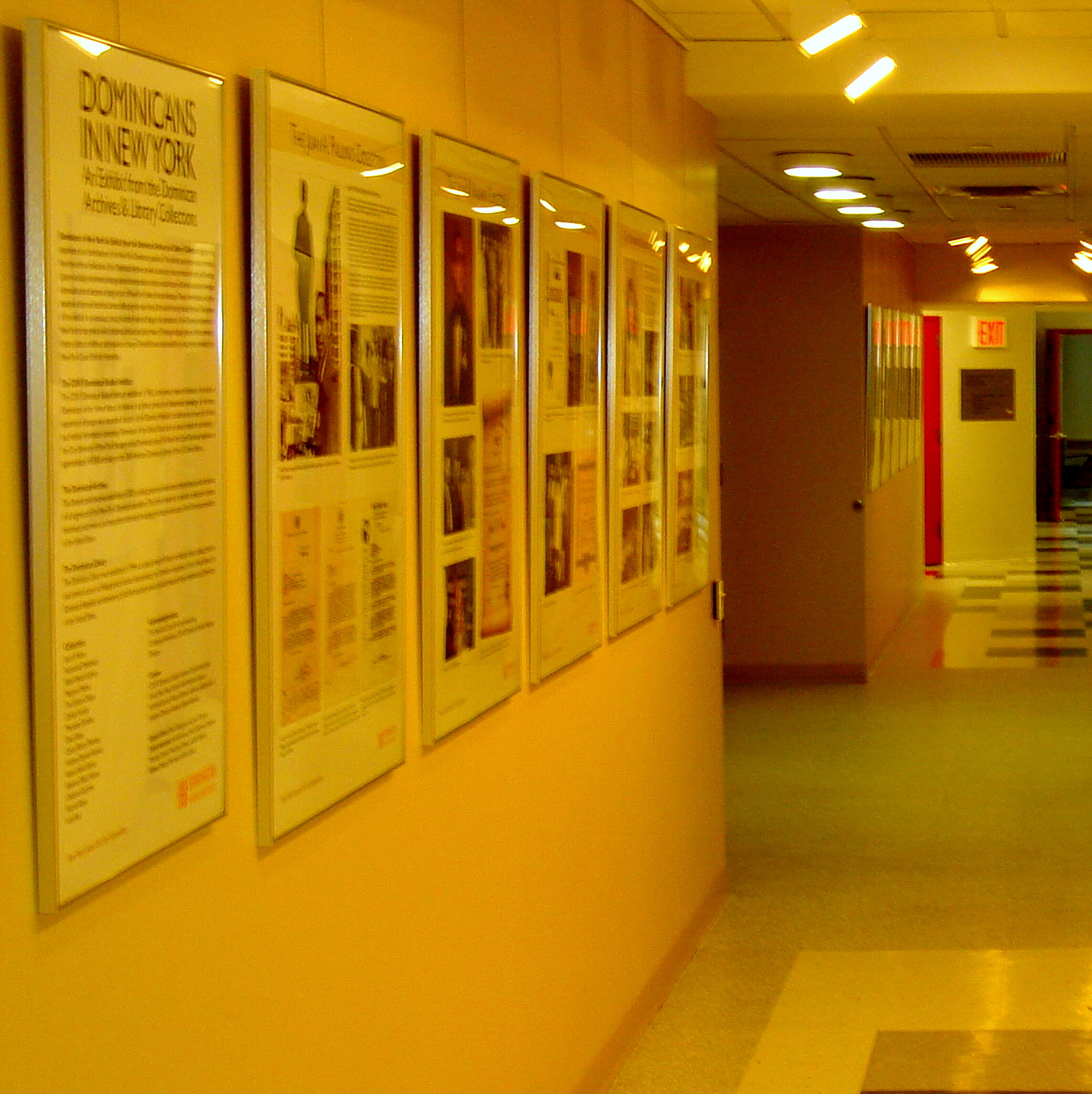 Currently on display at the Center is "Dominicans in New York: An Exhibit from the Dominican Archives & Library Collections," funded by the New York Council for the Humanities.  The exhibit, which will be on display until December, highlights the experiences and contributions of the New York Dominican population.  Viewing hours are Monday through Saturday, 10 a.m.-4 p.m.
"We are now in a time of milestones, transitions and changes at the Center," said Juan Carlos Mercado, Dean of the Division. "We look forward to showcasing various works of art at CWE for students, faculty and the downtown community to enjoy."  Dean Mercado intends to make art installations an integral part of CWE culture.
Several exhibits next spring are intended to bring together students of the arts, the Lower Manhattan business community, emerging artists, and curators so as to engage a contemporary and trans-cultural dialogue on the arts, he added.
CWE has been hosting art exhibitions, many with international themes, since 2007, when it presented "The Survival of the Mayas," a 45-piece photographic exhibition produced by Spain's Fundación Sophia.  It subsequently presented "Mexico through Oriental Eyes," a Mexican-themed artwork installation by Japanese artist Nobuhiro Kagami, a 12-piece exhibit that captured the beauty and the magic of Mexican traditions.  "Danzaré mi vida (I'll Dance my Life)," a six-piece installation donated by Kagami, is on permanent display at CWE.
In addition, "Book Talk," a lecture series presenting recognized authors, several of whom are members of The City College faculty, is currently under way.  Upcoming talks, which take place at 6 p.m. on Mondays, include: Vincent Boudreau, CCNY Professor of Political Science and Director of the Colin Powell Center for Policy Studies, October 5, and Billy Collins, U.S. and New York State Poet Laureate, October 19.
Additional lectures are scheduled for November and December.  A second installment of the Center's "Book Talk" Lecture Series will be presented this spring by W.W. Norton & Co.
In 2008, CWE offered the Distinguished Professors, Distinguished Lecturers and Endowed Chairs Lecture Series, which featured presentations by prominent CCNY faculty members on topics ranging from Peruvian history to the media's role in politics to mega transportation projects in New York City.
About the Division of Interdisciplinary Studies
The Division of Interdisciplinary Studies, headquartered at the Center for Worker Education (CWE) in Lower Manhattan, is a division of The City College of New York's (CCNY) College of Liberal Arts & Sciences.  It offers an excellent interdisciplinary B.A. degree in liberal arts with a number of special concentrations.  The Center for Worker Education also hosts the CCNY School of Education's B.S. in Early Childhood Education.  Founded in 1981, the Division has become one of the leading educational institutions for working adults in New York City.  It attracts over 750 working professionals per semester and reflects the multiethnic composition of New York City.  For addition information, visit /prospective/cwe.
CWE Contact Information
Elena Romero, Communications Coordinator, CWE, (212) 925-6625 x 258, eromero@ccny.cuny.edu