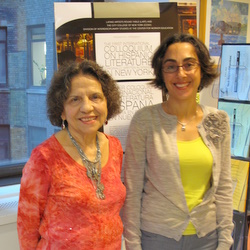 Latino Artists Round Table (LART) and The City College of New York Division of Interdisciplinary Studies at the Center for Worker Education (CWE) will present the first international colloquium on Hispanic literature written in New York in Spanish, October 14 and 15 at CWE, seventh floor, 25 Broadway, Manhattan.
The colloquium will provide an overview of literary work written in Spanish by Hispanics residing in New York from the 19th century to the present through panels and roundtables, as well as book presentations by publishing houses Editorial Campana and Artepoética Press. LART anticipates 250 attendees, mainly students, writers and academics.
"This event showcases the valuable contributions of Hispanic artists and writers to American culture," said Dr. Juan Carlos Mercado, dean of CCNY's Division of Interdisciplinary Studies.  "Their works capture, in their native, tongue nearly 200 years of the Hispanic experience in New York City."
"This conference is very important because those of us who write in Spanish in this country and in this case, in New York, are in a unique space," said Paquita Suarez-Coalla, co-founder and vice president of LART. "To get published in our native countries is not easy nor is it to break into the publishing industry here.
"The conference provides participants a forum to showcase the history of Spanish literature written in New York in order to officially record its very existence. Up until now, there hasn't been an organized mode to collect the history of this type of literature. It has just been done partially. This colloquium is the first effort in progress to do just that."
Dr. Daisy Cocco De Filippis, a Dominican-American writer and educator, will be the colloquium's keynote speaker.  She is president of Naugatuck Valley Community College in Waterbury, Conn., and previously served as provost and senior vice president for academic affairs at Eugenio Maria de Hostos Community College in the Bronx.
The colloquium runs 10 a.m. to 8:30 p.m. Friday, October 14, and 10 a.m. to 5 p.m. Saturday, October 15. The two-day event is free and open to the public. For further information, contact Elena Romero, communications coordinator, Division of Interdisciplinary Studies, 212-925-6625, ext. 258, or email:coloquiohispanolart@gmail.com.
About the Division of Interdisciplinary Studies at the Center for Worker Education
The Division of Interdisciplinary Studies at the Center for Worker Education (CWE) in Lower Manhattan, is a division of The City College of New York's (CCNY) College of Liberal Arts & Science.  It offers an excellent interdisciplinary B.A. degree in Liberal Arts with a number of special concentrations. The Center for Worker Education also hosts the CCNY School of Education's B.S. in Early Childhood Education.  Founded in 1981, the Division has become one of the leading educational institutions for working adults in New York City.  It attracts over 750 working professionals per semester and reflects the multi-ethnic composition of New York City.  For addition information, visit /prospective/cwe.
About LART
Latino Artists Round Table (LART) is a nonprofit cultural organization based in New York founded by Sonia Rivera-Valdés, Paquita Suárez-Coalla, Mario Picayo and Esteban Bujanda in 1999. Subsequently, other members were added such as Margarita Drago y Ángel Lozada. Currently, the organization is headed by Ms. Rivera-Valdés (President), Ms. Suárez-Coalla (Vice President),  Mr. Picayo (Executive Director) and Jacqueline Herranz (Treasurer).
LART's principal purpose is to promote Latina/o culture in the United States and facilitate interaction among artists and writers living in the United States, Latin America (including the Caribbean) and Spain. LART promotes the work of writers and artists independent of their origin, gender, social class, race, ethnicity or sexual orientation. Members share similar experiences and world views. In addition to conferences, LART hosts numerous lectures and book presentations. Past events have included the Havana Film Festival, Wilmer Jennings Gallery on the Lower East Side, the Calíope bookstore in Washington Heights, Barnes and Noble, and various book fairs throughout Queens and Washington Heights.