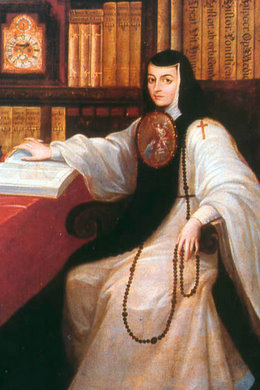 Sister Juana Inés de la Cruz, a Mexican nun, was the subject of a special edition of the journal "Colonial Latin American Review."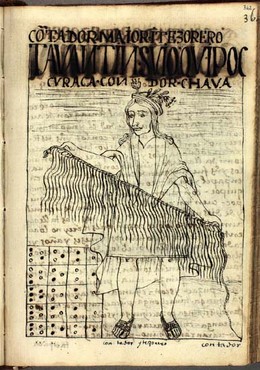 Illustration from "First New Chronicle and Good Government," a 1615 monograph by the Andean chronicler Felipe Guaman Poma de Ayala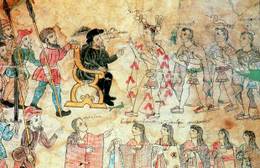 Depiction of Cortés meeting the four lords of Tlaxcala.
"Colonial Latin American Review" showcases interdisciplinary scholarship on period; Events at CCNY, Graduate Center at CUNY fete publication
In 1992, the world marked the 500th anniversary of Christopher Columbus' "discovery" of America. That year, a new journal began publication featuring fresh and exciting directions in scholarship of the era that followed and lasted until the Latin American independence movement began in the early 19th century.

"Colonial Latin American Review" (CLAR) was created to begin an interdisciplinary dialogue and connect the various disciplines developing new approaches to studying the period, said Dr. Raquel Chang-Rodríguez, its founder and co-editor. It provided a venue for scholars working in the area and showcased their research. After it appeared, it received an "honorable mention" in Council of Editors of Learned Journals competition for best new journal.

"Scholars began to look beyond the usual themes related to Spanish conquistadors and their deeds (and misdeeds)," recalled Dr. Chang-Rodrgiuez, a distinguished professor of Hispanic culture and literature at The City College of New York and the Graduate Center, City University of New York. "They began exploring such topics as gender issues, resistance to Spanish dominion, Christianity in contact with other religious beliefs and the roles of indigenous populations, Africans and Asians in the evolving societies."

The origins of the field of colonial studies date to the early 19th century, when the nations of Latin America were forming, Professor Chang-Rodríguez noted.

"In order to give the new republics a distinct identity, the founding fathers began to study the past, particularly the indigenous civilizations, and articulating a new and more inclusive version of the history of the Americas," she said. "Touched by Romantic ideas, they wanted to establish the uniqueness of the area, thus forging an identity separate from Spain."

Two events to commemorate the journal's 20th anniversary will be held this week:

Dr. Beatriz Carolina Peña, who teaches at Queens College, will deliver an illustrated lecture, "El Perú colonial en los dibujos de fray Diego de Ocaña" (Colonial Peru in the Drawings of Father Diego de Ocaña), 5:15 p.m. Wednesday, October 17, in the City College Amsterdam Room located in the Faculty Dining Room on the third floor of the North Academic Center, 160 Convent Ave., New York.

"Colonial Latin American Review: 20 Years," an interdisciplinary conversation, will take place 5 p.m. Friday, October 19, in the Skylight Room at the Graduate Center, 365 Fifth Ave., New York. Presenters include: Carolyn S. Dean, University of California – Santa Cruz; Viviana Díaz Balsera, University of Miami, and Daniela Bleichmar, University of Southern California. In addition, Professor Chang-Rodríguez and co-editors Frederick Luciani of Colgate University and Kris Lane of Tulane University will participate in a conversation moderated by Rolena Adorno of Yale University.

CLAR met a growing need to disseminate the works of scholars who were revising traditional areas of inquiry and creating new ones, Professor Chang-Rodríguez said. Much of this cross-fertilization occurred in literary studies, she noted.

"Critics, particularly those concerned with the chronicles of the "discovery," made use of the advances offered by historical and anthropological research in order to offer new readings of very complex texts. I am not saying that the traditional philological approach was forgotten, but rather the new interdisciplinary one offered fresh possibilities for analyzing these texts."

The journal has been at the forefront of research in colonial studies, Professor Chang-Rodríguez noted. For example, it has been instrumental in recognizing the key contributions of art historians and has given this area of scholarship its due importance within colonial studies.

Many articles published in CLAR have questioned generally accepted points of view. Others emphasized different aspects of relationships between colonizers and colonized people or showed how maps and cartography shaped the colonization of the American space.

Since its inception, the journal has grown from one issue per year to three. In recent years, there has been increased interest in topics related to gender and gender roles, Professor Chang-Rodríguez said. For example, an issue was devoted to the Mexican nun Sor Juana Inés de la Cruz. CLAR has also published articles on female education, the role of women in the conquest and how, when forced to accept non-traditional roles, European and native women challenged patriarchal society.

Another trend has been increased emphasis on the contributions of peoples and individuals who were marginalized in traditional studies, including natives, mestizos and Africans. "Studying their roles underscores the complexities and hybrid nature of colonial culture and how its values impacted the new Latin American societies that developed in later centuries," she added.
About The City College of New York
Since 1847 The City College of New York has provided low-cost, high-quality education for New Yorkers in a wide variety of disciplines. Over 16,000 students pursue undergraduate and graduate degrees in the College of Liberal Arts and Sciences; The Bernard and Anne Spitzer School of Architecture; The School of Education; The Grove School of Engineering, and The Sophie Davis School of Biomedical Education. For additional information, visit www.ccny.cuny.edu.

About The Graduate Center, CUNY
The Graduate Center defines the standard of contemporary graduate education: rigorous academic training and globally significant research. It is recognized for outstanding scholarship across the humanities, sciences, and social sciences, and is integral to the intellectual and cultural vitality of New York City. Through its extensive public programs, the Graduate Center hosts a wide range of events – lectures, conferences, book discussions, art exhibits, concerts, and dance and theatre – that enrich and inform. Finally, the accomplished and diverse student body exhibits an intellectual curiosity that enhances the learning experience for both faculty and students.

At the heart of its mission is knowledge creation. The Advanced Research Collaborative (ARC) extends the Graduate Center's global reach and prominence as an international hub of advanced study. Specifically, ARC promotes interdisciplinary research; partners with the Graduate Center's 40 research centers, institutes, interdisciplinary committees and other academic initiatives; connects the research activities of CUNY faculty at the colleges to Graduate Center research programs and seminars; provides a home for outstanding visiting scholars to collaborate with faculty and students, and offers support to Graduate Center doctoral students pursuing research as well as to postdoctoral students who have completed their initial projects. For more information, www.gc.cuny.edu.
On the Internet
Colonial Latin American Review
Professor Raquel Chang-Rodríguez
MEDIA CONTACT