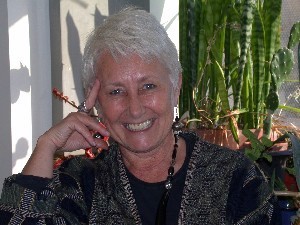 Two-Day Meeting Looks at Past, Present and Future of Mathematics in the City
Shortly after she joined the faculty of The City College of New York School of Education, Dr. Catherine Fosnot established the Mathematics in the City (MitC) center at CCNY in collaboration with the Freudenthal Institute at University of Utrecht in the Netherlands.  Under her leadership, MitC became a national center for professional development in K-8 math education, with support from the National Science Foundation, ExxonMobil Foundation and the New York City Department of Education.
A two-day conference at CCNY, June 13-14, will pay tribute to the work of MitC and Professor Fosnot, who retired this year.  More than 200 educators from around the United States, Canada, United Kingdom, the Netherlands and Australia have registered to attend.
"Catherine Fosnot is a highly respected teacher-educator in mathematics," said Dr. Despina Stylianou, an associate professor of mathematics education at CCNY who is MitC's co-director. "She has trained countless professionals and made an impact on thousands of schools in New York City, the nation and internationally."
Dubbed " Mathematic in the City – Past, Present and Future," the conference offers six general sessions and 25 workshop sessions for teachers, teacher-leaders, administrators and other math educators.  
Hank Kepner, professor of mathematics education, University of Wisconsin – Milwaukee, and past president of the National Council of Teachers of Mathematics, will deliver the opening address 9:15 a.m. Monday, June 13, in the faculty dining room in the North Academic Center.  Other keynote speakers include Martin Simon, professor of mathematics education, New York University, and Bill Jacob, professor of mathematics, University of California – Santa Barbara.
Professors Fosnot and Stylianou will also deliver keynote addresses.  Professor Fosnot will speak on "Mathematics in the City: Past and Present," 5:15 p.m. Monday June 13.  Professor Stylianou's topic will be "Mathematics in the City – Looking to the Future," 5:15 p.m. Tuesday, June 14.  Both speeches will be given in the faculty dining room and will be open to the public in addition to conference registrants.
A complete program and registration information can be found on the Mathematics in the City web site,http://www.mitcccny.org/Mathematics_in_the_City/MitC_Conference.html
On the Internet
Mathematics in the City
http://www.mitcccny.org/
Professor Fosnot's City College web site
http://condor.admin.ccny.cuny.edu/~cfosnot/