Concept Contest Spurs Renaissance in Affordable Housing
Concept Contest Spurs Renaissance in Affordable Housing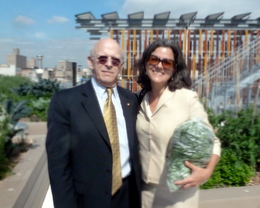 ACSA Distinguished Professor Lance Jay Brown with Holly Leicht, executive director of New Yorkers for Parks, at Via Verde. The bag of kale Ms. Leight holds was grown in one of the sustainable project's roof gardens.
Spitzer School Professor Lance Jay Brown Stewards Juried Competition That Leads to Development of Innovative Via Verde Project in South Bronx
Via Verde, a new, 222-unit housing project in the South Bronx, is being hailed as a triumph of sustainability, affordability and beauty. "I don't think there will be any housing studio (class) where students will not be looking at Via Verde as a case study," says Lance Jay Brown, ACSA Distinguished Professor of Architecture in City College's Spitzer School of Architecture. "For the next five years it will be the go-to project for how to integrate principles of sustainability with design excellence."
For Professor Brown, Via Verde also represents the culmination of a process begun with a professional and academy-focused exercise eight years ago to generate ideas for producing affordable housing in New York. Via Verde, he adds, sought a financially viable model that can be replicated in cities throughout the United States, and a forthcoming book he has co-authored about the project aims to help make that happen.
In 2004, Professor Brown was the professional advisor to an international ideas competition to elicit proposals from architects for what could be built on three different kinds of redevelopment sites in Manhattan, Queens and Brooklyn. The judging for the contest, which was sponsored by the New York Chapter of the American Institute of Architects (AIANY), the New York City Council and The City University of New York, was held in City College's Great Hall.
Later, the finalists for each of the site types were presented in a well-received exhibition at the New York Center for Architecture. Soon after, Professor Brown began receiving calls from persons wanting to know when and where the winning designs would be built, something that was not part of the contest's original aims.
He convened an ad hoc meeting of government officials, developers, academics and architects that led to a second competition. Working with inaugural steering committee chair Karen Kubey and subsequent chairs Karen Hu and Tara Siegel, the new goal was to pick a design and development team to build on a site chosen and donated by the New York City Department of Housing Preservation and Development (HPD).
The competition, known as the New Housing New York (NHNY) Legacy Project, emerged from a collaboration among the NHNY Steering Committee, HPD and AIANY. It was sponsored by the New York State Energy Research and Development Authority (NYSERDA), the National Endowment for the Arts (NEA), the Enterprise Foundation, Citibank, JPMorgan Chase and the AIA 150 Blueprint initiative to encourage the integration of sustainability and design excellence with affordable housing.  
The project set out, in part, to "change the way HPD does business," Brown notes. This was the first competition of its kind held in New York for affordable and sustainable housing, and the steering committee he helped establish played a major role in organizing and managing it.
The committee included experts on funding, building code issues and sustainability who began to generate information that could be used to develop guidelines for evaluating proposals. To stimulate interest in the competition, organizers held a mixer for architects and developers.
The site that would become Via Verde was a triangular piece of land adjacent to an unused railroad right-of-way. It was one of a handful of still-undeveloped parcels from among the thousands of abandoned properties New York City acquired in the 1980s and 1990s, Professor Brown notes.
A Request for Qualifications drew submissions from 32 teams, five of which would be selected as finalists and given $10,000 to develop proposals for the site. In 2007, a partnership between Jonathan P. Rose Cos. and Phipps Houses was selected as the developer with Dattner Architects and Grimshaw Architects as the design team.
The winning project consists of 151 rental units and 71 co-op apartments that range in price from $73,000 for a one-bedroom unit to $193,000 for a three-bedroom flat. The building, which was situated at the street line, consists of a series of descending tiers that lead to a central courtyard, much like a staircase. Among the sustainable features that helped the project earn Gold LEED status are roof gardens and solar panels.
 
"The project brought an enormous number of unbelievably capable people to work together," Professor Brown says. "I saw my role and that of the steering committee as making sure the project adhered to its goals and objectives. Complex projects like this can often suffer during the value engineering and approval processes."
To help with the latter, he approached Patricia Lancaster, who then headed the New York City Department of Buildings, to request that it take an open-minded attitude toward the innovative aspects of the project. This resulted in the formation of a joint review committee with representation from city agencies, NYSERDA, the developers, the architects and the steering committee. The committee met periodically to review issues and resolve interagency conflicts.
Professor Brown's involvement with affordable housing dates to the late 1960s, when, as a researcher at Princeton University, he helped produce the Planning and Design Workbook for Community Participation. The project, funded under the Model Cities program, provided a mechanism to give community members a voice in determining the nature of housing projects.
"The idea was having people work with their city and facilitating design professionals and participate in determining the nature of their communities and the types of housing appropriate to their needs," he recalls. "We talked about how good neighborhoods and good housing come about."
Community participation was integral to the Legacy Project. In addition to holding meetings with the local planning board, "each of the five finalists came to the table with an element generated through their own intersection with the community."
Among these were health clinics, a music school and other community service centers. Strong upfront connection with local residents promotes designs more tuned to community needs, Professor Brown says.
The forthcoming book, "The Legacy Project," to be published by Oscar Riera Ojeda, is intended to disseminate the ideas that made the project a success. It will provide a history, beginning with the initial competition through completion, and contain full sets of drawings, photographs and construction documents from design phase to construction and completion. "The book provides all the data necessary to understand how the project achieves the level of excellence that it does," he notes.
It also lays out the steps for conducting a successful competition and seeing a project like Via Verde to fruition. These include community engagement and commitment, identifying and lining up funding sources, support from city agencies and input from extraordinary professionals.
The competition process enables new ideas for surface, promotes new partnerships among the real estate/design community and gives projects greater visibility than they would have otherwise, Professor Brown adds. "This gives an opportunity for people who are not established or recognized to step up to the plate."
On the Internet
« BACK TO NEWS