Scores of residents at 260 Convent Avenue, the apartment building across from Baskerville Hall and Steinman Hall on the City College campus can thank the quick response of a team of CCNY public safety officers for helping avert a major tragedy during a fire on July 3.
Acting above and beyond the call of duty, the four officers under the command of Sgt. Celisha Copeland fanned through the ten-story building before FDNY fire fighters arrived.They knocked on doors, warning tenants to evacuate the building while massive orange flames licked the dark skies from a fifth floor apartment.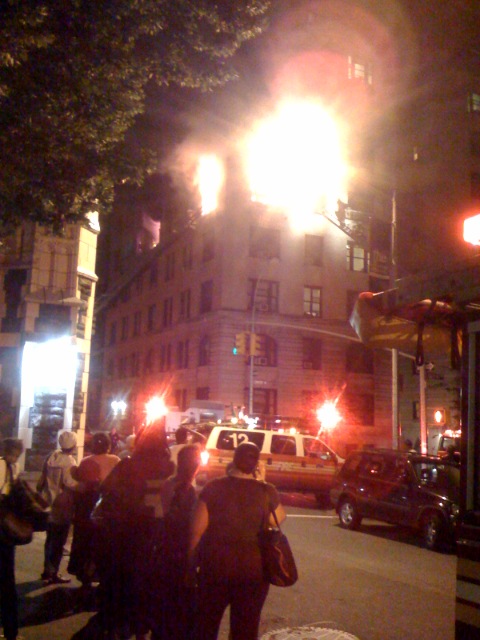 The brave quartet of Sgt. Copeland, Campus Peace Officers Desiree Joyner, Orlando Quinones and Jacqueline DelaRosa entered the building with just their training, wits and instincts to rely on and without firefighting equipment.
By the time the fire had been extinguished by the FDNY, all the occupants had been safely evacuated from the 60-unit building; only a few suffered minor injuries. 
"I think we saved a lot of lives," said Officer Joyner."Smoke inhalation kills most people in fires."
The drama began at approximately 10:13 p.m. when Loris Richards, an Allied Barton Security officer on duty in the College's campus control booth at140th Street and Convent Ave., reported smoke and flames on the fifth floor of the building across from CCNY's Baskerville Hall.
Officer Quinones was the first responder on the scene after the CCNY Public Safety dispatcher sent out an alert.Fire engines were still en route when the other three CCNY officers arrived.
"We didn't have enough time to wait for the FDNY," said Sgt. Copeland."The fire was moving up the building and the first ten minutes were critical.So we rushed in and started knocking on doors telling everyone to evacuate.We got to as many floors as possible.We heard no alarms and no sprinklers came on."
When the firefighters arrived, most people had been evacuated, according to Sgt. Copeland.
At that point, the CCNY responders provided crowd control along with officers from the NYPD.
Robert Santos, Vice President for Campus Planning & Facilities at CCNY, hailed the officers for their personal courage and decisive actions.
"The decision by the CCNY Officers to enter the building, risking their own lives for the sake of others is a stirring example of the successful merger of training, professional dedication to the public good and individual personal courage," he said."We don't need to ask the question: what if they did not enter the building?We need only say 'Thank You' when we see them performing their duties on campus."
Like all CCNY peace officers, the four heroes are graduates of the CUNY Public Safety Academy at YorkCollege.The training there includes emergency evacuations, crowd control and safety.