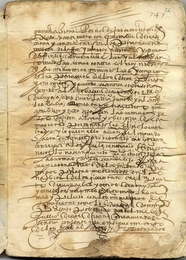 The CUNY Dominican Studies Institute (CUNY DSI) at City College is developing an online resource to study four centuries of Spanish writing styles.  The project is supported by a $50,000 start-up grant from the National Endowment for the Humanities (NEH) Office of Digital Humanities.  A prototype of the Spanish Paleography Digital Teaching and Learning Tool is scheduled to go live in spring 2013.
Having the system will bring CUNY DSI in line with major museums and libraries that apply digital technology to the study of Spanish script.  CUNY DSI, which was founded in 1992, is the first and only university-based research institute in the United States devoted to the study of people of Dominican descent.  
"This is a really exciting development," said Dr. Ramona Hernández, director of the institute and the grant's project director. "With the knowledge, skill and talent at our disposal, we are confident of producing an innovative digital tool prototype that will prove effective in making the teaching and learning of the reading of early modern Spanish handwriting more productive. 
"And with this, we will open the door much wider for many students to produce a wealth of new historical knowledge by researching documents that have largely remained understudied and been untouched for centuries."
Professor Hernández said the site would facilitate the teaching of Spanish paleography and ultimately strengthen the institute's capacity to promote the learning and research of early colonial history of the Dominican Republic. 
Paleography is the study of ancient writing systems and the deciphering and dating of historical manuscripts.  Because it will be an open source and available to the public, Professor Hernández said the site could expand the teaching of paleographic skills to historians and students.   
"Essentially, we're in the process of creating a web site containing samples of 16th and 17th century archival Spanish manuscripts," said Anthony Stevens-Acevedo, CUNY DSI's expert in Spanish paleography.  "We'll start with a set of early colonial documents pertaining to the colony of Hispaniola, but the learning provided will be perfectly applicable to researchers studying documents from the same period in the entire Spanish world."
The grant is CUNY DSI's first from NEH.  It follows a proposal drafted in collaboration with several partners, including a group of specialists in Spanish paleography and digital technologies from the CUNY Graduate Center and the Hispanic Society of America.