NEW YORK, June 9, 2009 – A team of engineers with CCNY's NOAA-CREST Center is applying remote sensing data to model outbreaks of malaria and help the southwest African nation of Namibia protect against them.  Their efforts could help one of the world's poorest nations more effectively allocate scarce resources to combat the deadly disease and save lives.
Namibia has experienced unprecedented flooding, mainly in its northern areas, over the past several years, probably caused by global warming, notes Dr. Leonid Roytman, Professor of Electrical Engineering in The Grove School of Engineering at CCNY and principal investigator on health issues for the project.  This has resulted in outbreaks of malaria that have affected as many as one quarter of the country's two million people.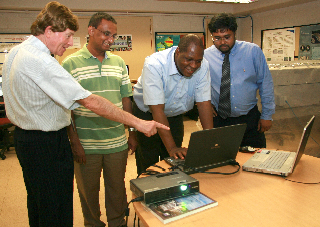 "Remote sensing can identify environmental conditions that are conductive to breeding of mosquitoes, which carry malaria, as well as conditions that cause water-borne diseases," he adds.  
The CCNY team is analyzing data from both polar-orbiting and geostationary satellites on vegetation growth, moisture, land temperature and sea surface temperature to develop models that can predict when and where incidence of malaria is likely to occur as much as four months into the future.
As one of the world's least developed nations, Namibia has limited resources to fight the disease, Professor Roytman explains.  "They can put up mosquito netting, spray for mosquitoes and provide anti-malarial medications, but they can't fight malaria everywhere in the country.  We want to help predict the hot spots for malaria so they can concentrate their efforts in those areas."
The project, which began last November, is overseen and funded by NASA, the United Nations and the International Red Cross.  It is part of a larger effort, at the request of Namibia, to use satellite data for mapping, flood prediction and mitigation of malaria and other water-borne diseases.  Dan Mandl, EO-1 Mission Manager with NASA's Goddard Space Flight Center, directs the project.
The City College involvement came about as a result of earlier work done by Professor Roytman on predicting incidence of malaria in Bangladesh and India using remote sensing data.  The research will have a dual benefit since a similar satellite-based technique can be used to predict the yield of Africa's agricultural crops, which is important to that continent's economy and sustainability.
Besides Professor Roytman, the team includes Dr. Atiqur Rahman, a Research Assistant Professor, and two graduate students, Mohammad Nizamuddin and Clement Savadogo.  As part of the project's potential expansion in Africa, Mr. Savadogo will travel to his native Burkina Faso to gather field data needed to refine the models.
About the NOAA-CREST Center
Based at The City College of New York, the NOAA-CREST (National Oceanic & Atmospheric Administration – Cooperative Remote Sensing Science & Technology) Center is a multidisciplinary center with eight member institutions in New York, Maryland, Virginia and Puerto Rico.  The institutions form a broad-based research team in remote sensing applied to earth, atmospheric, environmental, and marine sciences.  
The Center's research and training focuses on all aspects of remote sensing for students at the undergraduate, masters and doctoral levels.  Its activities focus on Remote Sensing Applications in Climate and Air Quality; Remote Sensing of Coastal Waters; and Precipitation and Water Resources, and support NOAA's missions related to climate, weather and water, and ecosystems.  For additional information, visit:www.crest.ccny.cuny.edu.
About The Grove School of Engineering at CCNY
The Grove School of Engineering at The City College of New York, formerly the CCNY School of Engineering, is the only public engineering school within New York City.  It offers Bachelors, Masters and Ph.D. degrees in seven fields: biomedical, chemical, civil, computer, electrical, and mechanical engineering and computer science.  The School is recognized nationally for the excellence of its instructional and research programs and ranks among the most diverse engineering schools in the country. 
On November 28, 2005, the CUNY Board of Trustees named the School in honor of Dr. Andrew S. Grove, a member of the CCNY Class of 1960, and a co-founder and former chairman of Intel Corp., the world's leading producer of microprocessors.  For additional information, visit www1.ccny.cuny.edu/prospective/engineering.
About The City College of New York
Since 1847 The City College of New York has provided low-cost, high-quality education for New Yorkers in a wide variety of disciplines.  Over 15,000 students pursue undergraduate and graduate degrees in the College of Liberal Arts and Sciences; The Bernard and Anne Spitzer School of Architecture; The School of Education; The Grove School of Engineering, and The Sophie Davis School of Biomedical Education.  For additional information, visit www.ccny.cuny.edu.