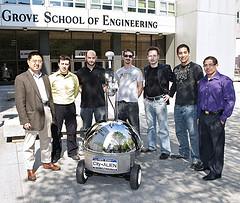 Members of CCNY's Autonomous Ground Vehicle Club with advisor Professor Jizhong Xiao, left, and the City Alien.
A five-member team of students in the Grove School of Engineering at The City College of New York (CCNY) took first place in the design category in the 18th annual Intelligent Ground Vehicle Competition (IGVC).  The event, in which 58 teams from six countries qualified to compete, was held June 4 – 7 at Oakland University in Rochester Hills, Mich.
"We're very proud of this achievement, especially since robotics is one of our key research areas," said Dr. Joseph Barba, dean of the Grove School of Engineering in congratulating the team. "By supporting our students so they can participate in competitions like IGVC, they receive invaluable real-world training and open their eyes to the exciting research opportunities they can look forward to in academia and industry."
IGVC participants work in teams to conceptualize, design and build the prototype for an autonomous vehicle that can avoid obstacles and navigate to GPS way points, explained CCNY team captain Igor Labutov.  The team, which also includes Erez Gati, Carlos Jaramillo, Ricardo Chincha and Fernando Guevara, earned a $3,000 prize for their entry, the City Alien.  It came in seventh in the autonomous challenge (obstacle course) category and competed, but did not place, in the navigation competition.
Team members were all members of CCNY's Autonomous Ground Vehicle Club, and used the project to meet the requirements for the senior capstone design class.  Mr. Labutov, a Russian immigrant who majored in computer engineering and graduated summa cum laude in May, had been a member of the club for three years.  Mr. Gati, who is Israeli, and Mr. Jaramillo and Mr. Guevara, both natives of Ecuador, joined this year.      
All graduated this year.  Mr. Gati and Mr. Jaramillo majored in computer engineering, Mr. Guevara in electrical engineering.  The fifth team member, Mr. Chincha, who was born in Peru, graduated in 2009 with a B.S. in electrical engineering.  He is currently doing graduate work in the Grove School.  
Radically Different Direction
Initially, the team planned to merely improve upon the design of its 2009 entry, which came in fourth in the autonomous challenge and won $1,500, Mr. Labutov recalled.  Instead, they went in a radically different direction, designing and building the City Alien to solely deploy visual sensors. 
"The whole body was cameras and mirrors.  It was a much more challenging and risky approach, but we're glad we did it because it enabled us to win the design competition," he added.
The project also produced cutting-edge research since the team essentially adopted new technology.  A paper written by Mr. Labutov and Mr. Jaramillo won first prize in the Junior Science Conference held in April in Vienna.  "The competition was the proof that our design worked in the real world," Mr. Labutov said.
"Like with any other engineering project you go from concept to design to prototype," said Mr. Gati.  "At any step along the way you encounter problems you have to solve, but the solutions expose new problems."
Team members estimate they invested more than 5,000 man-hours during the 2009 – 2010 school year on the project. It became a common site on the City College campus to see members of the team getting the City Alien to maneuver around the trees and outdoor furniture of the North Academic Quad and other obstacles.
Support from advisor Dr. Jizhong Xiao, associate professor of computer and electrical engineering, and Dean Barba played a key role in the team's success.  "Every year they had funds for us and it wouldn't have been possible for us to compete without the school's support," Mr. Labutov said.
With four out of the five team members graduating in 2010 and Mr. Chincha working toward his masters degree, CCNY's Autonomous Ground Vehicle Club is looking for new members so it can continue to compete nationally.  "Now that we are leaving, we hope people will see how successful we have been and want to pickup up the gauntlet and participate," said Mr. Chincha.