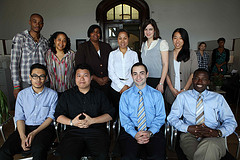 Insooni Overcame Discrimination to Become R&B Star
Kim In-soon, the acclaimed Korean R&B vocalist, came to The City College of New York (CCNY) Thursday, June 3, to visit with students and to present a $10,000 gift to the Colin Powell Center for Policy Studies.  The gift will support the Center's mission of developing new generations of leaders from populations previously underrepresented in public service and policy circles.
Popularly known by her stage name, Insooni, Ms. Kim's donation coincides with the development of the Center's new Korean Insights and Issues program, set to launch in 2011.  The program will help introduce students to the rich traditions of the Korean Peninsula and to innovative Korean approaches to some of the world's most pressing policy concerns.
In speaking to students, Insooni, who began her singing career at age 20, shared her wish to have attended a college like CCNY, and she emphasized the value of education. In particular, she encouraged students to appreciate their opportunity and urged them to find ways to give back over time.
"You have received fellowships from the Colin Powell Center," she said, speaking through student translator Yoo Jin Lee, an architecture major and Dobrich New Americans fellow at the Center.  "I hope you will succeed in your life and remember to give back what you got from the Colin Powell Fellowship."
Insooni added that as a child she received scholarship help from the Pearl S. Buck Foundation Korea, a nonprofit organization that assists biracial, migrant, and other needy children, to attend an international school.  Now as a deputy director of the foundation, she is paying forward what she received as a child.
Born in 1957 to a Korean mother and African-American father who served in the U.S. military, Insooni overcame early discrimination when she was banned from appearing on some TV shows.  The soulful singer now has 19 albums to her credit.   She spoke of the delight she felt at the diversity of the City College student group that she met.
Responding to students' questions, Insooni also reflected on the changing role of women in Korean society and noted how far Korean women have come. "Today the government of Korea is very supportive of women who want to pursue their own passion and specialization," she said. "And because of this support, women are better able to fulfill their dreams.
"Today there isn't as large a disparity between Korea and America in fields such as culture and fashion, and a lot of this progress is from professional women in these fields in Korea who are working to close the gap."
About the Colin Powell Center for Policy Studies 
   
The Colin Powell Center for Policy Studies at the City College of New York (CCNY) is a nonpartisan educational, training and research center named for one of CCNY's most distinguished graduates. Established in 1997, the Center's mission is to prepare new generations of publicly engaged leaders from populations previously underrepresented in public service and policy circles. The Center also seeks to build a strong culture of civic engagement at City College and to mobilize campus resources to meet pressing community needs and serve the public good. The Center focuses its efforts in areas of community and economic development, education, health care, environmental concerns, international development, and global security issues.