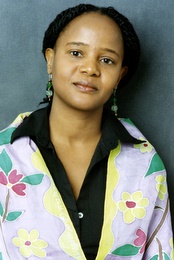 First Writer from French Caribbean to Receive Langston Hughes Medal
Award-winning author Edwidge Danticat, hailed as the literary voice of Haiti, will receive the 2011 Langston Hughes Medal at The City College of New York's Langston Hughes Festival, Friday, November 18. CCNY President Lisa S. Coico will bestow the award upon Ms. Danticat at 6:30 p.m. in the Marian Anderson Theatre, located in Aaron Davis Hall on the CCNY campus.
"Since 1978, the Langston Hughes Festival has honored eminent African-American writers including Maya Angelou, James Baldwin, Toni Morrison and Alice Walker," said President Coico. "Ms. Danticat joins these and many other illustrious writers whose influential works continue to entertain readers while also inspiring social change. She is a more than deserving recipient of this prestigious honor."   
Ms. Danticat, who came to the United States at age 12 and was the recipient of a MacArthur "Genius" Award in 2009, is the first writer associated with the French Caribbean to receive the Hughes Medal.
The award presentation is part of an evening that will include a performance of excerpts from Langston Hughes' "The Emperor of Haiti" and from "The Father," a play by Haitian playwright and actor Guy Regis Jr. by the Concrete Theater Company. Kalunga Neg Mawon, a musical troupe, will add a special Haitian flavor to the night's activities.
Earlier that day, the Festival will present a panel discussion, "Haiti in The Age of Danticat," from 11 a.m. to 1 p.m. in Room 250, Shepard Hall. Participating speakers are:
Dr. Maria Rice Bellamy, assistant professor of English, College of Staten Island;
Dr. Kaiama L. Glover, assistant professor of French and Africana Studies, Barnard College, Columbia University;
Dr. Jean Yves Plaisir, chair and assistant professor, Teacher Education Department, Borough of Manhattan Community College;
Dr. Millery Polyné, assistant professor, New York University Gallatin School of Individualized Study.
Dr. Régine Latortue, professor of Africana studies, Brooklyn College, will moderate. Both events are free and open to the public.
 
"We're privileged to recognize Ms. Danticat for her outstanding work, and the award is testimony to the fact that she's the latest writer to follow in Langston Hughes' internationalist tradition," said Dr. Gordon Thompson, associate professor of English and director of the Langston Hughes Festival.
"We are further happy to have this opportunity to shine another spotlight on Haiti with the hope that we may contribute in some small measure to alleviating the immense suffering of these people in the wake of the 2010 earthquake," he added.
The late Raymond Patterson, professor emeritus of English established the Langston Hughes Medal in 1973 to honor Mr. Hughes' life-long commitment to social change through works that reflect various cultures associated with African roots.  
About Edwidge Danticat
Edwidge Danticat is a fiction writer, memoirist and essayist who writes about the Haitian-American experience in the United States and in Haiti. A graduate of Barnard College (BA in French literature, 1990) and Brown University (MFA in creative writing, 1993), her master's thesis was the basis for her first novel, "Breath, Eyes, Memory" (1994) which became an Oprah Book Club selection.
"Krik? Krak!" a short story collection that was her second book, earned her wide acclaim and was a finalist for the 1995 National Book Award. Subsequent publications include: "The Farming of Bones," "The Dew Breaker," and "Brother, I'm Dying," which received the 2007 National Book Critics Circle Award and the Dayton Literary Peace Prize.
In addition, Ms. Danticat edited "Butterfly's Way: Voices from the Haitian Diaspora in the United States" and "Haiti Noir." In a "New York Times" article about the latter anthology, she observed, "there is a continuous need for expression that an environment like Haiti demands. All the strife inspires all the writers we have."
Ms. Danticat's other literary awards and prizes include: The Pushcart Short Story Prize, a 1995 Woman of Achievement Award from Barnard College, The International Flaiano Prize for Literature, a Lila Wallace- Reader's Digest grant, the 1999 American Book Award, as well as fiction awards from "The Caribbean Writer," "Essence" and "Seventeen" magazines.
On the Internet

Profile of Edwidge Danticat
http://aalbc.com/authors/edwidge.htm
Langston Hughes Festival
/prospective/lhf
For additional information about the Langston Hughes Festival, call (212) 650-6353 or send email to LHF@ccny.cuny.edu.