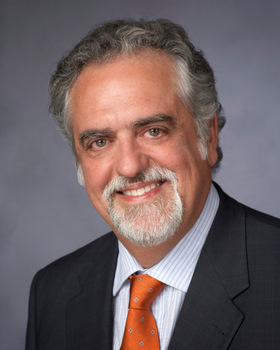 City College of New York President Lisa Staiano-Coico has announced that Dr. Maurizio Trevisan, MD, has accepted an offer to become dean of the Sophie Davis School of Biomedical Education at CCNY.  Dr. Trevisan, whose appointment is subject to the approval of the CUNY Board of Trustees, is currently executive vice chancellor and chief executive officer, Health Sciences System, Nevada System of Higher Education.  If approved, he will assume his new position August 1.
"Dr. Trevisan is an experienced senior administrator, an internationally known physician/epidemiologist in the field of cardiovascular and chronic disease, and a prolific scholar," said President Staiano-Coico in announcing the appointment.  "We eagerly look forward to the Sophie Davis School, with its innovative BS/MD program and outstanding physician assistant program, achieving a new level of excellence under his leadership."
"I am thrilled at the opportunity to join the distinguished faculty of the Sophie Davis School of Biomedical Education and to work with them, the staff and the student leadership to build on the outstanding tradition of the School to broaden and strengthen the academic mission of the City College of New York and its dedication to accessibility and excellence," Dr. Trevisan said.
 
As dean of the Sophie Davis School, he will succeed Dr. Stanford Roman, who retired in 2009.  Dr. Eitan Friedman, a medical professor of physiology and pharmacology, had been serving as interim dean.
Since 2007, Dr. Trevisan has led the Health Sciences System, a statewide collaboration of Nevada higher education health sciences and professional programs.  The system, which includes eight different colleges and universities across the state, focuses on coordinating these institutions' efforts to train and retain physicians and other health care professionals to practice in Nevada.
Prior to moving to Nevada, Dr. Trevisan served as professor in the Department of Social and Preventive Medicine at SUNY University at Buffalo and founding dean of the School of Public Health and Health Professions.  He joined SUNY Buffalo in 1985 as an assistant professor and since 2007 has held the title SUNY distinguished professor emeritus.
As a researcher, he has authored more than 250 publications, which have appeared in such high-impact journals as the "Journal of the American Medical Association," "Annals of Internal Medicine" and "The New England Journal of Medicine."  He has extensive experience directing and conducting multi-center and international collaborative studies, as well.
Dr. Trevisan's research interests focus on the role of lifestyle and metabolic factors in the etiology and prevention of cardiovascular disease, with a special focus on the role of diet and alcohol use.  More recently, he has focused on the relationship between oral and systemic health, such as ties between periodontal disease and cardiovascular disease and the role of infection and inflammation.  

A native of Naples, Italy, Dr. Trevisan earned his MD from the University of Naples Medical School and his MS in epidemiology from SUNY University at Buffalo.
About the Sophie Davis School of Biomedical Education
Founded at The City College in 1973, the Sophie Davis School of Biomedical Education was established to recruit underrepresented minorities into medicine, increase medical services in historically underserved areas and increase the availability of primary care physicians.  It offers two unique and challenging programs that lead to careers in medicine.
The innovative five-year BS/MD Program integrates undergraduate education with the first two years of medical school.  Students graduate with a BS degree from City College and move on to complete their final two years towards the MD in one of six cooperating medical schools.  The Physician Assistant (PA) Program is a 28-month upper division program leading to a BS degree and certification as a Physician Assistant.  It was one of the first baccalaureate degree-granting physician assistant programs in the country. 
On the Internet:
Sophie Davis School of Biomedical Education
/prospective/med
Profile of Dr. Maurizio Trevisan
http://tinyurl.com/63gn6a9