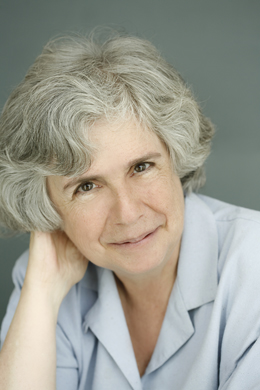 NIH Researcher to discuss "Bacterial Circuits with Small RNA Regulators" October 18
Molecular biologist Dr. Susan Gottesman will deliver the 7th Annual Sharon Cosloy-Edward Blank Lecture at The City College of New York 4 p.m. Thursday, October 18. The topic of her talk will be "Bacterial Circuits with Small RNA Regulators." The lecture, which is free and open to the public, will take place in Room 95, Shepard Hall, and will be followed by a reception in Room 150.
Dr. Gottesman is a distinguished investigator of the National Cancer Institute (NIH) and head of the Biochemical Genetics Section of the Laboratory of Molecular Biology at NIH.
Her laboratory uncovers novel means of gene regulation in the bacteria Escherichia coli (E. coli) – that is, how various molecules within bacterial cells control the processes for converting genetic information into proteins and other products. From this, she and her colleagues learn how these regulators can orchestrate the way genes, in assemblies called global control circuits, can interact with and affect each other.
Her findings help illuminate how bacteria deal with stress and with changing conditions within or outside the body, and how common bacterial residents in the body can transform into disease-causing pathogens. This, in turn, may help explain how our own cells react to stresses such as changes in diet or damage from UV light or viruses.
"The ideas we get from bacteria are parallel to what we understand about what can happen in mammalian cells. Some of these ideas are influential in thinking about important questions about how our cells function," explained Dr. Gottesman.
 
Having begun with an interest in the breakdown of proteins, or proteolysis, her laboratory has shifted much of its focus to the study of molecules called small RNAs that encode information. These small RNAs can affect how bacterial control circuits operate, turning genes on or off, and modifying how long they continue to make proteins.
Her lab has collaborated with others to mount global searches to find and study a unique type of gene regulator in bacteria, called anti-adaptor molecules. Anti-adaptor molecules regulate the turnover of a protein called RpoS, which can change how bacterial cells respond to stress.
Professor Gottesman was recognized for her contributions with her election to the American Academy of Microbiology (1993), the National Academy of Sciences (1998), and the American Academy of Arts and Sciences (1999). She also received the Abbott ASM Lifetime Achievement Award in 2011.
She is currently editor of the "Annual Review of Microbiology," and is on the editorial board of "Genes and Development, the Journal of Bacteriology and Molecular Microbiology." In addition, she has held leadership positions in the American Society for Microbiology, American Society for Biochemistry and Molecular Biology, Genetics Society, American Association for the Advancement of Science, and the National Academy of Sciences.
Professor Gottesman received her B.A. in Biochemical Sciences from Radcliffe College and her Ph.D. in Microbiology and Molecular Genetics from Harvard University. She did postdoctoral training at NIH and at MIT, and returned to NIH in 1976 as a senior investigator in the Laboratory of Molecular Biology of the National Cancer Institute.
Dr. Gottesman's visit is a family homecoming of sorts. Her mother Dorothy (Altman) Kemelhor graduated from CCNY in the late 1930's.
CCNY alumnus Edward Blank, '57, established the Cosloy-Blank Lecture Series in memory of his late wife, Professor Sharon Cosloy, who was a beloved member of the City College biology faculty for 27 years and served as chair of the biology department. Sharon Cosloy was an adored mentor, educator, wife and mother, and a passionate investigator of life and science. CCNY President Lisa S. Coico and the CCNY Department of Biology present the lecture.
On the Web: