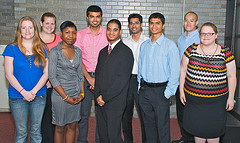 On-Campus Employment and Workshops Develop Skills for Entry-Level Positions
Ten City College of New York (CCNY) students participated this summer in a new program that combined work experience with workshops to develop the skills employers value in entry-level employees.  "The Development of Young Professionals Summer Program (DYPP) aims to ensure CCNY students are armed with the tools needed to successfully navigate any work environment," said Ian Matthews, a human resources generalist and program co-founder.
DYPP was created as a response to a 2008 survey done in the state of Washington of 2,000 businesses there.   Employers who were polled remarked that entry-level workers were most deficient in problem solving, decision making, conflict resolution, negotiation, collaboration and active listening.  DYPP was created to change this and provide City College students with the skills needed to succeed in the workplace.
The program is run by the College's On-Campus Student Employment Office (OSCE).  That office was created in 2009 to create a sense of community and centralize the way students apply for and gain on-campus employment.  Erica Torres, an on-campus student employment specialist, and Shamaya Green, a college assistant coordinator, co-founded DYPP along with Mr. Matthews.
The ten students who participated in the summer program, which ran for ten weeks, were: Abimbola Adeusi, Muhammad Ahmad, Asraful Azim, Jacqueline Bagley, Gilana Gelman, Katherine Guenther, Yasir Haque, Kennedy Kaunga, Giovanni Sanchez and Brian Shi.  They are each assigned to different offices across the campus, where they receive first-hand work experience, and they participated in four biweekly workshops led by OCSE staff.
Workshop topics included Customer Service, Work Etiquette and Conflict Resolution.  Administrators from various college offices gave presentations on each topic.  In the last workshop the students attended both Mr. Matthews and Ms. Green were impressed with the improvement of the group, commenting on their development since the interviewing process.  "Students working on campus form relationship that will last a lifetime," Ms. Green noted.
The students also blogged about their experiences. The blog can be found at http://dypsp.wordpress.com.
"The program is sharpening all previously gained skills and equipping me with a plethora of business tactics," said Mr. Sanchez.  "It is going to help me in my quest to further my success in gaining a job in the business world and, more importantly, keeping that job."
Ms. Guenther, who came into the program with no previous work experience, added: "I now feel confident in the workplace and capable of excelling in future work."