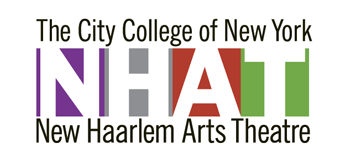 New Haarlem Arts Theatre to Offer Two Productions for Premiere Season, Support Theatre MFA at CCNY
Harlem is getting a new entertainment option this summer.  The New Haarlem Arts Theatre (NHAT), a new professional theatre company launched by The City College of New York Department of Theatre and Speech, will offer two productions in its premiere season.
"Blues for Mister Charlie," written by James Baldwin and directed by Eugene Nesmith, will run June 23 – July 17. "It Ain't Nothin' But the Blues," a musical revue written by Charles Bevel, Lita Gaithers, Randal Myler, Ron Taylor, and Dan Wheetman, directed by Alfred Preisser and choreographed by Tracy Jack, will run July 27 – August 21.  
Both shows will be staged in Theatre B of Aaron Davis Hall, located at 135th Street and Convent Avenue in Manhattan.  Mr. Nesmith serves as NHAT's artistic director and chairs CCNY's Department of Theatre and Speech.   Mr. Preisser is co-founder and former artistic director of the Classical Theatre of Harlem.
"Our objective is to build and sustain a vibrant cultural institution in partnership with CCNY that will offer a home for the best emerging modern theatre imaginable," said Professor Nesmith. "In our new theatre, students will be afforded the opportunity to work alongside leading artists in their field on a professional level."
The new company will support development and establishment of a new MFA program in theatre at CCNY.   Professor Nesmith hopes to commence the program within three years with a concentration in acting.  
Most top academic theatre programs or theatre schools have a professional theatre company in residence or an association with a professional theatre, he noted.  The presence of a company on campus would enhance the quality of theatre education at CCNY as well as students' chances for a fulfilling career, he added.
The theatre will serve as a place to produce bold theatrical works that express the history, culture and diversity of America. Student actors will have the opportunity to work with distinguished artists in their field, which will encourage artistic freedom, risk taking and experimentation with theatrical forms.
In addition, affiliation with and support from City College would help NHAT achieve what has been difficult in the past – creating a professional theatre company in Harlem with a permanent home, Professor Nesmith said.  "Our objective is to make the theatre an integral part of the Harlem community and accessible to all."  He hopes the productions will be well received by Harlem residents and draw people to the community, as well.
Tickets for both shows can be purchased at SmartTix.com.  Prices are: $25 for general admission and $15 for seniors and students with valid ID.  Prior to June 16 general admissions tickets can be purchased for $20 by using code ADV20.
On the Internet:
New Haarlem Arts Theatre
http://newhaarlemartstheatre.blogspot.com/
CCNY Department of Theatre and Speech
/prospective/humanities/theater