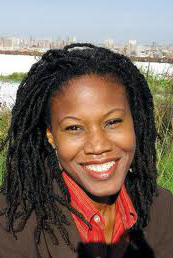 Event Produced By Colin Powell Center Student Fellows Looks at Using Social and Digital Media to Foster Collective Action and Create Change
The Colin Powell Center for Policy Studies at The City College of New York presents the 2011 New York Life Symposium, "Civic Engagement in the Era of New Media," 5 p.m. – 8 p.m. Wednesday, March 16, at the Schomburg Center for Research in Black Culture, 515 Malcolm X Blvd., in Harlem.  Organized by Powell Center student fellows, the event will explore how individuals and organizations can harness social and digital media to foster collective action and positive change.
The symposium will feature environmental and community strategist Majora Carter, founder of Sustainable South Bronx and a MacArthur "Genius" Award winner, along with a lineup of nationally recognized leaders on digital activism.  Multimedia journalist Farai Chideya, a popular cable news commentator and guest analyst, will moderate. A reception at the event's conclusion will offer opportunities to mix and mingle with people from a cross section of fields and endeavors.  
The event is free and open to the public, but advance registration is required.
"Civic Engagement in the Era of New Media" will address the local face of a worldwide phenomenon.  The event is designed for anyone who uses Facebook, Twitter and other social media platforms, or is interested in the potential of technology to effect change. This includes nonprofit representatives, students, activists, educators, and other professionals and community members.  
The event aims to inspire a dialogue between speakers and the audience members on topics such as:
The rise of social media and its potential for promoting greater collective action and community building;
Ways that community organizations and individuals can make a difference with the help of new media;
Practical tips and tools for implementing digital and social media for important causes and organizations;
Challenges to the integration of media activism and direct civic engagement.
Joining Ms. Carter will be: Chris Cathcart, founder of OneDiaspora Group and LEDGE, an HIV-awareness e-magazine; Hilary Doe, national director of the Roosevelt Institute Campus Network; Betty Yu, media action grassroots network coordinator with the Center for Media Justice, and Deanna Zandt, social media consultant and author of "Share This! How You Will Change the World with Social Networking."
The students producing the event are fellows in the Colin Powell Program in Leadership and Public Service, a multifaceted, co-curricular program designed to prepare diverse new generations of publicly engaged leaders.  As part of their training, the fellows have worked intensively with Farai Chideya, a New York Life Leader-in- residence at the Center, to produce the event.  The New York Life Endowment for Emerging African-American Issues is sponsoring the event.  The endowment supports the examination of a wide range of issues that affect African-American and other minority communities.
For more information, bios of the speakers, and the fellows' symposium blog posts, videos, and other multimedia content, visit /powell.
To register, visit: http://2011symposium.eventbrite.com.
About the Colin Powell Center for Policy Studies
The Colin Powell Center for Policy Studies at The City College of New York is a nonpartisan educational, training and research center named for one of CCNY's most distinguished graduates.  Established in 1997, the Center's mission is to prepare new generations of publicly engaged leaders from populations previously underrepresented in public service and policy circles.  The Center also seeks to build a strong culture of civic engagement at City College and to mobilize campus resources to meet pressing community needs and serve the public good.  The Center focuses its efforts in areas of community and economic development, education, health care, environmental concerns, international development, and global security issues.