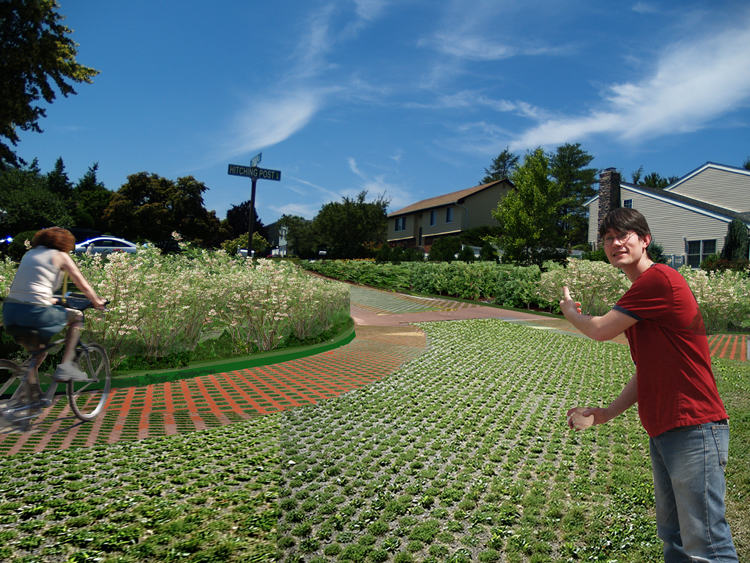 Replacing the asphalt pavement in parking lots with permeable grass-pavers that can withstand car traffic and sustain biomass would not only improve their aesthetics but help fight global warming.  That idea was one of the elements of a winning proposal submitted by a team of landscape architects from theBernard and Anne Spitzer School of Architecture at The City College of New York in the Long Island Index' "Build a Better Burb" competition.
The team, consisting of Denise Hoffman Brandt, Associate Professor of Landscape Architecture, and Alexa Helsell and Bronwyn Gropp, May 2010 graduates of the MS program in landscape architecture, was one of five winners selected by a jury of distinguished professionals and academics from a pool of more than 200 entries.  The winners were announced at a press conference October 4 in Woodbury, N.Y.  Each team received a $4,000 prize.
The Build a Better Burb competition sought ideas to retrofit downtown areas of Long Island communities and make better use of over 8,000 acres of land in these areas that is either undeveloped or used for parking.  The CCNY team's proposal, "Building C-Burbia," called for a new infrastructure system that could be used for near-term biomass storage and long-term carbon sequestration.
"A lot of the focus of response to global warming is on limiting carbon emissions.  Our proposal takes that a step further by looking at the whole carbon cycle and proposing a carbon-storage based suburban landscape system." said Professor Brandt.  "Through carbon sinking and carbon sequestration, landscape can not only be ornamental but can help manage the carbon cycle."  
The proposal built upon research she had done previously as a New York Prize Fellow of the Van Alen Institute, an independent nonprofit architectural organization that promotes inquiry into the processes that shape the design of the public realm.
"This is a crucial time for the future of Long Island, as well as many similar suburbs throughout the United States," said Ms. Helsell.  "The fact that our ideas were well received is very hopeful. Carbon sinks are important in the future of suburban transformation into more sustainable neighborhoods."  Ms. Helsell is currently conducting research in Rome as a Spitzer Research Fellow.
"This is a systematic approach to green infrastructure that can be inserted into existing infrastructure to offer short-term and long-term solutions," added Ms. Gropp. "It can work not only on Long Island, but in any suburban area."
Citing the rejuvenation of northeastern forests in the post-agricultural and post-industrial era, "Building C-burbia" would create carbon sinks – manmade reservoirs to capture carbon dioxide – in civic strips, ecological easements and other leftover land in downtown areas.  
Parking lots, highway medians and empty downtown properties are the kinds of locations that could be adapted for such purposes.  However, instead of elaborate gardens, "Building C-burbia" calls for planting grasses, trees, shrubs and ground cover, depending on the location, to minimize maintenance.  In the case of parking lots, replacing asphalt pavement with pavers interspersed with grassed would help capture carbon emissions, boost biomass and improve soil quality.
"We're establishing an analog plant system that is akin to a natural plant system," Professor Brandt said. "Our aim is to understand the urban landscape as a system consisting of many dispersed ecologically, active sites.."  
She added that taking a holistic approach to landscape planning would enable public agencies to accumulate sizable amounts of acreage to be managed for carbon sequestration.  Tax credits could encourage private owners of undeveloped to participate until they are ready to build on their property.
The benefits would include creation of a consistent field cover that would creative a cohesive frame for landscaping empty lots and remnant property that could change the face of neighborhoods, she explained.  The approach not only improves the environmental systems, but also the social and civic systems of a community, so funding can be leverage for both objectives, she adds.
The solution can work at the community level and across Long Island in a way that allows individual communities to retain and enhance their identities.  To demonstrate this, the CCNY team developed different approaches for three Long Island communities – the city of Glen Cove and the villages of Farmingdale and Babylon.
In addition, through environmental planning it can address the problem of sprawl by designating environmentally sensitive and scenic areas; i.e. open spaces, for protection while squeezing development into underutilized sections of developed areas, i.e. downtowns.  "This would enable communities to protect natural landscapes," Professor Brandt noted.
June Williamson, associate professor of urban design in the Spitzer School of Architecture, served as advisor and jury coordinator for the Build a Better Burb competition.  Entrants' identities were kept from the eight-member jury, which included Professor Williamson.  
The Long Island Index, which sponsored the competition, is a project that gathers and publishes data on the Long Island region with the aim of engaging the community to think about the region and its future.  It is funded by the Rauch Foundation, a family foundation headquartered in Garden City, N.Y.