Effort Part of CCNY Project to Reduce High School Dropout Rate
Over a seven-week period last summer, a small group of local teens transformed a nondescript Chinese food takeout shop in Central Harlem into a source of pride and beauty for their community.  The effort, which resulted in an 8' x 15' mural with Chinese motifs painted on the storefront, was a pilot project for the Harlem Youth Project, a City College of New York (CCNY) initiative supported by UNICEF to create a child and youth-friendly neighborhood.
The Project, which is modeled on a worldwide framework to create child-friendly cities established by UNICEF, is organized around seven themes: education, health and nutrition, human rights, access to cultural enrichment and building global citizenship, access to play and recreation, neighborhood beautification and policy development.   An advisory task force consisting of representatives from UNICEF, CCNY and local not-for-profit agencies, provides oversight for the Project, which operates under the auspices of the Charles B. Rangel Center for Public Service at CCNY.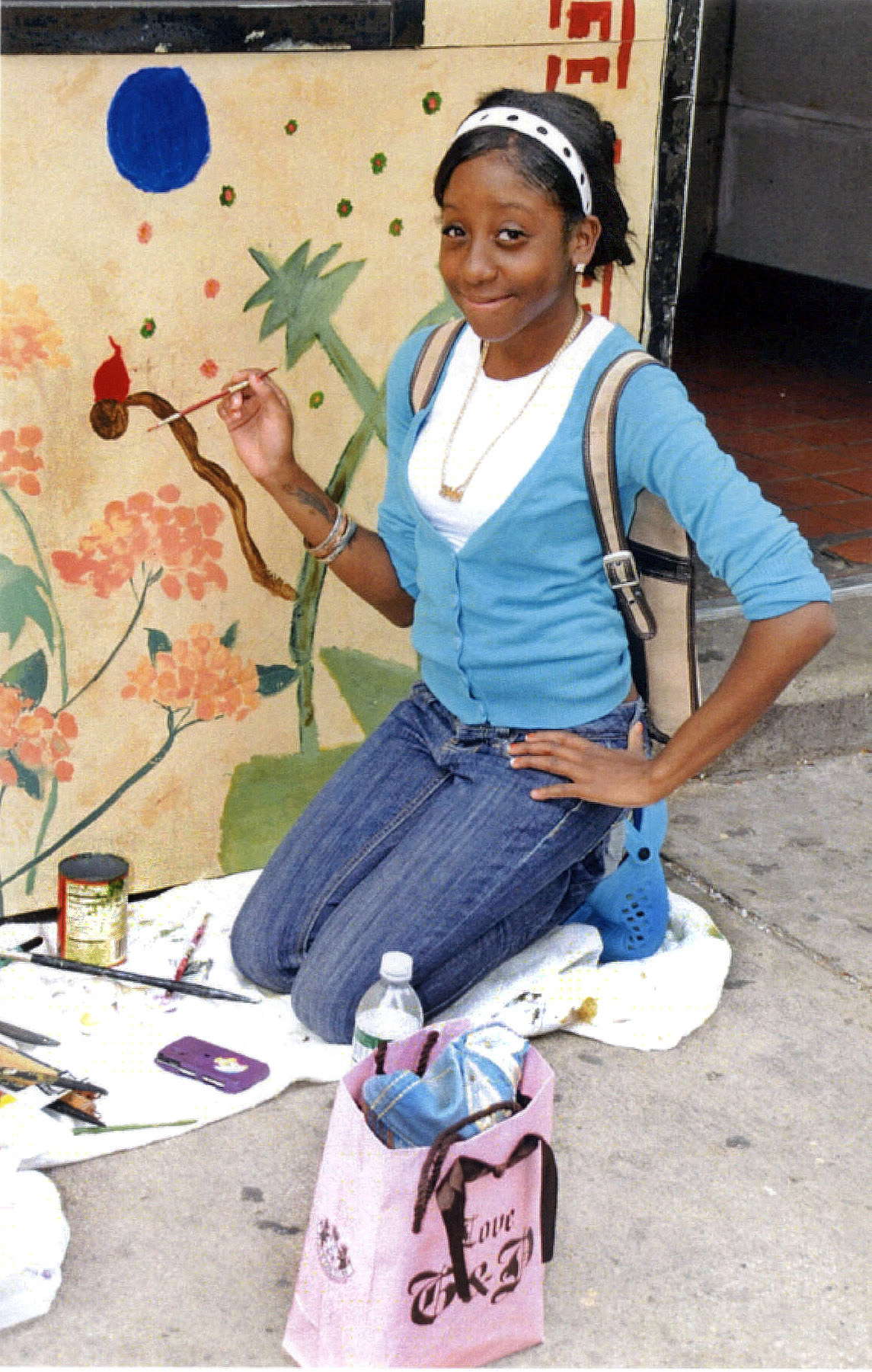 The goal of the three-year Project is to encourage Harlem's young people to finish high school and go on to college, said Dr. Jean Krasno, Project Director and Lecturer in Political Science at CCNY.  She cited research showing that only 47 percent of New York City students graduate from high school.  
The area served by the Project is bounded by 145th Street on the north, Malcolm X Boulevard on the east, 135th Street on the south and Amsterdam Avenue on the west.  Several existing youth programs in this neighborhood, including the Children's Aid Society Drew Hamilton Learning Center, the Salvation Army Community Center and CCNY's Harlem 40 mentoring program for urban youth, are participating in the Project.
The mural was produced as part of the Harlem Youth Project's neighborhood beautification initiative, and involved eight students in the Harlem 40 program.  The Luck Joy restaurant, which received the mural, is located at the corner of Frederick Douglass Boulevard and W. 142nd Street.
Through an interpreter, Dr. Krasno was able to secure the store owner's permission to have the mural painted and installed.  His only request was that the mural include images of panda bears, which are revered in his native land, she recalls.  The students who worked on the project used books of Chinese painting to search for ideas and develop the overall design.
In addition, Dr. Krasno got the building's landlord to repair a broken window in the store so that the owner would be able to raise and lower the shutter in front of the building.  The repair, which the program paid for through the Project, put into practice the "broken window" theory, which, as reported last year in "The Economist," suggests that crime goes up in rundown, disorderly environments but falls in areas where streets have been cleaned up.
As the students worked on the mural, passersby often stopped to watch and praise it as something "great" for the community.  "The kids got a sense of pride from the many compliments they received from neighbors," Dr. Krasno said.  "It gave them a sense that they could change their community."
In addition to the neighborhood beautification project, the Harlem Youth Project brings approximately 70 neighborhood teens to the City College campus twice a week.  They visit campus facilities such as laboratories and libraries and sit in on classes, particularly in music and art.  
"Ninety percent of them say they want to go to college, but a number of kids will be disappointed unless you capture their attention early enough to develop that interest," Dr. Krasno pointed out.  "We want to show them college isn't boring; it's exciting.  It not only can help them get a good job when they graduate but it offers an enriching experience."
In addition, the Harlem Youth Project acts as a gateway to connect teens with other programs on The City College campus that can help them prepare for college.  These include: the Urban Scholars program, which provides academic and counseling services; College Now, which lets qualified high school students take introductory-level college classes and earn college credit and the Adult and Continuing Educationdepartment's GED program.
In the area of policy development, graduate students in a course on Urban Youth Policy Development taught by Dr. Krasno are conducting research on city management of entities that effect children and teens in areas ranging from education to health to police and juvenile justice.  Their fieldwork involves interviews with neighborhood youth to gain their input into written policy proposals the graduate students are formulating in class.