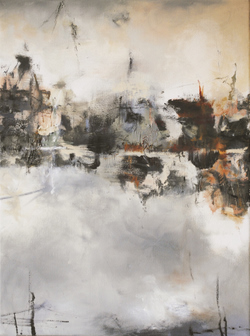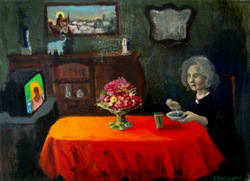 Graduate School Classmates Florencia Fraschina and Andrea Cukier Exhibit Together for First Time in 15 Years
Argentine artists Florencia Fraschina and Andrea Cukier will have the first joint exhibit of their works in 15 years at The City College of New York's Center for Worker Education.  Titled "Inner Environments: New Paintings from Florencia Fraschina and Andrea Cukier," it features 25 paintings and runs November 10 through January 25.
"We are excited that our next exhibit will bring together two Argentine artists working from diverse perspectives: one working in Buenos Aires, the other working in New York," said Dr. Juan Carlos Mercado, dean of CCNY's Division of Interdisciplinary Studies, which is hosting the exhibit. "Both painters offer landscapes that link the varying spaces of the Americas to each other."
Revolving exhibitions that emphasize global and local communities reinforce the Center's role as a liberal arts college for working adult students as well as its new MA in the Study of the Americas program, he added.
The artists, who were classmates in graduate school, consider themselves heirs to an Argentine artistic lineage of painters who used unassuming and traditional techniques to convey an intense emotional engagement with the pathos of a place in spite of the changes and tendencies of the 20th century.
Cukier's ambiguously abstract landscapes are somber, meticulously crafted pieces. Their complex atmosphere evokes clouds, mist, and reflections of changing light on water. Her brushstrokes reveal elements resembling barbed wire, fleeing birds and industrial debris.
Full of anticipation and mystery, Fraschina's visceral work boldly depicts aspects of human frailty through voluptuous figures and vigorous colors. Her interior scenes give us a subtle sense of both loss and hope.
In recent years, the Division of Interdisciplinary Studies has worked to create dialogue among students, staff, professors and communities around the arts. It offers a variety of art, film, and music courses every semester. In addition, several faculty members conduct research focusing on visual arts. For example, Professor Marlene Clark works on de Kooning and Professor Carlos Aguasaco on superheroes and Mexican identity.
"Inner Environments: New Paintings from Florencia Fraschina and Andrea Cukier" will have an opening reception 6 – 9 p.m. Friday, November 11, at the Center, located at 25 Broadway, 7th floor, in Lower Manhattan.  The event is free and open to the public. To RSVP, please write to abenedicty@ccny.cuny.edu. Exhibit hours are Monday to Friday, 12 noon to 8 p.m. Hours are subject to change during the November and December holidays and January intersession, so please call 212-925-6625 before visiting.
 
For further information, contact Elena Romero, communications coordinator, 212-925-6625, ext. 258. To learn more about each artist, visit www.andreacukier.com and www.florenciafraschina.com.ar.