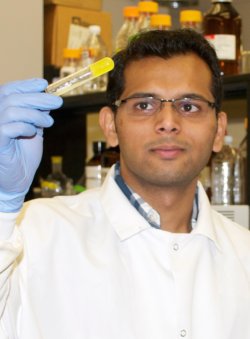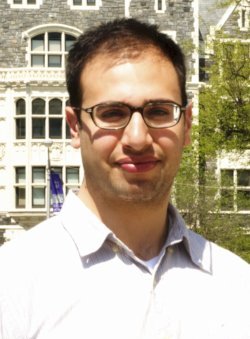 Swapnil Jadhav and Giovanni Milione, graduate students in The City College of New York's Division of Science, have been lauded for their leadership potential by prominent organizations in their respective fields.
Mr. Jadhav, a PhD candidate in chemistry under the supervision of Associate Professor George John, was presented with the American Chemical Society's (ACS) 2011 Kenneth G. Hancock Memorial Award. The award comes with a $1,000 stipend and certificate recognizing his outstanding contributions in furthering the goals of green chemistry. 
Through a project titled "Functional Molecular Gelators from Crop-Based Feedstock," he developed a technique to make fruit or tree crop waste into biodegradable gels. "The primary application of this technology is in the eco-friendly remediation of oil spill areas," Mr. Jadhav explained.
The environmentally benign gels would replace the hazardous petroleum-based cleaners currently in use. The gels sop up oil from the surface of the water and allow the collected oil to be recycled. Current petroleum-based products do neither. The ACS presented the award to Mr. Jadhav June 20 at the Presidential Green Chemistry Challenge Awards Ceremony during the 15th Annual Green Chemistry & Engineering Conference, which was held in Washington.
"Only two awards were given to students this year," noted Professor John. "Every year students from all over the world compete in green chemistry. That he brings this award to CCNY this year is quite phenomenal."
Mr. Jadhav received his bachelor's degree in chemical engineering from the University of Mumbai, where green engineering became his passion. He recently received two other awards for his work in green chemistry from ACS and the American Oil Chemists' Society (AOCS).
Mr. Milione, an Iraq War veteran currently pursuing a masters in physics in the laboratory of Dr. Robert Alfano, CUNY Distinguished Professor of Science and Engineering, was awarded a 2011 Scholarship by SPIE, the International Society for Optics and Photonics, for his potential contributions to the field of optics.
Mr. Milione studies singular optics and complex light with the Institute for Ultrafast Spectroscopy and Lasers (IUSL) on the CCNY campus. Continuing his research with Professor Alfano, in the fall he will begin work toward a PhD, which is granted jointly by CCNY and the CUNY Graduate Center.
Most recently, Mr. Milione and his colleagues published a novel way to mathematically describe polarization vortices on the surface of a sphere. "As an experimentalist I like how elements of photonics permeate almost every field of science at both the fundamental research level and in practical applications," he said.
He plans to use the $2,000 SPIE scholarship to finance travel to and participation in optics events, such as a singular optics conference in Ukraine in 2012 and optics outreach in Bolivia.
In June, Mr. Milione was invited to an optics conference in Trieste, Italy, and a Pan American advanced Studies institute workshop on frontiers in imaging science in Bogotá, Colombia, funded in part by the National Science Foundation and the Optical Society of America.
On the Internet:
Professor John's Lab
http://www.sci.ccny.cuny.edu/~john/ 
Kenneth G. Hancock Memorial Award  
http://tinyurl.com/6kk9y89
Sugar Derivative Solidifies Oil, C&E News
http://pubs.acs.org/cen/news/88/i30/8830news3.html
Institute for Ultrafast Spectroscopy and Lasers
/ci/iusl 
SPIE Scholarships
http://spie.org/scholarships