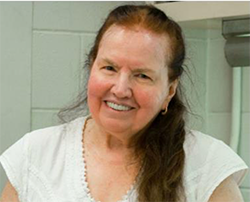 They call Patricia Broderick the "dynamite stick" because nothing stops her. She is the first person to marry the brain with sensors and has invented, patented and trademarked a revolutionary technology, THE BRODERICK PROBE® that some medical doctors say will change the face of science and medicine.
Broderick is so dynamic that CUTV News Radio has asked her to talk about her work on air twice – on Monday Nov. 6 at 1 p.m. EDT and again Monday Nov 13 at 1 p.m. EDT.
 Broderick is a Medical Professor in Molecular Cellular and Biomedical science at the CUNY School of Medicine at The City College of New York and Professor in Neurology at NYU-Langone Medical Center. She is also Founder of Eazysense Nanotechnologies Inc.
Broderick believes the brain is a living miracle, but we're getting closer to understanding it biologically and chemically. She has spent her career working on neurodegenerative diseases like epilepsy, Parkinson's and Alzheimer's, as well as biopsychiatric conditions like anxiety, depression, schizophrenia, schizoaffective disorders.
Click here to find out how to call in on Nov. 6 and 13 at 1 p.m. EDT to speak with Broderick and the CUTV News Radio hosts Jim Masters and Doug Llewellyn.
About the City College of New York
Since 1847, The City College of New York has provided low-cost, high-quality education for New Yorkers in a wide variety of disciplines. Today more than 16,000 students pursue undergraduate and graduate degrees in eight professional schools and divisions, driven by significant funded research, creativity and scholarship. Now celebrating its 170th anniversary, CCNY is as diverse, dynamic and visionary as New York City itself. View 
CCNY Media Kit
.