Dear City College Community,
If you were on campus today, you almost certainly experienced the lockdown we had between 12 and 2:00 pm. This happened because one of our students reported what they thought was an individual with a gun walking through the park behind CCNY. Moments later, there was a report of a possible suspect (or suspects) with a weapon in A. Philip Randolph High School. The NYPD and our campus Public Safety team responded immediately to the possible threat and will continue to work in coordination, as necessary.
As I write this, details are still coming clear, so we'll all be learning more about what actually happened over the next few hours. But I wanted to immediately thank our public safety team for their swift action in initiating the campus wide lockdown, and in making sure that all of us were steered away from any potential danger. I also want to thank the members of our facilities and professional staff team who helped with keeping the areas along Convent Avenue free from student, staff and faculty traffic. All of you acted with courage and with a deep desire to protect everyone at CCNY, and I'm proud to be a part of your community.
We did not cancel classes today, but I'm asking faculty that teach between 12 and 3 to exercise the utmost leniency towards students who did not make it to class. There is every possibility that they were inside a locked down building, unable to leave or enter your building, or went home on the misinformation that classes were cancelled.
I'm gratified that today's events seem to have ended with no violence, but I think we need to continue preparations to make our campus as safe as possible - without sacrificing our openness. One way to assist is to join one of the many active shooter or first aid trainings that our campus security hold each year. I'm heartened by the fact that cameras that we recently installed on St. Nicholas Terrace provided real time information that aided the investigation as the incident was still in progress.
I sincerely regret that the calm of or campus was disrupted today, but happy that things are coming back to normal. Thank you, again, to everyone who saw a moment when their help was needed, and answered the call.
Sincerely,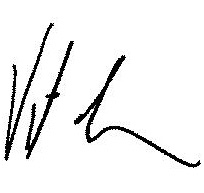 Vince Boudreau
President