Adrienne Petty
Faculty and Staff Profiles
School/Division
Division of Humanities and the Arts
Department
Description:
Professor Petty specializes in the social history of the United States, particularly the American South. The recipient of fellowships from the Schomburg Center, the Smithsonian Institution and the Ford Foundation, she has presented her work at meetings of the Organization of American Historians, the Southern Historical Association, the Oral History Association, and the Agricultural History Society. 
 
Description:
B.S., Northwestern University

M.A., Ph.D., Columbia University
Description:
The U.S. South

The Civil War and Reconstruction

The U.S. 1914-1945

Rebels and Reactionaries in the United States
Description:
Professor Petty is currently co-directing an oral history project, Breaking New Ground: A History of African American Farm Owners in the South, along with Professor Mark Schultz of Lewis University. Funded by the National Endowment for the Humanities, the project will yield hundreds of interviews that will become part of the Southern Oral History Collection at the University of North Carolina--Chapel Hill. Professors Petty and Schultz are at work on a book that draws upon the interviews and archival sources.
Description:
Standing Their Ground: Small Farmers in North Carolina Since the Civil War (Oxford University Press, September 2013). 
"The Jim Crow Section of Agricultural History," in Beyond Forty Acres and a Mule: African American Landowning Families Since Reconstruction, Debra A Reid and Evan Bennett, eds. (Gainesville: University Press of Florida, 2012).
"Guess Who's Coming to Interview," Agricultural History 84, no. 3 (Summer 2010): 298-306.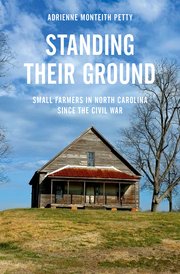 << Back To Directory