Václav L. Paris
Assistant Professor
Areas of Expertise/Research
Literature and the Environment
Czech Culture and Literature
Building
North Academic Center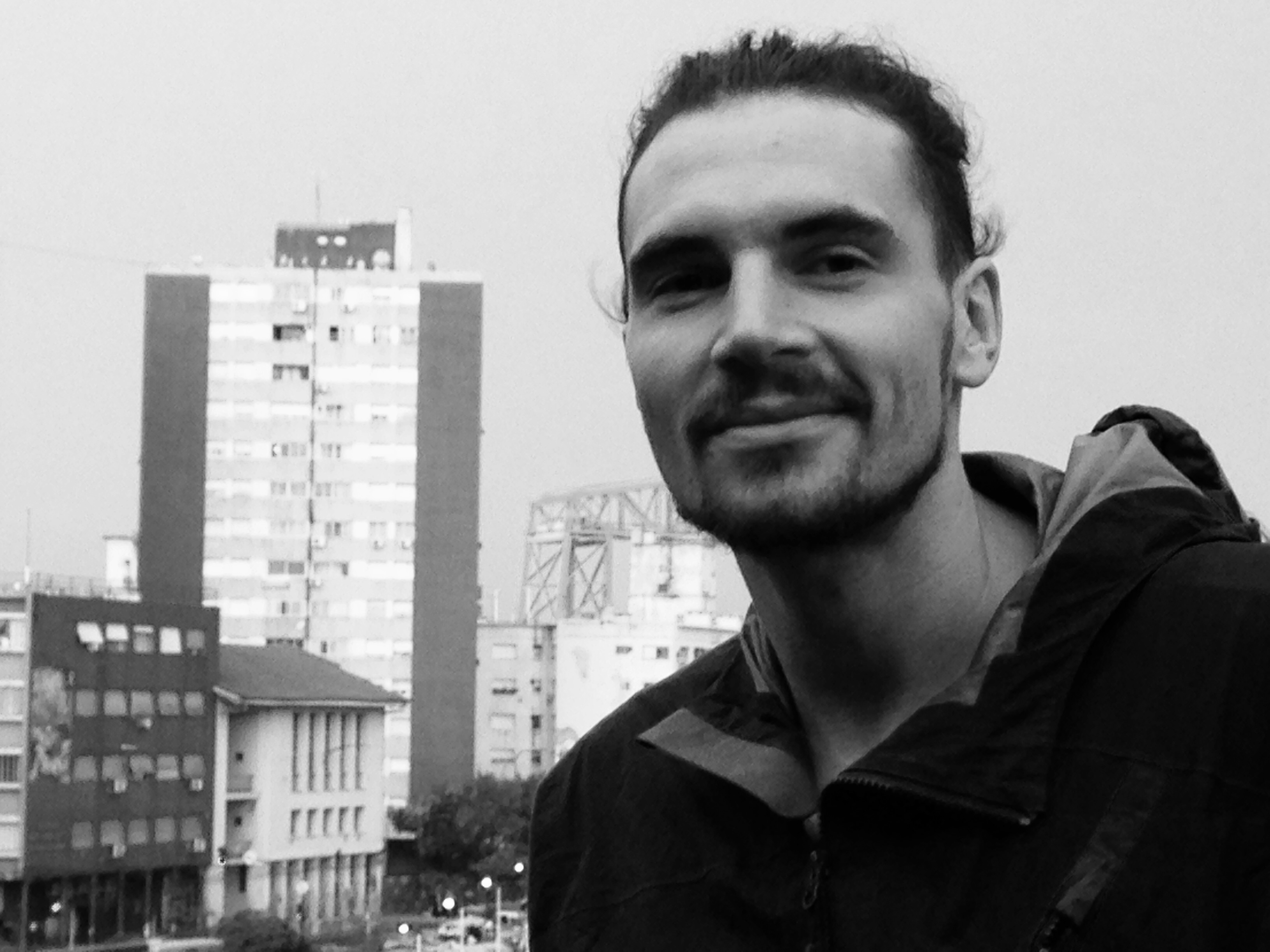 Václav L. Paris
Profile
Václav Paris joined the English department at City College as an Assistant Professor in 2014. He teaches courses on modernism, comparative literature, and literary theory, as well as a well-known regular class on James Joyce's Ulysses. His research interests include literature and the environment, genre, and evolutionary science. His new book, titled The Evolutions of Modernist Epic, considers the changing relations between the so-called Eclipse of Darwinism and modernist national narratives from around the world. Individual chapters focus on works by Gertrude Stein, Jaroslav Hašek, James Joyce, Mário de Andrade, and Virginia Woolf. This book is forthcoming with Oxford University Press (2020).
A short article adapted from The Evolutions of Modernist Epic, titled "Beginning Again with Modernist Epic," was published in Modernism/modernity Print + in 2016. Another article, drawn from the final chapter and titled "The Nature of Comparison" is published in Comparative Literature Studies in 2020. Some of Václav Paris's other articles can be found at his academia page.

Václav Paris is also a passionate scholar of languages and translator. His work spans a number of different national and linguistic traditions, including Czech, French, German, Spanish, Brazilian Portuguese, and Italian. His published translations include the Zdeněk Kratochvíl's monograph The Philosophy of Living Nature (University of Chicago Press / Karolínum, 2016) and Vilém Flusser's "The Power of Images" (Fotograf, 2019). He regularly translates for the Prague-based contemporary arts journal, Fotograf. 

Václav Paris is the recipient of numerous awards, including a scholarship at the wonderful James Joyce Foundation in Zurich, and, a six-month National Endowment in the Humanities grant, a Faculty Fellowship Publication Award, and various PSC CUNY awards. He is a book and article reviewer for Routledge and The Journal of Modern Literature. He is currently part of the organizing team for the Modern Studies Association Conference to be held in Brooklyn, October 2020​.
Education
Ph.D. The University of Pennsylvania, 2014.
M.Phil. Cambridge University, 2008.
B.A. University College London, 2006.
Publications
Book
·    The Evolutions of Modernist Epic. Oxford University Press, forthcoming 2020.
Peer-reviewed Articles
·    "Eccentric Primitivism: The World of Jan Welzl." Forthcoming at Modernism/modernity.
·    "The Nature of Comparison: Macunaima and Orlando." Comparative Literature Studies 57.1 (Summer 2020), 41-68.
·    "Anna Livia Plurabella česká," Litikon 2.1 (2017), 102-113. [In Czech.]
·    "T.E. Lawrence's The Seven Pillars of Wisdom and the Erotics of Literary History: Straddling Epic." English Literature in Transition, 60.1 (2017): 16-35.
·    "Pound and Disability," Paideuma 42 (2015), 85-108.
·    "The Queer Dialectic of Whitman's Nation: 'Let' in "Respondez," Arizona Quarterly 69.3 (Autumn 2013): 1-22.
·    "Picturing the Wake: Arcimboldo, Joyce and his 'Monster,'" James Joyce Quarterly 49.2. (Winter 2012): 235-260.
·    "Uncreative Influence: Louis Aragon's Paysan de Paris and Walter Benjamin's Passagen-Werk," Journal of Modern Literature 37.1 (Fall 2013): 21-39.
·    "Gertrude Stein's Translations of Philippe Pétain's Speeches," Jacket 2 (May 6, 2013).
Book Chapters
·      "Modernism, History, and Censorship: The United States vs. Two Books: Pay Day and Ulysses, 1930-1933," in Paparunas, Penny, Martin Heusser and Frances Ilmberger, eds. Parallaxing Joyce. Tübingen: Narr Francke Attempto Verlag, 2017. 138-153.
·      "Osudy a Encyklopedie" in Fikce Jaroslava Haška, ed. František Podhajský. Prague: Akademie Věd, 2016: 203-224. [In Czech.]
Reviews and Other Publications
·    "Rileggendo Montalbano,"  La Riviera, August 18, 2019, 14.
·    "The Dogs," Fiction 64, Fall 2019, 264-66.
·    "Modernist Paris" in The Palgrave Encyclopedia of Urban Literary Studies. 2018.
·    "Poetry in the Age of Digital Reproduction: Marjorie Perloff's Unoriginal Genius, and Charles Bernstein's Attack of the Difficult Poems," Journal of Modern Literature. 35.3. (2012): 183-199.
·    "On The Consolation of Poetry: On Two Recent Books by René Char," Jacket 2 (March 26, 2012).
·    "On Being George Oppen: A Review of Peter Nicholls, George Oppen and the Fate of Modernism," Journal of Modern Literature, 34.1 (Fall 2010): 182-184.
·    "On Surrealism and the Art of Crime: Considered as One of the Fine Starts," Journal of Modern Literature 33.4 (Summer 2010): 190-197.
·    "The Fourth Annual UCD James Joyce Research Colloquium: 14–16 April 2011," Dublin James Joyce Journal, 4 (2011): 127-30.
·    "A Backward Glance at the XXII International James Joyce Symposium, Prague, Czech Republic, 13-18 June 2010," James Joyce Quarterly, 47.1 (Fall 2009): 18-20.
·    Paris, Václav, et al. "Prahafest: Impressions of the 22nd International James Joyce Symposium, Prague: 13-18 June 2010," James Joyce Broadsheet, no. 87 (October 2010): 1.
Translations
·    Flusser, Vilém, "The Power of Images" Fotograf 34 - "The Archaeology of Euphoria: 1985–1995" (October 2019), 100-102.
·    Neubauer, Zdeněk, Consolatio Philosophiae Hodierna. Prague: Library of Václav Havel, 2010.
Courses Taught
Literary Theory. Fall 2019.
Literary Theory. Fall 2019.*
Kafka and the Kafkaesque. Spring 2018
The Kafkaesque.  Spring 2018.*
Queer Theory and Literature, Fall 2017.
Queer Novels. Spring 2017.*
Great Books and their Legacies.  Fall, 2016.
Introduction to Comparative Literature. Fall 2015 and Spring 2019.
James Joyce. Spring 2015, Spring 2017, and Spring 2019.
World Humanities, Fall 2014
Modernism. Fall 2014 and Fall 2015.*
Introduction to Literary Study. Fall 2014 et seq.

*Graduate Course