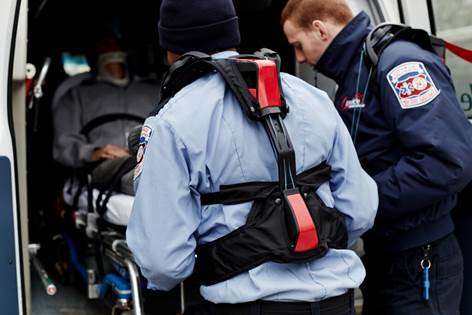 In a first for the Zahn Innovation Center, one of its startups received a significant investment from a Fortune 100 company.
3M Safety and Graphics Business Group made a minority equity investment in StrongArm Technologies Inc., which develops leading safety solutions for injury prevention and peak performance for industrial workers, or those they call "Industrial Athletes." 
StrongArm was founded in Rochester, N.Y. in 2012 by Sean Petterson and Justin Hillery, who created the company due to their personal experiences with their fathers. Both fathers worked strenuous blue collar jobs and needed to protect their bodies for the sake of their careers. This inspired the founders to create safety performance gear for the tens of millions of people who use their bodies as instruments for productivity daily.
Based at the Zahn Center since July 2013, StrongArm is moving to larger quarters in Brooklyn to accommodate its growing workforce. The company originally came to New York from Rochester to attract venture capital and skilled workers. They soon found Grove School of Engineering student Michael Kim in a senior design class and made him their first intern. When Kim graduated with a degree in mechanical engineering in 2014, he became the company's first full-time employee. He is now the vice president of engineering.
"The Zahn Center is an unbelievable asset. Without places like this hardware companies simply wouldn't exist in NYC," said Petterson, the company's CEO. "The resources available saved valuable development time and money and allowed us to control innovation more by bringing it in house. I was happy to call it my home away from home."
Since taking up residence at the Zahn Center, Petterson also traveled around the country, attending trade shows and pitching to investors. Those efforts culminated in the investment by 3M.
"This deal with 3M will open the global market and give the support for our young company to grow into an innovation hub for the industrial world," said Kim.
About the Zahn Innovation Center
The Zahn Innovation Center, a program of the City College Fund, is at the heart of entrepreneurship at the City College of New York. We inspire a diverse community of changemakers to develop transformative ventures. Learn more at
http://www.zahncenternyc.com
.
About The City College of New York
Since 1847, The City College of New York has provided low-cost, high-quality education for New Yorkers in a wide variety of disciplines. More than 16,000 students pursue undergraduate and graduate degrees in: the College of Liberal Arts and Sciences; the Bernard and Anne Spitzer School of Architecture; the School of Education; the Grove School of Engineering; the Sophie Davis School of Biomedical Education, and the Colin Powell School for Civic and Global Leadership. U.S. News, Princeton Review and Forbes all rank City College among the best colleges and universities in the United States.