Office of the Dean
June 7th, 2022
Dear CWE Community,
I am very happy to announce that Benny's Food Pantry @ CWE is now open at CWE 25 Broadway (located in the Student Lounge).
The College first launched Benny's Food Pantry in 2017, and through the on-going work of Dee Dee Mozeleski, VP of The CCNY Foundation, it has been expanded to our downtown location.  "Benny's" is a way to anchor the tradition of our pantry to the founding mission of our college to "open the doors to all".
Benny's is open to anyone in the CWE community—students, faculty and staff.  It is self-service.  If you're a student, a member of staff, or on the faculty, you are welcome to visit Benny's whenever you or someone you care for is in need.  We want to serve as a resource to anyone who finds themselves in need throughout the year.  You are encouraged to stop by and take what you need for you and your family.  The VP and her staff uptown will continue to work hard to ensure the pantry is stocked with a range of non-perishable food items, taking into consideration a wide variety of dietary needs and restrictions of our community.  You are invited to leave us a suggestion of any special needs you would like them to consider when placing new orders.
If you wish to learn more about the college efforts on Benny's Food Pantry please click on the link below. Thanks to President Vincent Boudreau, Dee Mozeleski and her team, and Nina Woods as well as all College Assistants who helped with this project.
https://www.ccny.cuny.edu/bennysfoodpantry
CWE Food Pantry Available for the entire CWE Community
Summer hours of operation: 

Monday-Thursday
9am-9:00pm

Stop by, pick up, and sign out
Enjoy!
Questions: cwefrontdesk@ccny.cuny.edu
Juan C. Mercado, PhD
Dean
---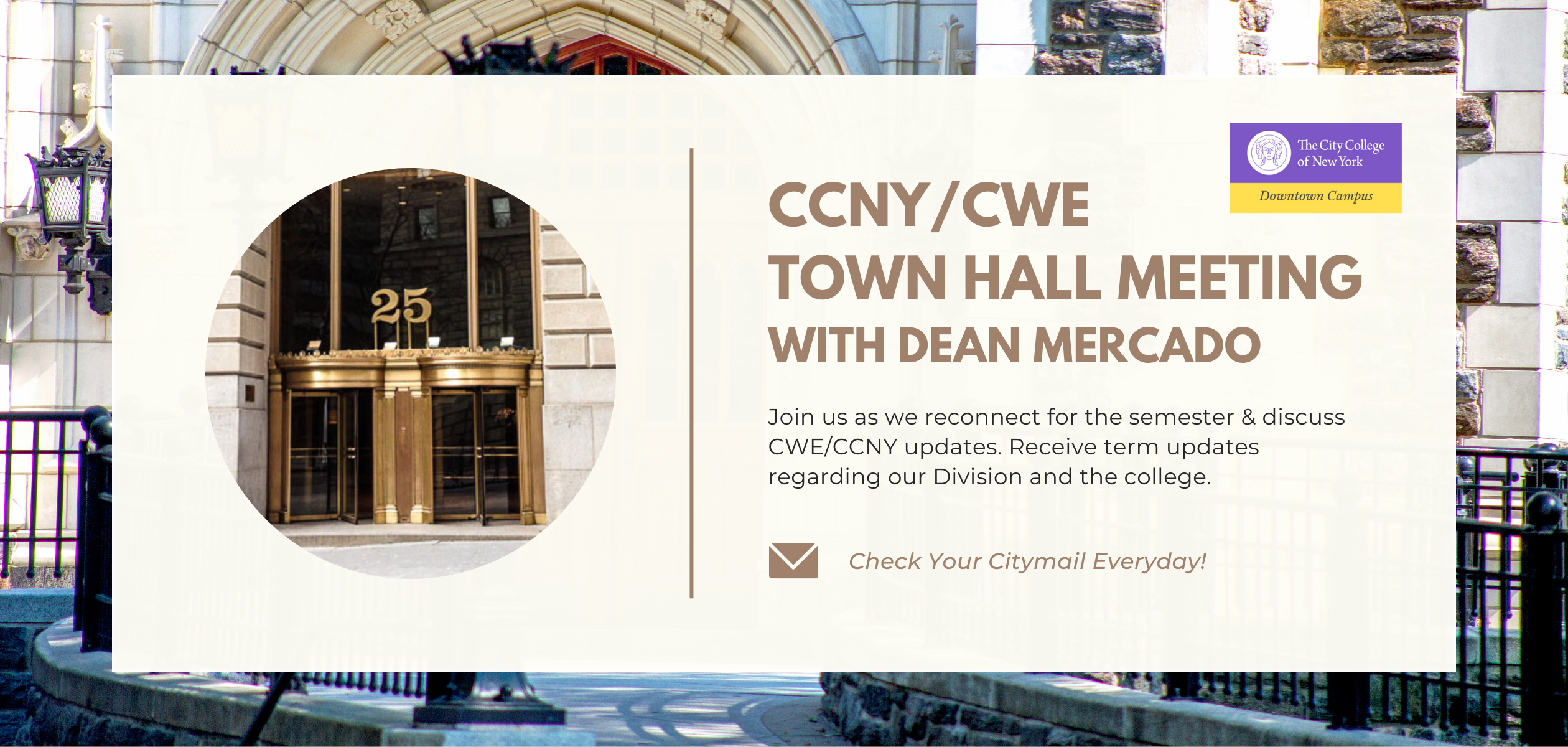 Last Updated: 06/15/2022 13:42