Philosophy
Philosophy asks the big questions: Do we exist? Can we know anything? How should we live? We look at what the great thinkers have said about these questions, and examine whether their answers stand up to scrutiny. This requires expertise in critical thinking - evaluating arguments and clearly expressing arguments of your own. These skills learnt in philosophy are transferable to every area of life.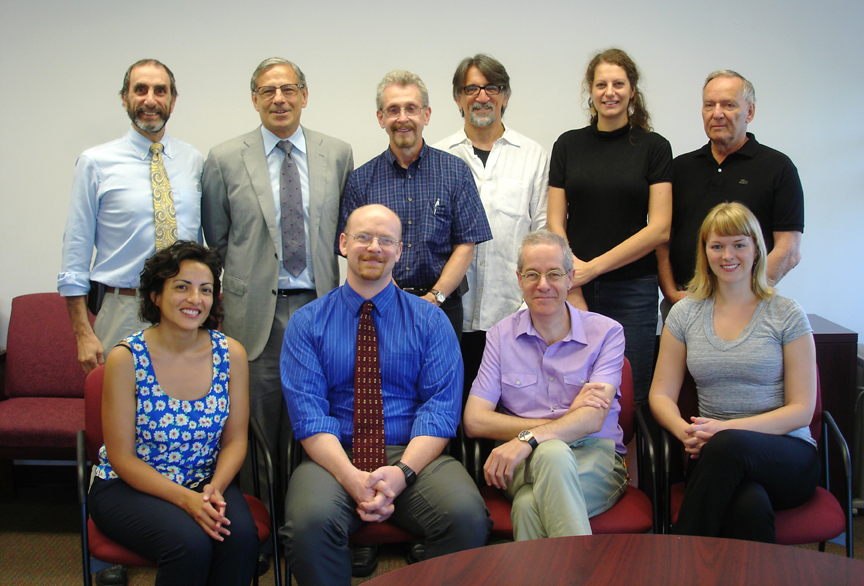 The CCNY Philosophy Department.
(left to right, top): Lou Marinoff, Dean Eric Weitz, Jeffrey Blustein, Nick Pappas, Elise Crull, David Weissman;
(left to right, bottom): Jennifer Morton, Ben Vilhauer (Chair), Massimo Pigliucci and Katherine Ritchie.
Lisa Warenski, our Distinguished Lecturer, not pictured.
NEWS ITEM! Prof. Pigliucci interviewed by the American Philosophical Association on and the why's and how's of philosophy
NEWS ITEM! Prof. Pappas' article in the New York Times on the Cynics, the original freethinkers of the Greco-Roman world
NEWS ITEM! The Department welcomes its brand new faculty, Prof. Chad Kidd!
NEWS ITEM! Prof. Morton won the American Philosophical Association's contest for best philosophy op-ed piece with her essay "Unequal Classrooms: What Online Education Cannot Teach," published in The Chronicle of Hhiger Education.
What our introductory video, put together by two of our faculty, Katherine Ritchie and Elise Crull:
On this site you will find a lot of information about Philosophy at CCNY, our courses, our faculty's many books, the Department's projects, and our outreach efforts - all under different tabs on the left menu. And of course be sure to follow us on Facebook and Twitter!