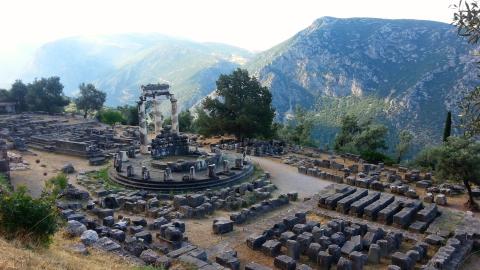 Philosophy asks the big questions: Can we know anything? How should we live? Do we have free will?
We look at what the great thinkers have said about these questions, and examine whether their answers stand up to scrutiny. This requires expertise in critical thinking - evaluating arguments and clearly expressing arguments of your own. These skills learnt in philosophy are transferable to every area of life.
---
Fall 2023 PHILOSOPHY DEPARTMENT EVENTS
The Thursday Pizza Forum, Fall 2023:
All pizza will take place during Thursday club hours (12:30-1:45pm) 
September
Sept. 14 in NAC 5/111: Chill with Phil(osophy)
Sept. 21 in NAC 5/144: Presentation & Discussion: Philosophical Paradoxes
Sept. 28 in NAC 5/111: Group Activity: Philosophy Puzzle Day 
October
Oct.  5 in NAC 5/144: Presentation & Discussion: Philosophy of Cryptocurrency
Oct. 12 in NAC 5/111: Philosophy Club Presents: Spooky Philosophy (Come for thrills & chills!)
Oct. 19 in NAC 5/144: Talk by Christina Weinbaum 
Oct. 26 in NAC 5/144: Talk by Lis Benossi, visiting Stanford Fellow
November
Nov. 02 in NAC 5/144: Talk by Professor Lou Marinoff, "The Two Envelopes Problem: Nothing to Write Home About, and The Sleeping Beauty Problem: A Wake-Up Call"
Nov. 09 in NAC 5/111: "The Good Place" Watch Party
Nov. 16 in NAC 5/144: Talk by Alex Mendez
WORLD PHILOSOPHY DAY CELEBRATION!
Note the place and time: 
Nov. 16 in NAC 1/201, 6–8pm: Prof. Lewis Gordon on "From Harlem to the World: Philosophy from a Center of the Black World with Questions for the 21st Century."
More info here: https://www.ccny.cuny.edu/calendar/lewis-gordon-harlem-world-philosophy-center-black-world-questions-21st-century
---
Department News
Prof. Pigliucci's new book is coming out on 9/25! The Quest for Character--What the Story of Socrates and Alcibiades Teaches Us about Our Search for Good Leaders.
Prof. Marinoff has a new book out: Essays on Philosophy, Praxis and Culture--An Eclectic, Provocative and Prescient Collection.
Prof. Crull's TED-x talk on "Finding truth in the age of information."
---
We host Philosophy Day every year in November!
Check out our video series!
---
On this site you will find a lot of information about Philosophy at CCNY, our courses, our faculty's many books, the Department's projects, and our outreach efforts - all under different tabs on the left menu. And of course be sure to follow us on Facebook and Twitter!
CCNY Philosophy Department Mission
Philosophy asks fundamental questions about the nature of justice, reality, knowledge, consciousness, eternity, value, and the meaning of life. Do we really know anything? What is science, and how does it work? Are we just our brains, or does the mind transcend matter? What is free will? Does God exist? Can ethical beliefs be objectively true? How should we change the world to make it better? What have philosophers of the past said about these issues? Are we living in a computer simulation? Can we trust AI to play a role in building the future? To what extent are philosophical concerns and methods a reflection of the broader cultural context in which they arise? The mission of the CCNY Philosophy Department is to support innovative research, teaching, learning, and campus events on topics like these, and to create a supportive environment for our students to develop the skills in logic, analysis, and imagination that move philosophy forward and also prepare them to thrive in life and succeed in a variety of careers.
CCNY Philosophy Department Learning Outcomes
Students graduating with a B.A. in Philosophy will:
1. Be well-versed in reading, writing, reasoning and critical thinking, an increasingly valuable skill set that enhances their prospects in diverse career paths, from graduate programs to many other sectors of society.
2. Be able to read philosophy; that is, to identify the central thesis of a piece of philosophical writing, and to explain the argument adduced in support of the thesis.
3. Be able to reason philosophically and criticize philosophy; that is, to understand and employ the basic principles of logic, to assess the success or failure of a philosophical argument, to distinguish valid from invalid deductive arguments, to discriminate between strong and weak inductive arguments, to evaluate the truth of the premises, and to identify equivocation and fallacious reasoning.
4. Be able to write philosophy; that is, to select and clearly identify an interesting and reasonable claim to defend, to offer persuasive reasons to support the claim, and to construct a logically coherent argument in support of the claim.
5. To be generally familiar with and be able to discuss major aspects of the history of Western philosophy, especially the periods of its classical antiquity (500-300 B.C.) and/or its early modernity (1600-1800), as well as recent and current innovations in philosophy.
6. Be able to articulate and debate a number of philosophical issues in value-oriented areas of philosophy (i.e., ethics, politics, and aesthetics) and in ontologically-oriented areas of philosophy (metaphysics, epistemology, philosophy of language, philosophy of science). 
CONTACT INFORMATION
Professor Ben Vilhauer
Chair
North Academic Center
Room 5/144C
160 Convent Avenue
New York, NY 10031
212.650.7291
philosophy@ccny.cuny.edu