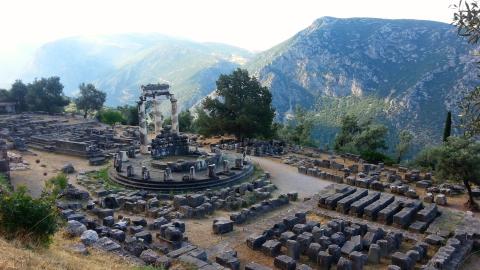 Philosophy asks the big questions: Can we know anything? How should we live? Do we have free will?
We look at what the great thinkers have said about these questions, and examine whether their answers stand up to scrutiny.
This requires expertise in critical thinking - evaluating arguments and clearly expressing arguments of your own.
These skills learnt in philosophy are transferable to every area of life.
---
Department News
Prof. Lou Marinoff's published an article on Thomas Hobbes, in the "Footnotes to Plato" series for the Times Literary Supplement.
Prof. Crull's TED-x talk on "Finding truth in the age of information."
Prof. Pigliucci gives ethical advice to Vice President Pence... on Comedy Central!
Prof. Kidd is interviewed by the blog of the American Philosophical Association.
Prof. Weissman recently received the Founders' Medal, a life-time achievement award, from the Metaphysical Society of America. His book, Spinoza's Dream, is published by Walter De Gruyter, Berlin.
---
We host Philosophy Day every year in November!
---
On this site you will find a lot of information about Philosophy at CCNY, our courses, our faculty's many books, the Department's projects, and our outreach efforts - all under different tabs on the left menu. And of course be sure to follow us on Facebook and Twitter!
CONTACT INFORMATION
Professor Ben Vilhauer
Chair
North Academic Center
Room 5/144C
160 Convent Avenue
New York, NY 10031
212.650.7291
philosophy@ccny.cuny.edu