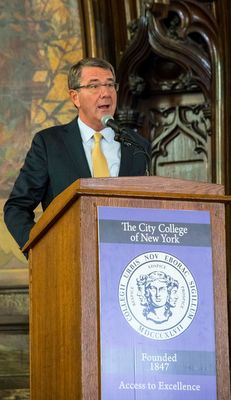 The City College of New York is often touted for its academic excellence, outstanding research and remarkable diversity. Now U.S. Secretary of Defense Ashton B. Carter is saluting its military legacy.
Carter spoke at City College to announce the next link to the Department of Defense's "Force of the Future." The initiative seeks to modernize and expand how the DoD recruits, develops and retains service members and civilian employees.
"This is an institution that was founded to educate the sons and daughters of this great city of New York, a city which has given so much to our military over the years," he said. "And given this history, it's no surprise that many new Yorkers have contributed to the security of this country, including students of CCNY such as Colin Powell (Class of 1958)."
Carter also mentioned Robert Kahn '60EE, one of the "Fathers of the Internet," and the latest cohort of Army ROTC cadets, "who'll soon be joining the finest fighting force the world has ever known."   
He said ROTC's 100th anniversary this year is one reason he'd come to CCNY, the other being the opportunity to talk to students about serving their country by serving in the military.
Improved and wider recruitment efforts and ROTC benefits such as graduate scholarships for law and medical school are some of the new Force of the Future incentives announced by Carter.
About The City College of New York
Since 1847, The City College of New York has provided low-cost, high-quality education for New Yorkers in a wide variety of disciplines. More than 15,000 students pursue undergraduate and graduate degrees in the College of Liberal Arts and Science; Bernard and Anne Spitzer School of Architecture; School of Education; Grove School of Engineering; Sophie Davis Biomedical Education/CUNY School of Medicine; and the Colin Powell School for Civic and Global Leadership. U.S. News, Princeton Review and Forbes all rank City College among the best colleges and universities in the United States.