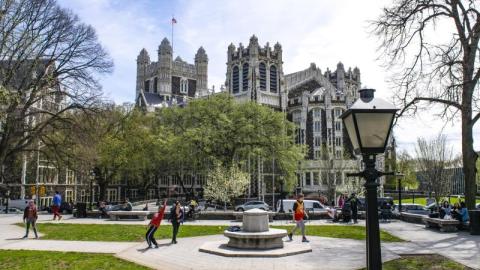 WE ARE CITY COLLEGE NEW YORKERS: CITIZENS OF THE WORLD
60+
More than 60 graduate programs at an unsurpassed value
< $30K
Most master's and doctoral degrees cost less than $30,000
95.6%
Full-time faculty members who hold terminal degrees in their fields
150+
Speaking over 96 languages and representing more than 150 nations
Commanding one of the highest points in Manhattan...
The City College of New York offers more than 60 graduate programs at an unsurpassed value – most master's and doctoral degrees cost less than $30,000. We also offer a range of advanced certificates, career development opportunities, and personal enrichment courses. Graduates from CCNY build impressive careers in the medical field, non-profit and government agencies, the arts, and industry. They are ground-breaking researchers, CEOs, award-winning filmmakers, policy makers, educators, architects, bio-medical engineers, political leaders, environmentalists, accomplished authors, urban planners, data scientists – making an impact here in New York City, throughout the nation, and around the globe.
DISCOVER BY DEGREE
There are a range of degree options at City College, many that are unique within the CUNY system. From more traditional fields to the less expected, graduate studies at CCNY provides unsurpassed opportunities that could only happen on our dynamic urban campus where the boldest minds come together. Click here for the full list. 
​​​​​​Master of Arts (MA)

Master of Fine Arts (MFA)

Master of Science (MS)

Master of Landscape Architecture (MLA)

Master of Urban Planning (MUP)

Master of Science in Education (MSED)

Master of Engineering (ME)
Master of Professional Studies (MPS)​​​​​

Master of International Affairs (MIA)

Master of Music (MM)

Master of Public Administration (MPA)

Master of Architecture (MArch)

Doctoral Degrees (Ph.D)

Advanced Certificates
SEARCH BY SCHOOL
Explore how studying at the College on the hill can change your perspective, advance a meaningful career, and help re-imagine what's possible. Be inspired by cross-disciplinary programs that blend innovative thinking.
Bernard and Anne Spitzer School of Architecture
Colin Powell School for Civic and Global Leadership
CUNY School of Medicine
Division of Humanities and the Arts
Division of Interdisciplinary Studies at the Center for Worker Education
Division of Science
The Grove School of Engineering
School of Education
Early Childhood Special Education (for ECE/CE/BCE Certified (AdvCert)
Early Childhood Special Education (for SPED Certified) (AdvCert)
Middle School Math Leadership (MS)
Sustainability in the Urban Environment (Interdisciplinary Studies)
Non-Degree/Non-Matriculated Study
Non-Degree/Non-Matriculated Application Deadlines 
Non-Degree Applications     


Fall- August 1st
Spring- January 1st
Non Matriculated FAQ's
Who is a non-matriculated/non-degree student?
Students may be admitted to a graduate program as, fully matriculated, matriculated with conditions or non-matriculant.
 
Fully Matriculated
Fully matriculated students are those that have applied and submitted all official documents to the graduate admissions office and have received a formal letter from the divisional dean accepting them as matriculated and thus eligible to receive a degree.
 
Matriculated with Conditions
Students that have been accepted as matriculated with conditions are those that have applied and submitted all official documents to the graduate admissions office and have received a formal letter from the divisional dean accepting them as matriculated with conditions. Matriculate conditional students must fulfill requirements as specified by the academic department. Students may achieve matriculation by meeting college and university requirements.

Due to USCIS rules, international students with conditional admission must complete their pre-requisite courses successfully before starting at CCNY, as SEVP regulation prohibits the issuance of a I-20 based on conditional admission.  
 
To seek matriculation, the student must contact the departmental advisor or chair of the program. No more than twelve credits taken while in a non-matriculated status may be applied toward a graduate degree. In the School of Education, non-matriculated students are limited to a maximum of nine credits. Graduate advisors will inform the dean and the Office of Graduate Admissions in writing of any approved change in status.

Please note that international applicants will not be able to receive an I-20 from City College until the conditions have been met elsewhere. 
 
Non-Matriculant/Non-Degree
A student who is registered as a non-degree is not eligible to receive a master's degree while in that status. Nor would a non-degree be granted a permit to register for courses off campus. Non-matriculated students must change status by formal application through the appropriate Office of Admissions. Applicants for a change in status from non-degree to matriculated students will be considered as new applicants for admission and therefore, may be accepted or denied admission. A non-degree student who wishes to become matriculated and thus eligible to receive a degree must have a B average or better in courses, which do not include more than two courses of Independent Study or Tutorial. 

This type of non-degree status is for students who have not submitted official documents or are unable to complete their application by the deadline. The Non-degree option is also available for students who wish to take graduate courses for personal and professional enrichment and who do not seek matriculation. A student may apply for non-degree study during the fall, spring and summer registration periods as space permits. Students who obtain approval in this status are limited in the number of credits they may take, according to their academic division or school. 

Non-degree students who have taken the maximum amount of credits allowed are encouraged to apply for matriculation if they wish to continue graduate study at City College. Students must file the appropriate graduate application and submit official documents to the Office of Graduate Admissions in order to have their application reviewed.
(Students who require F-1 Visa are not eligible for this status).
 
How many credits am I allowed to take as a non-degree student?

School of Education – Nine credits
School of Engineering – Six credits
Liberal Arts and Science – Twelve credits
Sustainability in the Urban Environment- Nine credits
 

Are there any programs that do not permit non-matriculated students?
Yes, the following programs do not accept non-degree students:

The School of Architecture
Branding + Integrated Communication
Computer Science-Information Systems
Creative Writing
Digital and Interdisciplinary Art Practice
MFA Film Program
Mental Health Counseling
Public Administration (MPA), Public Service Management
 

Can I register for both an Education and an Economics course?
Yes, non-matriculant students are allowed to register for courses concurrently from different divisions as long as there are no departmental restrictions; however, credits cannot exceed the maximum number of credits allowed by each division.
 
Is it possible to register for graduate and undergraduate non-matriculated courses?
Students are allowed to register for both undergraduate and graduate non-matriculated courses for the same semester. Applicants only need to file a graduate non-matriculant application and register for courses in both areas under the graduate status.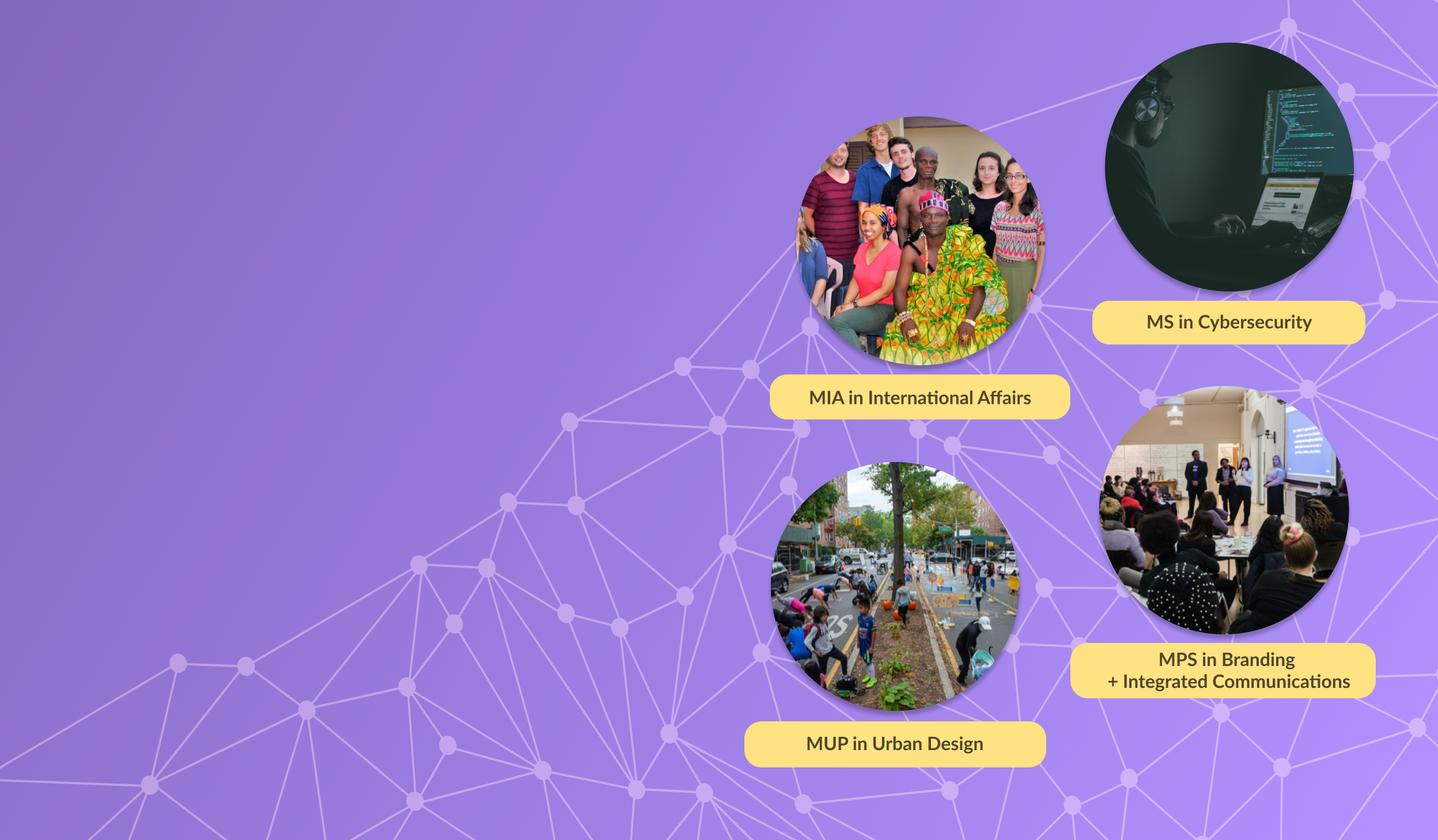 EXPLORE BY PASSION
Not sure what to study? Consider these distinctively different CCNY Graduate Programs that all focus on COALITION-BUILDING, INVENTIVE PROBLEM SOLVING, and SOCIETAL IMPACT:
Last Updated: 11/30/2023 11:54