Overview of International Students at CCNY
Welcome to the International Student & Scholar Services (ISSS). The Department of International Student & Scholar Services provides services and advocacy for the international students and scholars who are not permanent residents of the United States. Additionally, it provides pre-semester orientation programs and semester long workshops that assist with adapting to life in the United States while pursuing their education. Professional counseling assistance is available for students with immigration concerns, or academic and personal difficulties.
CUNY International Student Guide
OISSS Update 4/1/2020
The Department of International Student & Scholar Services continues to operate remotely.  For your convenience we have set up a Virtual Front Desk. Copy the link below, or call the phone number provided, to visit our Virtual Meeting Room and we will be there to answer your questions.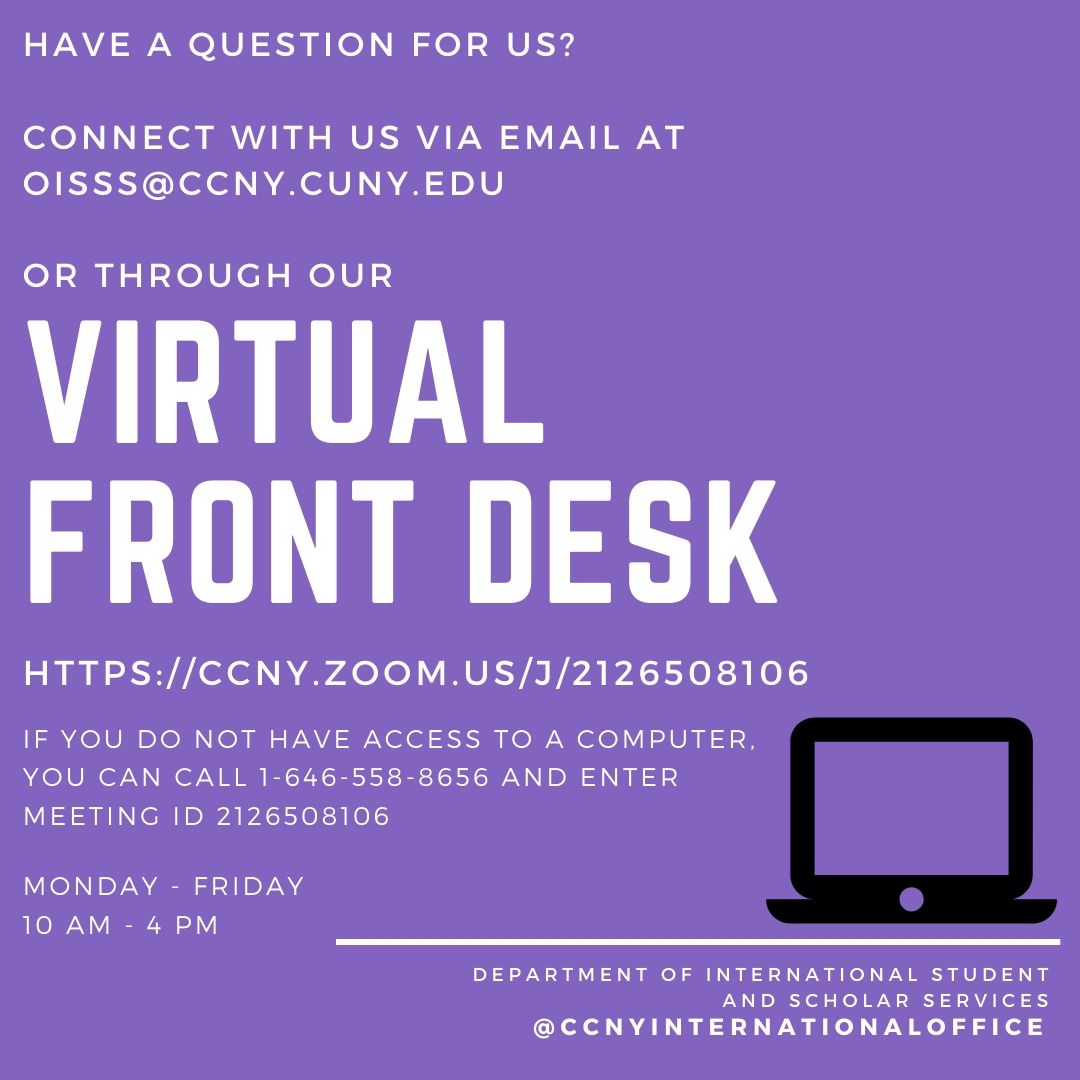 OISSS Update 3/30/2020
We have generated a list of Frequently Asked Questions (FAQ's) during this time. Click the link below to view. 
OISSS UPDATE 3/24/2020
Dear Students and Exchange Visitors,
We hope that you are all staying safe during this crisis. As a reminder the staff of the Department of International Student and Scholar Services is working remotely until further notice.
We want to make sure that you know that we are still maintaining your SEVIS records and that we will continue to update you on any changes that impact your status.  For now, DHS has allowed all students who are enrolled in online courses, whether in the U.S or in their home countries to remain in status. 
For F-1 students who plan to travel and are in need of a travel signature, please be advised that we are no longer able to provide travel signatures prior to your departure.  We ask those who plan to travel to send an email to oisss@ccny.cuny.edu with the subject line COVID-19:  F-1 TRAVELING HOME.  The e-mail should include your full name, EMPL ID and SEVIS number, date you will travel and country you will travel to.  Once you are ready to return, you will need to contact us and let us know, at that time we will mail you a new I-20 form with the travel signature.  As a reminder, if your I-20 form was signed within the last 11 months, you do not need to obtain a new signature.  
Exchange visitors holding J-1 visas who are planning to leave the United States, may leave and once ready to return email us at oisss@ccny.cuny.edu to request an updated DS-2019 with the travel signature to be sent to your address abroad.​ I also ask that you e-mail us prior to leaving and that you include in the e-mail, your full name, SEVIS number, country you will be traveling to and address where you will be staying.  Please indicate in the subject line of your email COVID-19:  J-1 TRAVELING HOME. 
​Please keep in mind that in order to return to the United States you will need a valid visa, if the visa has expired, you will need to apply for a renewal at the American Embassy abroad.  
​Thank you for your patience and again reach out to us at oisss@ccny.cuny.edu if you have any further questions or concerns.
International Student and Scholar Services
For information on the Coronavirus, click on the links below:
https://www.cuny.edu/coronavirus/
https://wwwnc.cdc.gov/travel/notices
https://travel.state.gov/content/travel/en/traveladvisories/traveladvisories.html/
ATTENTION SPRING 2020 NEW STUDENTS
Make NAC 1/107 your first stop!
All new International Students are required to report to our office and fill out a contact sheet. Students must also bring in copies of their passport, visa, and a printout of the I-94. The form I-94 is available by inputting your visa information in the link below.
https://i94.cbp.dhs.gov/I94/#/home
AS INTERNATIONAL STUDENTS YOU ARE REQUIRED TO REGISTER FULL TIME
12 CREDITS UNDERGRADUATE
9 CREDITS GRADUATE
7 CREDITS PH.D
Also, in order to maintain matriculation you must be physically present within the United States
Immigration Updates
Immigration tips in times of uncertainty 
For DACA students who have reached our page, please click on this link for information specific to your status.
International Student of the Month for March 2020  Somayeh Saadat of Iran
What is your home country and what are you studying here?
I was born, and raised in the ancient cosmopolitan culture of Iran into a family of public educators and civic servants. I'm studying Master of Public Administartion (MPA) at Collin Powell School.
What are your success habits or qualities you admire about yourself? ​
I am very analytic, well-organized, knowledge -orientedand, and love to serve public.
Tell us your best moments of studying at City College of New York as an international student​ so far.
I remember the first time that we were studying Quantitative Methode as a group. After our discussion, my Taylor  asked me, "Somy do you feel you had equal opportunity to comment?" That moment of kindness is unforgettable. I deeply felt that I am treated equal.
What motivates you?
Generating art crafts, Reading and reciting poetry, listening to music, singing, running in nature with my community teammates and doing sportive and art activities 
What book and/or movie inspires you and why?
I love to read poems of the Iranian Master and Mystic poet Rumi; Toni Morrison's masterpiece "The Source of Self-Regard;" and "Becoming" by Michelle Obama
"The Shape of Water," "Roma," and "Separation" are among my favorite movies. 
The poetry, literature, and those movies inspire me to become a person of love, generosity, public service, and advocate of global social justice.
What is the plan of your career in the future?
My immediate undertaking is to establish my own "Non-profit Corporation and Event Planning Organization" to support migrants humanly and financially in the City. 
What made you decide to study in the U.S.? Upon reflection, what were the immediate challenges and rewards of this decision?
The quality of education in the U.S. is my highest motivation factor. Also, the liberal studies allows me to learn about large scope of natural, science, and human disciplines.
My immediate challenge was limitation to work off-campus for international students. On-campus positions are limited and sometimes are not related to my major. To overcome that challenge,  I decided to do internship or volunteer work that related to my major. I gained working knowledge and enjoyed new professional experiences.
What piece of advice you would give to a new international student coming to study here?
I strongly suggest that they expand their academic and social networks. One of the best ways is joining  to monthly "International Office Coffee Hour."Another possibility is to become a member of on-campus, and free clubs and sport teams. 
Who is your greatest inspiration and why?
My first grade teacher, Ms. Anisi is my greatest inspiration. She asked us to assemble our own same handmade school bag. She wanted us to be equal. That way, I learned a lesson of equality through our own hand craft.
What is your favorite quote or words to live by?
"If you want the moon..., do not hide at night;
If you want a rose..., do not run from the thorns;
If you want love…, do not hide from yourself."
Rumi, 13th-century Persian poet 
What do you love about living and/or studying in New York City? Please include any of your personal recommendations for fun and interesting things to do in or around the city (favorite restaurants, coffee shops, parks, museums, galleries, etc.)
New York is unique cosmopolitan city. People around all of the world with different cultures, languages and religions are living together in libery. That provides an opportunity to live in harmony with respect and human dignity.
Brookfield Place (BFPL) is one of my favorite places. It is across West Street from the World Trade Center in the Battery Park City neighborhood of Manhattan, New York City. The beautiful views of the Hudson River is another attraction of BFPL. The Winter Garden located at BFPL with Palm trees, and there are lots of cultural events on that each year. Also, the center has variety shoppong stores, restaurants, and coffee shopes.
Tell us more about your degree program or your academic achievements and opportunities
Through MPA program we learn about Social change work, or public service which falls into three broad categories: 
1.  government (federal, state, local, international institutions)
2.  nonprofit (direct services, advocacy, community organizing, philanthropy, some international institutions, education, and more)
3.  social entrepreneurship (including hybrid and cross-sectoral approaches to social change)
All couse such as American Governance, Public Policy, Budgeting, etc are related to those 3 categories.
I will pursue the highest level of education to become a scholar, a civic leader, and a capable public administrator. 
What are your life and career values?
My life and career values are embodied in love, peace, social justice, and distinguished service, by becoming a committed public leader and intellectual to provide Public Good and serve humanity.
Any other words, stories, or thoughts you'd like to share?
I have concluded that gift of my multi-cultural life, universal human values, and diversified education combined with my career orientation, constitute a powerful base and sound mandate for public service. I can achieve that vision by dedication to the comprehensive learning during the MPA studies.
CONTACT INFORMATION
Maribel Morua
Director
North Academic
Center Room  1/107
160 Convent Avenue New York, NY 10031
p: 212.650.8106/8107
f: 212.650.5833
e:  oisss@ccny.cuny.edu