Overview of International Students at CCNY
Welcome to the International Student & Scholar Services (ISSS). The Department of International Student & Scholar Services provides services and advocacy for the international students and scholars who are not permanent residents of the United States. Additionally, it provides pre-semester orientation programs and semester long workshops that assist with adapting to life in the United States while pursuing their education. Professional counseling assistance is available for students with immigration concerns, or academic and personal difficulties.
CUNY International Student Guide
The Department of International Student & Scholar Services continues to operate remotely.  For your convenience we have set up a Virtual Front Desk. Copy the link below, or call the phone number provided, to visit our Virtual Meeting Room and we will be there to answer your questions.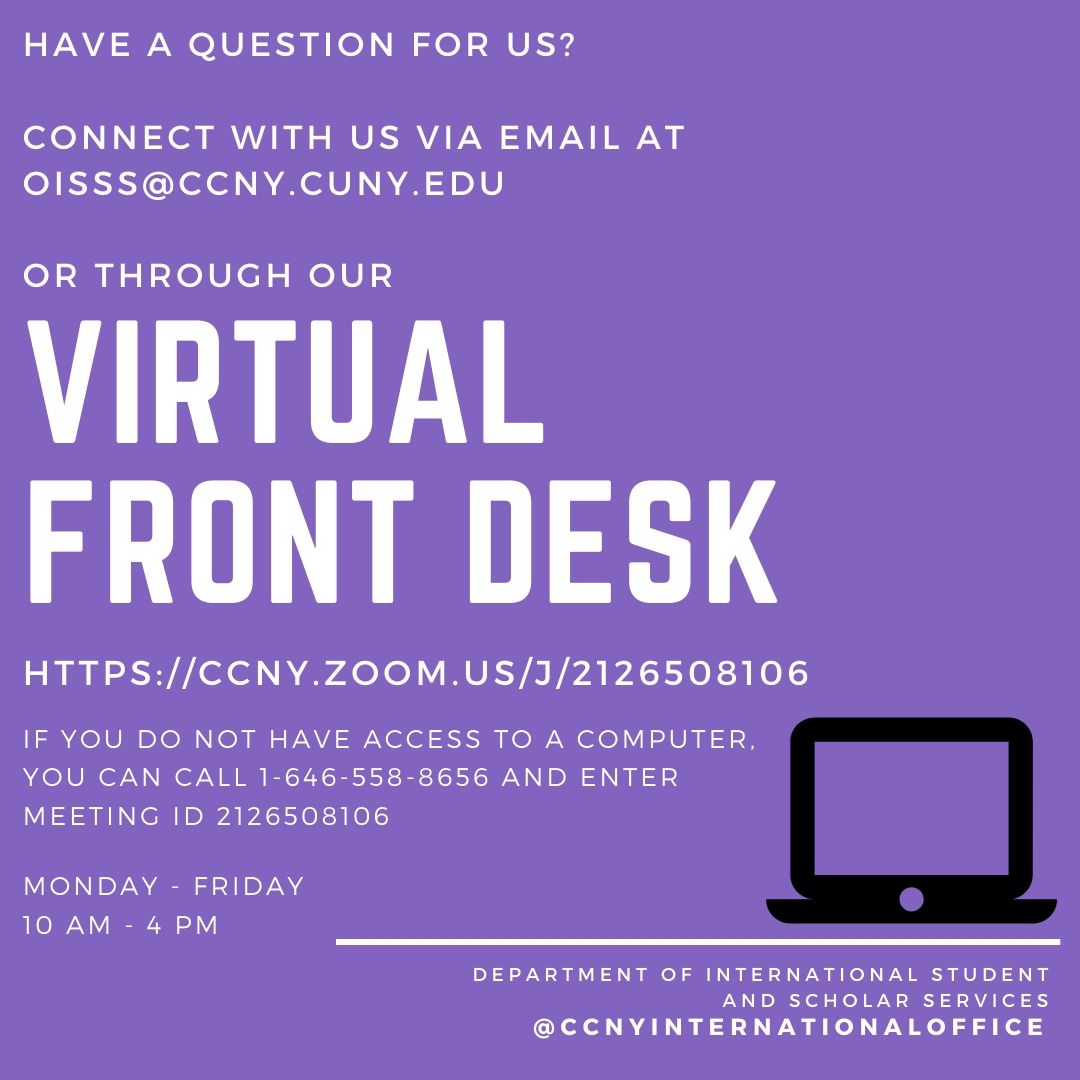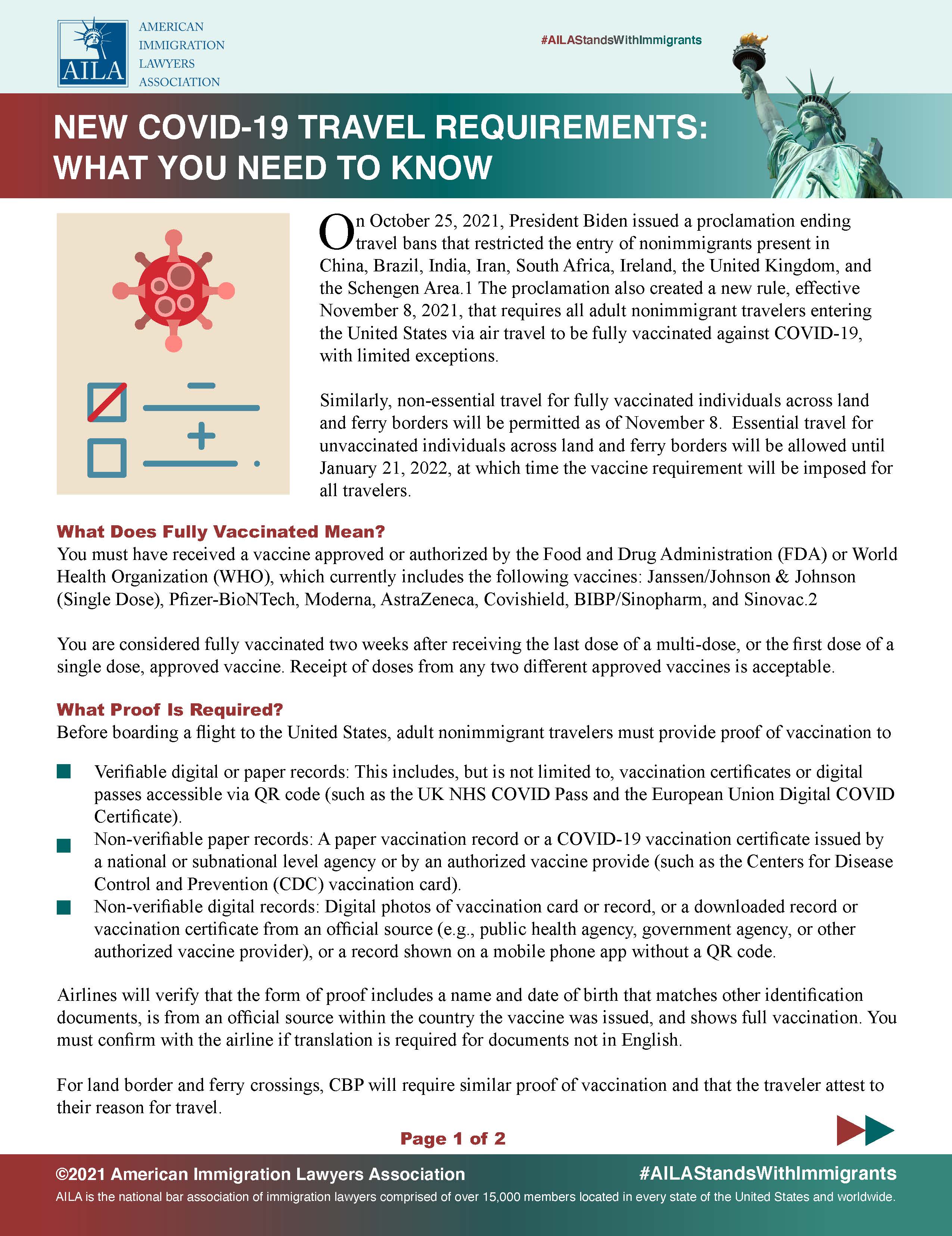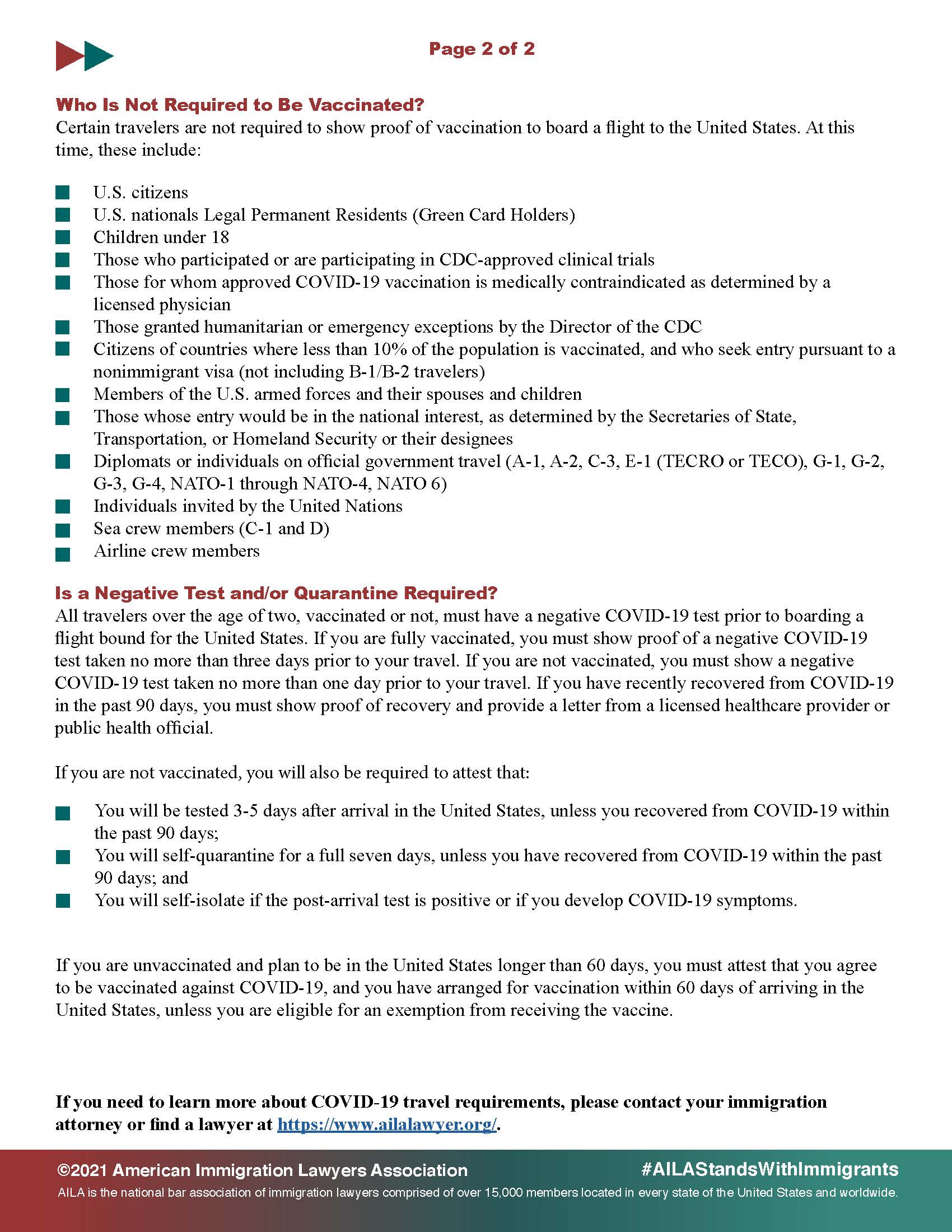 OISSS Update 10/28/2021
On October 25, 2021, President Biden issued Proclamation on Advancing the Safe Resumption of Global Travel During the COVID-⁠19 Pandemic, which, effective November 8, 2021, will lift the four current geographic travel ban restrictions, and replace them with a global requirement that "noncitizens who are nonimmigrants" traveling to the United States by air from any part of the world establish that they are fully vaccinated, with some limited exceptions.
Please utilize the links below for more information on this travel guidance update. 
https://travel.state.gov/content/travel/en/international-travel/emergen…
https://www.nafsa.org/regulatory-information/covid-vaccine-and-test-req…
OISSS Update 4/26/2021
NOTICE: Fall 2021 Guidance
The Student Exchange and Visitor Program (SEVP) provided guidance for the Fall 2021 term. 
The Fall 2021 guidance is the same as the guidance that was implemented on March 20, 2020.
As a reminder the guidance states the following: 
Guidance for Continuing Students
Active F and M students will be permitted to temporarily count online classes toward a full course of study. 

Students actively enrolled at a U.S. school, who subsequently took courses online while outside of the country can re-enter the United States, even if their school is engaged solely in distance learning.
Guidance for Initial Students
New or Initial F and M students will not be able to enter the United States as a nonimmigrant student for the 2021-22 academic year if their course of study is 100 percent online. 

A new student should be allowed to enter the United States if they are engaged in a hybrid program, with some requirement for in-person learning. 

Consistent with this restriction,

 

DSOs should not issue a Form I-20, "Certificate of Eligibility for Nonimmigrant Student Status," for a student in new or Initial status who is outside of the United States and plans to take classes at an SEVP-certified educational institution that is operating fully online.
If you are an initial student planning to enter the U.S. for the first time, please contact your academic advisors as soon as possible to determine your hybrid course options. You will not be granted Active F-1 status in the U.S. without enrollment in a hybrid or in person course. 
OISSS Update 3/26/2021
On Feb. 26, 2021, U.S. Citizenship and Immigration Services (USCIS) announced flexibilities for certain international students affected by delayed receipt notices for Forms I-765, "Application for Employment Authorization." These flexibilities apply only to applications received on or after Oct. 1, 2020, through May 1, 2021, inclusive.
The flexibilities include changes to:
The 14-month OPT Period
Refiling following rejection
Missing and deficient signatures​
Please see the link below for more information on these flexibilities:
https://studyinthestates.dhs.gov/2021/03/learn-about-new-uscis-flexibilities-for-some-opt-applicants
OISSS Update 7/28/2020
We updated our Frequently Asked Questions document reflecting the most recent changes regarding online study for the Fall 2020 semester. 
Please read it carefully and reach out to us if you have any questions at  oisss@ccny.cuny.edu .
We hope that you are all staying safe during this crisis. ​
For information on the Coronavirus, click on the links below:
https://www.cuny.edu/coronavirus/
https://wwwnc.cdc.gov/travel/notices
https://travel.state.gov/content/travel/en/traveladvisories/traveladvisories.html/
TPS Update for Venezuelan Citizens!
https://visaserve.com/lawyer/2021/03/09/TEMPORARY-PROTECTED-STATUS-(TPS)/Secretary-Mayorkas-Designates-Venezuela-for-Temporary-Protected-Status-for-18-Months_bl41648.htm​
https://www.uscis.gov/news/news-releases/secretary-mayorkas-designates-venezuela-for-temporary-protected-status-for-18-months
Beware of Scam Calls!
The Student & Exchange Visitor Program (SEVP) has reached out to inform us that there has recently been a spoofing scam taking place involving individuals using the SEVP Response Center (SRC) phone number (703-603-3400), or a Homeland Security Investigations (HSI) office phone number (757-441-6533), and claiming to be SRC representatives. The fraudulent callers are asking students to provide their immigration information, such as their Alien Registration Number or Form I-94, "Arrival/Departure Record," information, or face deportation.
If you are a victim of this spoof call, please report it to the Department of International Student & Scholar Services immediately. We will report it to HSI for an investigation. If you are unsure about the validity of a call from an SEVP official, you can also reach out to us for assistance.   
Things to remember:
SEVP officials will NEVER ask you to provide credit/debit card/gift card numbers, wire transfers, or bank routing numbers, or to make bitcoin deposits for any purpose.
NEVER divulge personal or financial information to unknown callers.
Report all suspicious calls to the Department of International Student & Scholar Services immediately.​
Spring 2021 Newsletter - International Student Adviser
Greetings students, 
This spring, you will read about the experiences of two of your classmates as they adjust to life and CCNY in the time of Coronavirus and look forward to a return to the CCNY campus. 

​If you would like to participate in our next edition please reach out to us at oisss@ccny.cuny.edu . We look forward to hearing your feedback.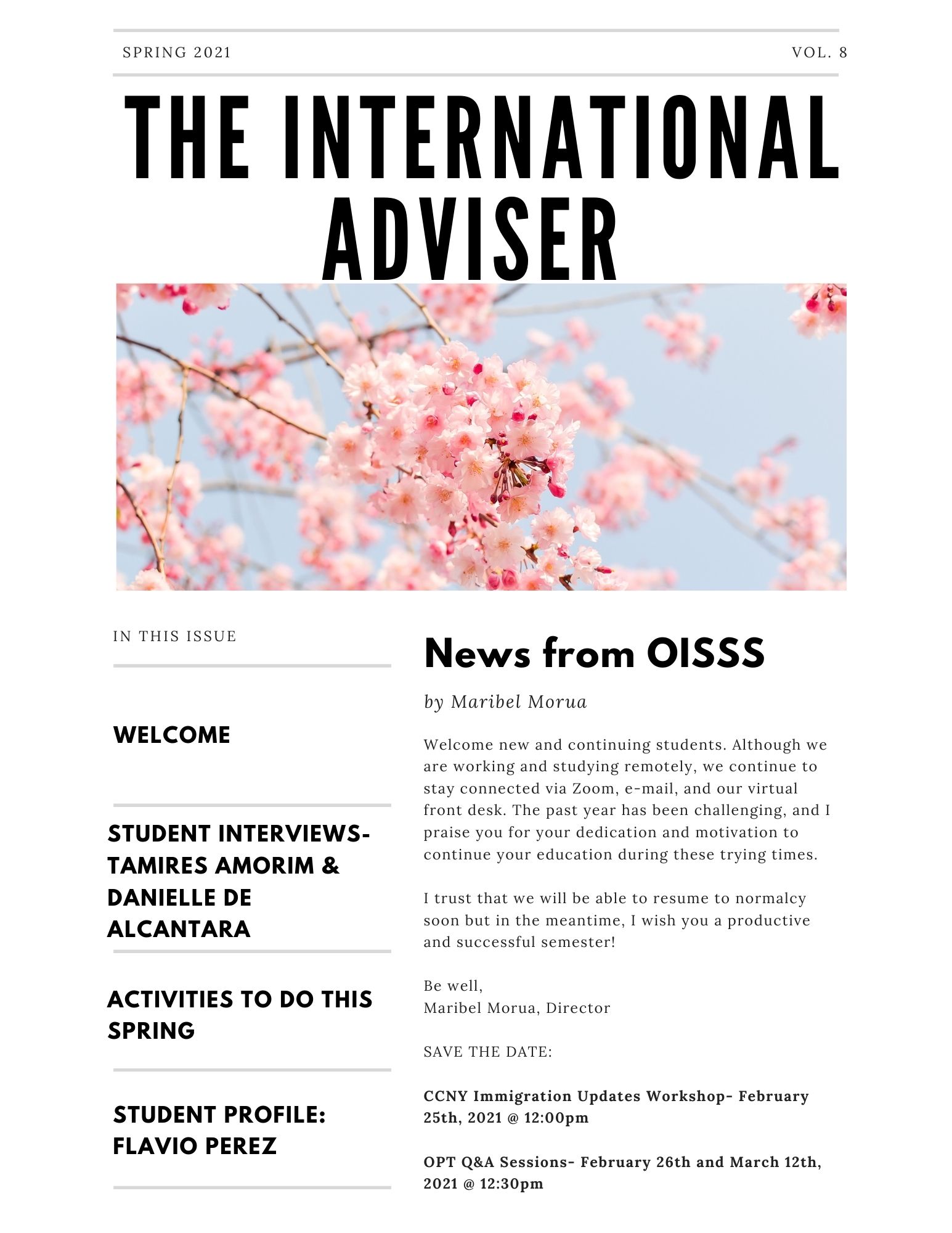 Traveling to New York during COVID-19
https://coronavirus.health.ny.gov/travel-large-gatherings-and-quarantines#quarantines
https://coronavirus.health.ny.gov/home
https://coronavirus.health.ny.gov/system/files/documents/2020/04/doh_covid19_faqs_updated_041720_2.pdf
https://coronavirus.health.ny.gov/covid-19-travel-advisory#restricted-states
As you may know we are closely monitoring any immigration changes regarding Covid-19. We would like to share a YouTube video by Arda Beskardes, an Attorney-at-Law, who shares the latest immigration updates about this very fluid situation on his account.
Please subscribe to his account to get the most recent immigration news that may impact you.
ATTENTION SPRING 2021 NEW STUDENTS
All new International Students are required to report your arrival into the U.S. to our office. Due to COVID-19 all reporting will be done electronically. Students must complete the Student Contact Sheet, and submit copies of their passport, visa, and a printout of the I-94 to oisss@ccny.cuny.edu . 
The form I-94 is available by inputting your passport information in the link below.
https://i94.cbp.dhs.gov/I94/#/home
AS INTERNATIONAL STUDENTS YOU ARE REQUIRED TO REGISTER FULL TIME
12 CREDITS UNDERGRADUATE
9 CREDITS GRADUATE
7 CREDITS PH.D
Also, in order to maintain matriculation you must be physically present within the United States
Immigration Updates
Immigration tips in times of uncertainty 
For DACA students who have reached our page, please click on this link for information specific to your status.
CONTACT INFORMATION
Maribel Morua
Director
North Academic
Center Room  1/107
160 Convent Avenue New York, NY 10031
p: 212.650.8106/8107
f: 212.650.5833
e:  oisss@ccny.cuny.edu