Overview of International Students at CCNY
Welcome to the International Student & Scholar Services (ISSS). The Department of International Student & Scholar Services provides services and advocacy for the international students and scholars who are not permanent residents of the United States. Additionally, it provides pre-semester orientation programs and semester long workshops that assist with adapting to life in the United States while pursuing their education. Professional counseling assistance is available for students with immigration concerns, or academic and personal difficulties.
CUNY International Student Guide
The Department of International Student & Scholar Services continues to operate remotely.  For your convenience we have set up a Virtual Front Desk. Copy the link below, or call the phone number provided, to visit our Virtual Meeting Room and we will be there to answer your questions. Please use passcode 238265 to enter the room.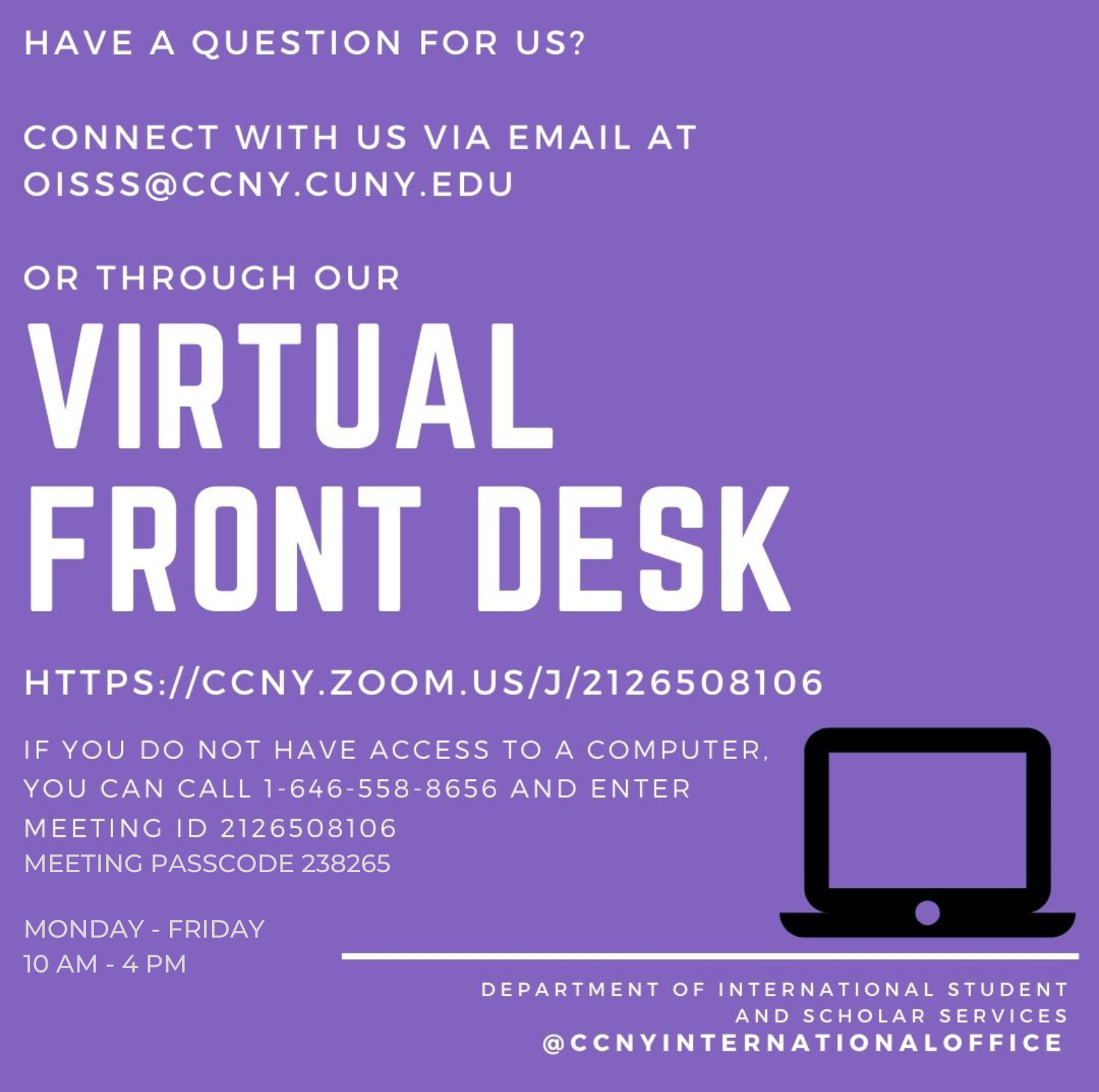 Travel Notice!
China Health Alert: Negative COVID-19 Test Requirement for Air Passengers Entering the United States
Effective January 5 at 12:01 Eastern Time, the U.S. Centers for Disease Control and Prevention (CDC) will require a negative COVID-19 test result, taken within two days of departure, or proof of recovery from the virus within the last 90 days, for all travelers, age two years and older, to the United States on flights originating from the People's Republic of China (PRC), including the Special Administrative Regions (SAR) of Hong Kong and Macau.
This public health policy is due to the surge in COVID-19 cases in the PRC and the risk of the emergence of a new viral variant given the lack of adequate and transparent epidemiological and viral genomic sequence data being reported from the PRC. These data are critical to monitor the case surge effectively and decrease the chance for entry of a novel variant of concern. Monitor the websites for the U.S. Mission China, the U.S. Consulate General Hong Kong & Macau, and the CDC's Travel Health Information page for the latest COVID 19- travel guidance.
https://travel.state.gov/content/travel/en/traveladvisories/ea/China-Negative-COVID-19-Test-Requirement-for-Air-Passengers-Entering-the-United-States.html
Statement by Chancellor Matos Rodríguez on the Crisis in Ukraine
February 28, 2022
"The City University of New York joins the worldwide chorus of condemnation of Russia's unprovoked invasion of Ukraine, a sovereign neighboring state whose citizens are committed to building a stable democratic society. The hourly images of courageous Ukrainians — soldiers and civilians alike — standing together to turn back the assault are harrowing but inspiring. We are heartened by the courage of their resistance and by the support Ukraine is receiving from the international community, which has swiftly isolated Russian president Putin and imposed unprecedented economic sanctions. Nations including the United States have signaled their willingness to endure a protracted disruption of the global economy as a price of deterring the profound threat posed by Putin and other authoritarians.
"Though the crisis may feel remote, the impact is palpable for many in New York, which is home to the largest Ukrainian community in the nation. For CUNY — an institution that has historically welcomed and educated members of immigrant groups from every corner or the world — there is no conflict anywhere in the world that fails to touch some in our community. Our hearts and prayers are with the Ukrainian people and with CUNY students, faculty and staff who are personally impacted by the devastating and revolting aggression. If you are struggling with mental health or in need of emotional support, please visit your campus counseling center or make use of the other services outlined here. Faculty and staff can turn to our employee assistance program for support."
https://www1.cuny.edu/mu/forum/2022/02/28/statement-by-chancellor-matos…
March 4, 2022
Please see the latest news regarding Ukrainian Citizens in the U.S. More information on this process will be posted by DHS soon. 
Secretary Mayorkas Designates Ukraine for Temporary Protected Status for 18 Months​
The Department of Homeland Security (DHS) announced the designation of Ukraine for Temporary Protected Status (TPS) for 18 months.
"Russia's premeditated and unprovoked attack on Ukraine has resulted in an ongoing war, senseless violence, and Ukrainians forced to seek refuge in other countries," said Secretary Alejandro N. Mayorkas. "In these extraordinary times, DHS will continue to offer their support and protection to Ukrainian nationals in the United States."
A country may be designated for TPS when conditions in the country fall into one or more of the three statutory bases for designation: ongoing armed conflict, environmental disasters, or extraordinary and temporary conditions. This designation is based on both ongoing armed conflict and extraordinary and temporary conditions in Ukraine that prevent Ukrainian nationals, and those of no nationality who last habitually resided in Ukraine, from returning to Ukraine safely. These conditions result from the full-scale Russian military invasion into Ukraine, which marks the largest conventional military action in Europe since World War II. This invasion has caused a humanitarian crisis with significant numbers of individuals fleeing and damage to civilian infrastructure that has left nearly a million individuals without electricity or water or access to food, basic supplies, shelter, and emergency medical services.
Individuals eligible for TPS under this designation must have continuously resided in the United States since March 1, 2022. Individuals who attempt to travel to the United States after March 1, 2022, will not be eligible for TPS. Ukraine's 18-month designation will go into effect on the publication date of the forthcoming Federal Register notice. The Federal Register notice will provide instructions for applying for TPS and an Employment Authorization Document (EAD). TPS applicants must meet all eligibility requirements and undergo security and background checks.
COVID Booster Update
Please see this urgent update from the CUNY Chancellor regarding COVID vaccine boosters!
OFFICE OF THE CHANCELLOR
Dear CUNY student,
As we look forward to the Spring 2022 semester, which begins this Friday for most CUNY colleges, I wanted to take a moment to remind you that students enrolled in any in-person or hybrid class will be required to get the COVID-19 booster shot when they become eligible. Governor Hochul announced this policy recently knowing that the booster provides additional protection against the virus and its variants and that vaccines are the best weapon we have to contain the spread of COVID-19 and safeguard our health and that of our community.
Here's how the booster mandate will work:
If you are eligible for the booster on January 28: You must upload proof of receiving the additional shot to CUNYfirst no later than March 1. This deadline applies even if your college's spring semester begins in March.
If you become eligible after January 28, but before the end of the semester: You will have 30 days after you become eligible to get the booster and upload proof to CUNYfirst. 
You will become eligible for the booster:
five months after the second shot of either the Pfizer or Moderna vaccine
two months after the single Johnson & Johnson vaccine
The CDC recommends you choose the Pfizer or Moderna booster in most situations, regardless of which shot you received. Learn more about the booster shot and find a site near you here: ny.gov/booster. 
Instructions on uploading your booster proof are available here. If you attended in-person or hybrid courses this past fall and already uploaded proof of your first vaccines, you will have to add the booster shot — unless you have an approved exception or exemption. 
Students who miss the deadline will not be able to register for Summer 2022 or Fall 2022 classes.
Continue to stay updated on our COVID-19 guidelines by visiting our website: cuny.edu/coronavirus. 
Knowing that I will be able to see so many of you in-person brings me great joy. Best of luck to you this semester!
Sincerely,
Félix V. Matos Rodríguez, Ph.D.
Chancellor
COVID Travel Requirements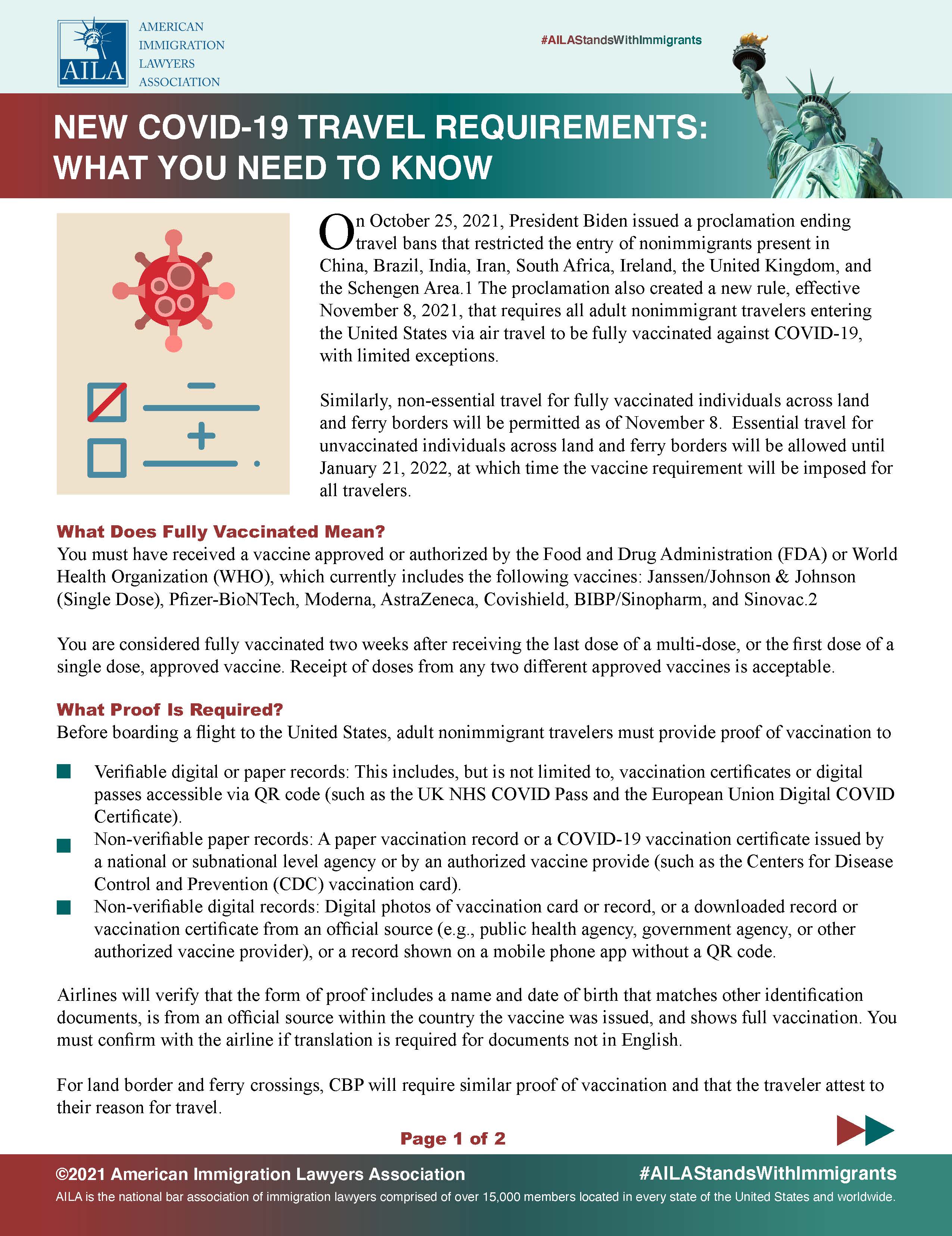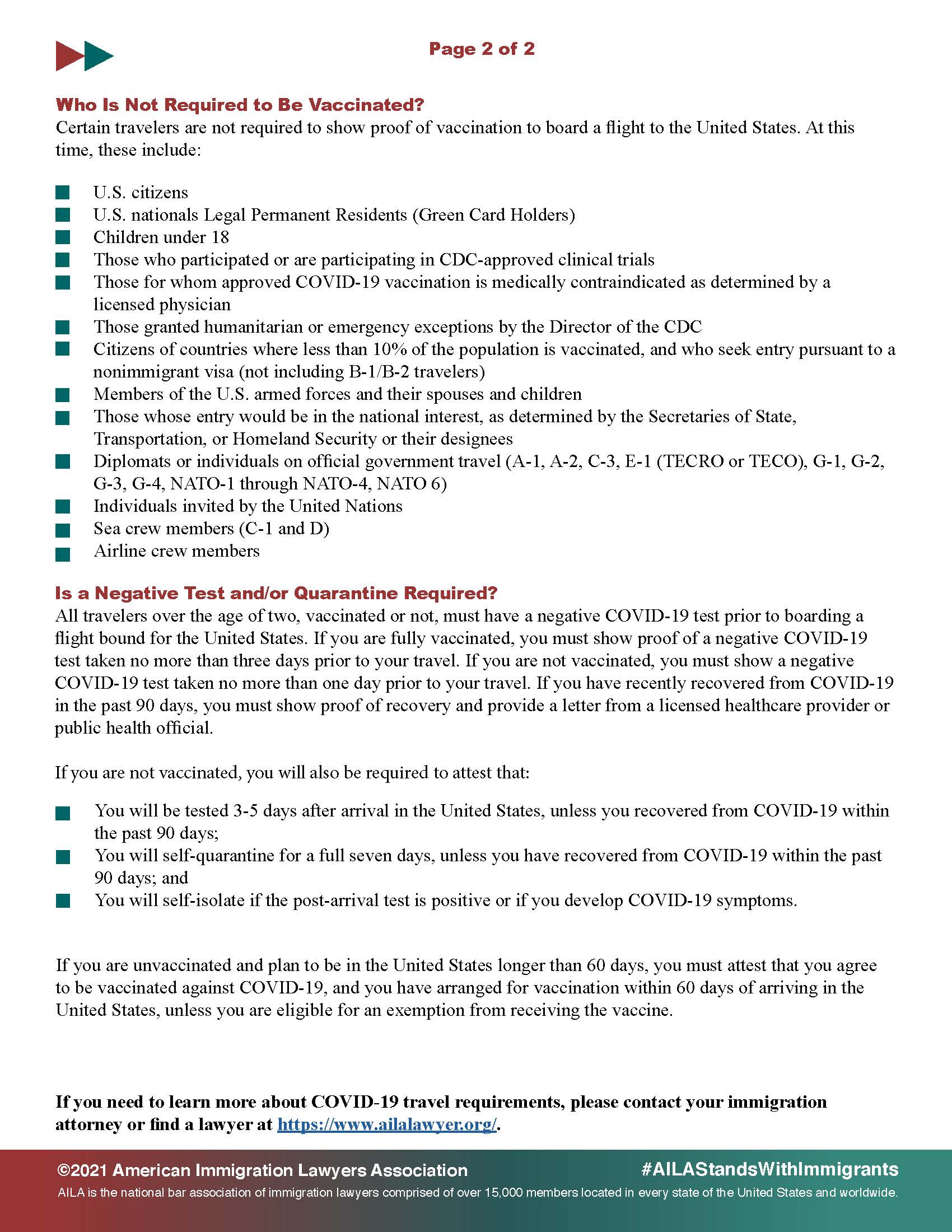 COVID Course Requirements for 2021-2022 Academic Year
NOTICE: Fall 2021 - Spring 2022 Guidance
The Student Exchange and Visitor Program (SEVP) provided guidance for the Fall 2021 term. 
The Fall 2021 guidance is the same as the guidance that was implemented on March 20, 2020.
As a reminder the guidance states the following: 
Guidance for Continuing Students
Active F and M students will be permitted to temporarily count online classes toward a full course of study. 

Students actively enrolled at a U.S. school, who subsequently took courses online while outside of the country can re-enter the United States, even if their school is engaged solely in distance learning.
Guidance for Initial Students
New or Initial F and M students will not be able to enter the United States as a nonimmigrant student for the 2021-22 academic year if their course of study is 100 percent online. 

A new student should be allowed to enter the United States if they are engaged in a hybrid program, with some requirement for in-person learning. 

Consistent with this restriction,

 

DSOs should not issue a Form I-20, "Certificate of Eligibility for Nonimmigrant Student Status," for a student in new or Initial status who is outside of the United States and plans to take classes at an SEVP-certified educational institution that is operating fully online.
If you are an initial student planning to enter the U.S. for the first time, please contact your academic advisors as soon as possible to determine your hybrid course options. You will not be granted Active F-1 status in the U.S. without enrollment in a hybrid or in person course. 
CUNY Announces New Option for International Payments
In an effort to reduce administrative challenges, CUNY now has a new option for international students to make payments in your local currency.
Just log into your CUNYfirst Student Center and click on the Make a Payment button, which will take you to Nelnet QuikPAY. Then select View & Pay Accounts from the left-hand menu.  Enter your payment amount in US Dollars and from the Payment Method dropdown box, choose International Payment.  Nelnet will then transfer you to Convera's platform GlobalPay for Students.
You will be presented with several payment options to transfer your funds to Convera. Depending on which country you are making your payment from, GlobalPay for Students allows you to use Providers such as UnionPay and Alipay in China, ICICI in India, Sofort and iDEAL in Europe, and Hana Bank in Korea.
Convera will send your payment to CUNY. Upon receipt of your payment, your student account in CUNYfirst is updated.
Thank you to all who attended the Immigration Updates Workshop on 3/1/2022. For those who were not able to attend, here is the recording of the session. 
WHITE HOUSE ANNOUNCEMENT: Biden-⁠Harris Administration Actions to Attract STEM Talent
The White House provided a fact sheet detailing new DHS actions intended to attract and maintain STEM talent in the US. These include DHS policy manual updates on O-1 visas, creation of the Early Career STEM Research Initiative, changes to SEVP, USCIS policy manual updates, and more.
See the links below for more information.
https://visaserve.com/lawyer/2022/01/21/F-1-Visa/WHITE-HOUSE-ANNOUNCEME…
https://www.dhs.gov/news/2022/01/21/dhs-expands-opportunities-us-stem-p…
Information regarding International Students and the ARP Student Emergency Grant
Can international and/or undocumented students receive funds from the ARP HEERF III Federal Emergency Grant?
Yes. International and undocumented students are eligible for this grant and are encouraged to reach out to their campus Financial Aid Office for eligibility determination.
TPS Update for Venezuelan Citizens!
https://visaserve.com/lawyer/2021/03/09/TEMPORARY-PROTECTED-STATUS-(TPS)/Secretary-Mayorkas-Designates-Venezuela-for-Temporary-Protected-Status-for-18-Months_bl41648.htm​
https://www.uscis.gov/news/news-releases/secretary-mayorkas-designates-venezuela-for-temporary-protected-status-for-18-months
Beware of Scam Calls!
The Student & Exchange Visitor Program (SEVP) has reached out to inform us that there has recently been a spoofing scam taking place involving individuals using the SEVP Response Center (SRC) phone number (703-603-3400), or a Homeland Security Investigations (HSI) office phone number (757-441-6533), and claiming to be SRC representatives. The fraudulent callers are asking students to provide their immigration information, such as their Alien Registration Number or Form I-94, "Arrival/Departure Record," information, or face deportation.
If you are a victim of this spoof call, please report it to the Department of International Student & Scholar Services immediately. We will report it to HSI for an investigation. If you are unsure about the validity of a call from an SEVP official, you can also reach out to us for assistance.   
Things to remember:
SEVP officials will NEVER ask you to provide credit/debit card/gift card numbers, wire transfers, or bank routing numbers, or to make bitcoin deposits for any purpose.
NEVER divulge personal or financial information to unknown callers.
Report all suspicious calls to the Department of International Student & Scholar Services immediately.​
Traveling to New York during COVID-19
https://coronavirus.health.ny.gov/travel-large-gatherings-and-quarantines#quarantines
https://coronavirus.health.ny.gov/home
https://coronavirus.health.ny.gov/system/files/documents/2020/04/doh_covid19_faqs_updated_041720_2.pdf
https://coronavirus.health.ny.gov/covid-19-travel-advisory#restricted-states
ATTENTION SPRING 2023 NEW STUDENTS
All new International Students are required to report your arrival into the U.S. to our office. Due to COVID-19 all reporting will be done electronically. Students must complete the Student Contact Sheet, and submit copies of their passport, visa, and a printout of the I-94 to oisss@ccny.cuny.edu . 
The form I-94 is available by inputting your passport information in the link below.
https://i94.cbp.dhs.gov/I94/#/home
AS INTERNATIONAL STUDENTS YOU ARE REQUIRED TO REGISTER FULL TIME
12 CREDITS UNDERGRADUATE
9 CREDITS GRADUATE
7 CREDITS PH.D
Also, in order to maintain matriculation you must be physically present within the United States
Immigration Updates
Immigration tips in times of uncertainty 
For DACA students who have reached our page, please click on this link for information specific to your status.
CONTACT INFORMATION
Maribel Morua
Director
North Academic
Center Room  1/107
160 Convent Avenue New York, NY 10031
p: 212.650.8106/8107
f: 212.650.5833
e:  oisss@ccny.cuny.edu