Overview of International Students at CCNY
Welcome to the International Student & Scholar Services (ISSS). The Department of International Student & Scholar Services provides services and advocacy for the international students and scholars who are not permanent residents of the United States. Additionally, it provides pre-semester orientation programs and semester long workshops that assist with adapting to life in the United States while pursuing their education. Professional counseling assistance is available for students with immigration concerns, or academic and personal difficulties.
CUNY International Student Guide
OISSS Update 8/21/2020
Before the start of the new semester, we invite you to attend our ​New Immigration Rules Workshop with Nachman, Phulwani, Zimovcak (NPZ) Law Group, P.C.​
This workshop will focus on the Fall 2020 guidance for new and continuing international students. They will cover the most recent changes implemented, its impact and will help in addressing any questions you may have. 
As the current Administration continues to make many important changes in the U.S. immigration regulatory landscape, their firm is committed to providing up-to-date and cutting-edge information to its academic partners, students, and the community. 
When: Tuesday August 25, 2020
We look forward to welcoming all CCNY students, staff and faculty who wish to attend. 
To RSVP and request the link to the workshop, please email us at oisss@ccny.cuny.edu
Please note: The Virtual Front Desk will be closed during this time so that we can join the workshop. 
OISSS Update 7/28/2020
We updated our Frequently Asked Questions document reflecting the most recent changes regarding online study for the Fall 2020 semester. 
Please read it carefully and reach out to us if you have any questions at oisss@ccny.cuny.edu.
We hope that you are all staying safe during this crisis. ​
OISSS Update 7/14/2020
Dear International Students, 
Over the last nine days, we have all been shocked then frustrated with a new rule passed by ICE and SEVP regarding online learning in the Fall 2020 semester. ​While we were working to find a solution, we were provided with great news. 
The rule that was passed last week has been rescinded by the U.S. President. This means that should CCNY choose to remain a remote learning campus throughout the Fall 2020 semester our International Student population would remain in status. 
Please see the links below for more information:
https://www.nafsa.org/regulatory-information/sevp-covid-19-guidance-sources
https://www.youtube.com/watch?v=AdnzMsdrlnM&feature=youtu.be
We have read all of your emails and have shared in your frustration so we are happy to be able to share this news. Please continue to contact your academic advisors for course enrollment for this Fall. 
OISSS Update 7/12/2020
Message from the CUNY Chancellor
Dear CUNY Community,
I know the last four months have been challenging, unsettling and heartbreaking in so many ways. I wish I could know what the future will bring, and say with clarity what the upcoming months will look like. I can't, but regardless of what the Fall looks like, CUNY will be ready for our students in August.
Last night the CUNY Board of Trustees approved a resolution that gives us the most flexibility in making decisions and planning what the Fall semester will look like once New York City enters Phase 4, which signals the start of the reopening for CUNY.
We are preparing for a range of scenarios that combine in-person, virtual and hybrid instructional modalities. Thanks to the diligent work of so many in our system, 48 percent of the Fall 2020 courses that are open for student registration are already scheduled for hybrid or online delivery. We hope to increase this percentage in the weeks ahead in preparation for the start of the semester. I want to acknowledge and thank everyone across our university who has committed endless hours to getting the work done during these extraordinary times.
We are also getting ready to deliver a range of in-person courses and services, provided they meet New York State and University guidelines for re-opening and assuming that New York City enters Phase 4 over the next few weeks, as is the plan.
Those courses are likely to include, among others, those dependent on science labs and professional equipment, theater, performing and studio arts and clinical placements. We seek to physically reopen to the extent possible on-campus student services such as food pantries, child care and counseling centers, computer labs and library services.
We are also devising plans to help our international students in response to the misguided policy announced by Washington earlier this week. The resolution approved by the Board last night also helps us in this matter by providing maximum latitude to offer them some degree of in-person instruction. We will leave no stone unturned to make sure our international students are able to stay and continue their studies at CUNY.
All these future decisions will be guided, first and foremost, by our obligation to protect the health and safety of all students, faculty and staff, along with our commitment to facilitate the maintenance of academic momentum for students. At the same time, we are extending a degree of flexibility to each college to develop plans tailored to the needs of its campus community.
Each CUNY campus has formed a Reopening Committee to develop personalized plans, following guidelines from CUNY Central that are consistent with Governor Cuomo's Phase 4 blueprint for higher education institutions and subject to final approval from the Office of the Chief Operating Officer.
We have seen other universities announce they will return with in-person instruction for the Fall term only to backtrack and reverse course because of a surge in coronavirus cases, contributing to an already disruptive and confusing climate. We want to avoid these kinds of interruptions.
As we have moved through the early stages of this unprecedented crisis and worked to sustain the day-to-day operations of the nation's largest urban university system, our community has experienced plenty of heartache. To honor our talented and cherished faculty, staff and students, as well as retirees and alumni who lost their lives to the coronavirus, we have created an "In Memoriam" page on CUNY's website. We invite you to leave sympathy messages to celebrate and commemorate their lives and contributions.
When it is safe to do so, we will further commemorate their lives with an in-person memorial event. I look forward to that day, as well as to the beginning of the Fall semester — in less than seven weeks — and a point in the future when we will all be able to meet and reflect on the challenges we have overcome and the goals we have accomplished together during this period of adjustment.
I will be in touch with additional details in the near future. In the meantime, please continue to visit cuny.edu/coronavirus. As always, be safe, be well and please be sure to take care of one another.
Sincerely,
Félix V. Matos Rodríguez
Chancellor
OISSS Update 6/23/2020
We continue to closely monitor news coming from The White House and the most recent proclamation "Proclamation Suspending Entry of Aliens Who Present a Risk to the U.S. Labor Market Following the Coronavirus Outbreak".  The proclamation is effective from June 22, 2020 and it remains in effect until December 31, 2020.
This proclamation is listed as a continuation of the previous proclamation (proclamation 10014, dated April 22, 2020) which suspended entry to certain immigrant visa types and has now added certain H, L and J nonimmigrant visa types. According to President Trump "Given that 60 days is an insufficient time period for the United States labor market, still stalled with partial social distancing measures, to rebalance, and given the lack of sufficient alternative means to protect unemployed Americans from the threat of competition for scarce jobs from new lawful permanent residents, the considerations present in Proclamation 10014 remain."
For a more detailed explanation of the proclamation, we are sharing a YouTube video by Arda Beskardes, an Attorney-at-Law, who discusses the latest immigration situation. 
For the details regarding the proclamation, please see links below:
We will continue to share updates with you as we receive them.
OISSS Update 6/5/2020
Dear International Students and Scholars,
We hope you are all well and safe! We are closely monitoring President Trump's Proclamation on the Suspension of Entry as Nonimmigrants of Certain Students and Researchers from the People's Republic of China. The proclamation is effective from June 1, 2020 and it remains in effect until the President terminates it.
According to the Secretary of State, Mr. Pompeo "The President's proclamation suspends the entry into the United States of any People's Republic of China national seeking to enter the United States pursuant to an F or J visa to study or conduct research in the United States, except for a student seeking to pursue undergraduate study, where the individual's academic or research activities are likely to support a PRC entity that implements and supports the Chinese Communist Party's (CCP) "military-civil fusion" strategy."  
We would like to share a YouTube video by Arda Beskardes, an Attorney-at-Law, who discusses the latest immigration situation. 
For the details regarding the proclamation, please see links below:
https://www.whitehouse.gov/presidential-actions/proclamation-suspension-entry-nonimmigrants-certain-students-researchers-peoples-republic-china/
https://www.nafsa.org/regulatory-information/proclamation-suspending-entry-chinese-students-and-researchers-connected-prc
https://thepienews.com/news/china-students-us-military-links/?mc_cid=ed694f7c3f&mc_eid=ea8e90bd13​
We will keep sharing updates with you as we receive them.
Stay safe!
OISSS Update 4/1/2020
The Department of International Student & Scholar Services continues to operate remotely.  For your convenience we have set up a Virtual Front Desk. Copy the link below, or call the phone number provided, to visit our Virtual Meeting Room and we will be there to answer your questions.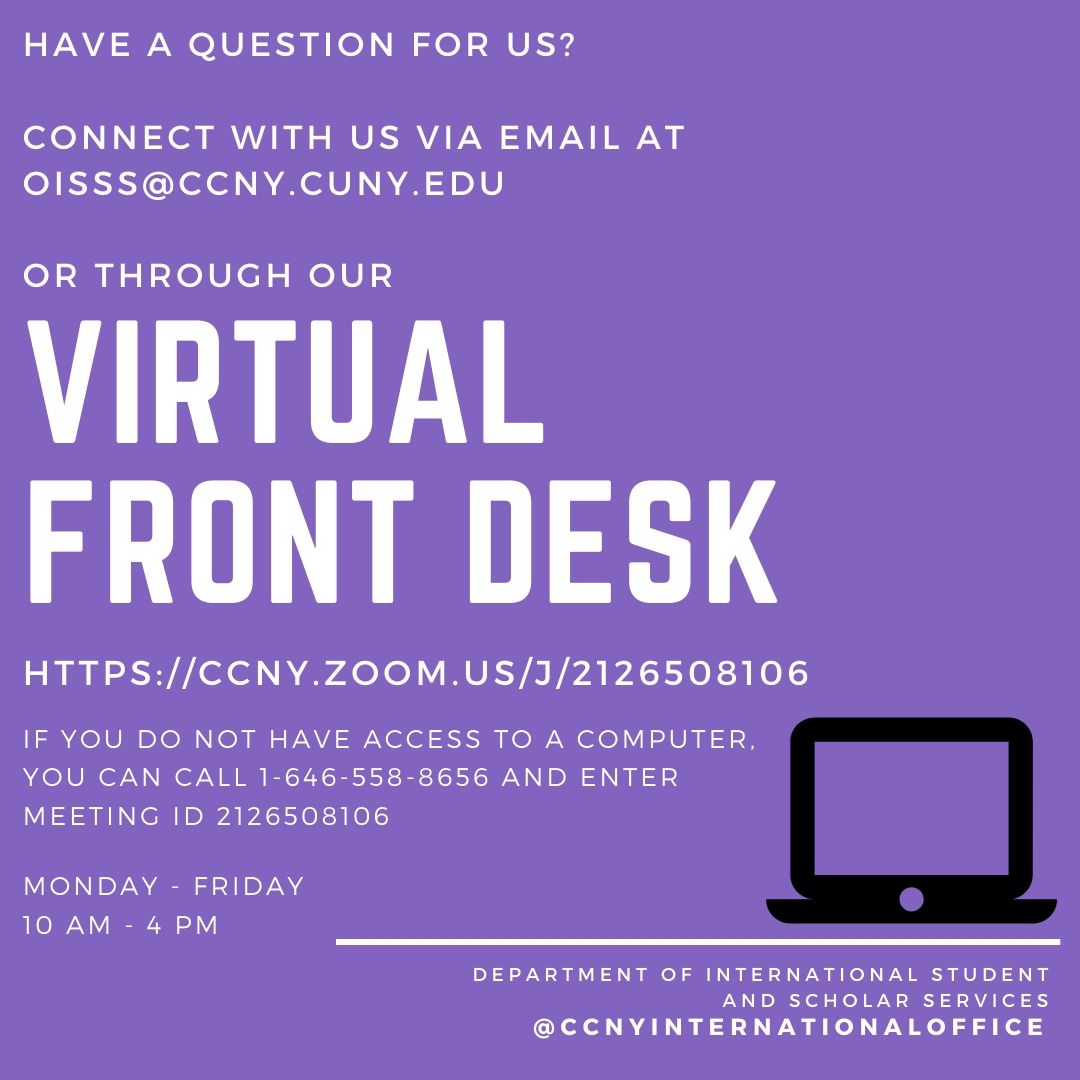 OISSS UPDATE 3/24/2020
Dear Students and Exchange Visitors,
We hope that you are all staying safe during this crisis. As a reminder the staff of the Department of International Student and Scholar Services is working remotely until further notice.
We want to make sure that you know that we are still maintaining your SEVIS records and that we will continue to update you on any changes that impact your status.  For now, DHS has allowed all students who are enrolled in online courses, whether in the U.S or in their home countries to remain in status. 
For F-1 students who plan to travel and are in need of a travel signature, please be advised that we are no longer able to provide travel signatures prior to your departure.  We ask those who plan to travel to send an email to oisss@ccny.cuny.edu with the subject line COVID-19:  F-1 TRAVELING HOME.  The e-mail should include your full name, EMPL ID and SEVIS number, date you will travel and country you will travel to.  Once you are ready to return, you will need to contact us and let us know, at that time we will mail you a new I-20 form with the travel signature.  As a reminder, if your I-20 form was signed within the last 11 months, you do not need to obtain a new signature.  
Exchange visitors holding J-1 visas who are planning to leave the United States, may leave and once ready to return email us at oisss@ccny.cuny.edu to request an updated DS-2019 with the travel signature to be sent to your address abroad.​ I also ask that you e-mail us prior to leaving and that you include in the e-mail, your full name, SEVIS number, country you will be traveling to and address where you will be staying.  Please indicate in the subject line of your email COVID-19:  J-1 TRAVELING HOME. 
​Please keep in mind that in order to return to the United States you will need a valid visa, if the visa has expired, you will need to apply for a renewal at the American Embassy abroad.  
​Thank you for your patience and again reach out to us at oisss@ccny.cuny.edu if you have any further questions or concerns.
International Student and Scholar Services
For information on the Coronavirus, click on the links below:
https://www.cuny.edu/coronavirus/
https://wwwnc.cdc.gov/travel/notices
https://travel.state.gov/content/travel/en/traveladvisories/traveladvisories.html/
Traveling to New York during COVID-19
https://coronavirus.health.ny.gov/travel-large-gatherings-and-quarantines#quarantines
https://coronavirus.health.ny.gov/home
https://coronavirus.health.ny.gov/system/files/documents/2020/04/doh_covid19_faqs_updated_041720_2.pdf
https://coronavirus.health.ny.gov/covid-19-travel-advisory#restricted-states
As you may know we are closely monitoring any immigration changes regarding Covid-19. We would like to share a YouTube video by Arda Beskardes, an Attorney-at-Law, who shares the latest immigration updates about this very fluid situation on his account.
Please subscribe to his account to get the most recent immigration news that may impact you.
ATTENTION FALL 2020 NEW STUDENTS
All new International Students are required to report your arrival into the U.S. to our office. Due to COVID-19 all reporting will be done electronically. Students must complete the Student Contact Sheet, and submit copies of their passport, visa, and a printout of the I-94 to oisss@ccny.cuny.edu . 
The form I-94 is available by inputting your passport information in the link below.
https://i94.cbp.dhs.gov/I94/#/home
AS INTERNATIONAL STUDENTS YOU ARE REQUIRED TO REGISTER FULL TIME
12 CREDITS UNDERGRADUATE
9 CREDITS GRADUATE
7 CREDITS PH.D
Also, in order to maintain matriculation you must be physically present within the United States
Immigration Updates
Immigration tips in times of uncertainty 
For DACA students who have reached our page, please click on this link for information specific to your status.
CONTACT INFORMATION
Maribel Morua
Director
North Academic
Center Room  1/107
160 Convent Avenue New York, NY 10031
p: 212.650.8106/8107
f: 212.650.5833
e:  oisss@ccny.cuny.edu