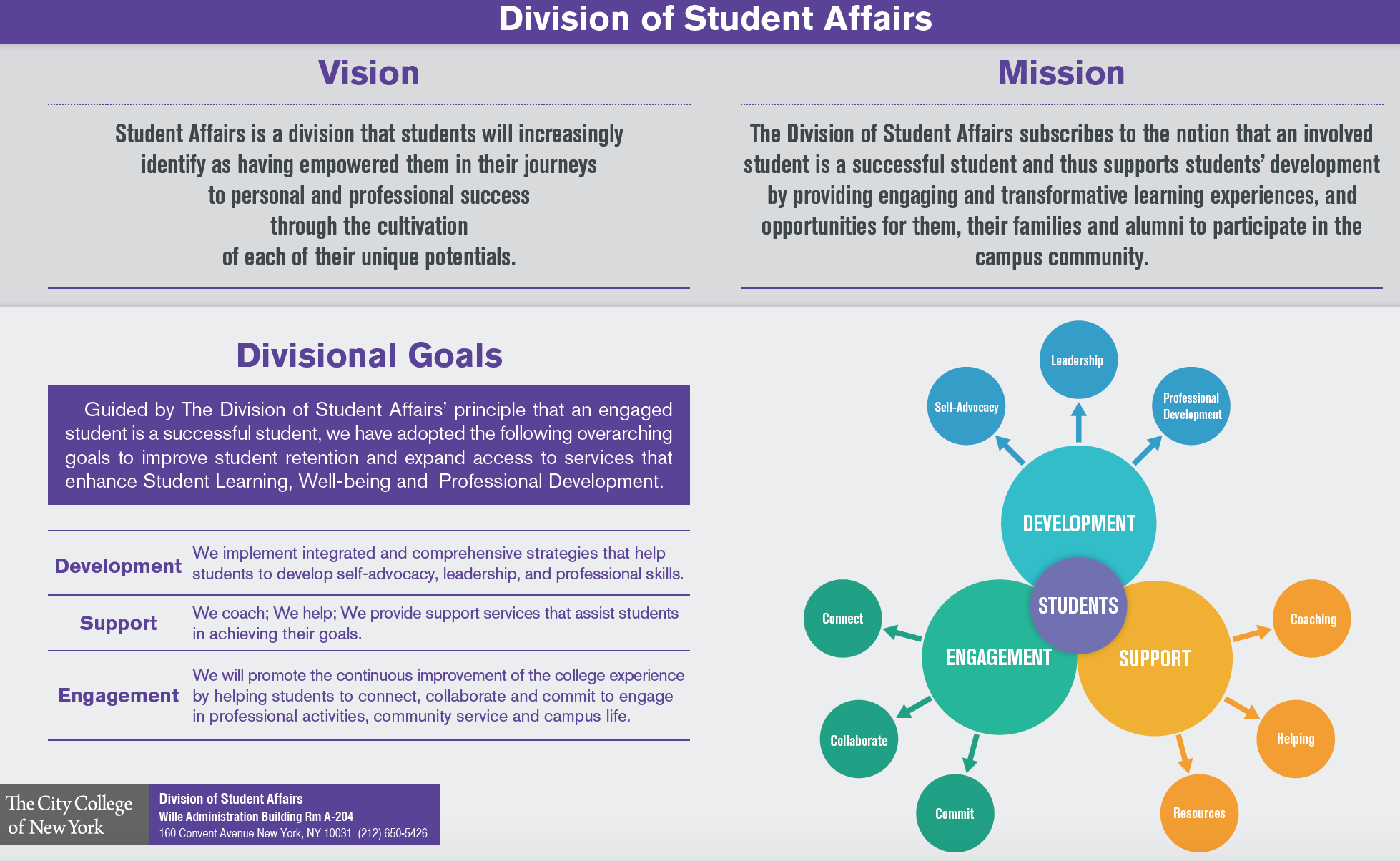 The Division of Student Affairs is composed of a group of seasoned professionals and students who strive to provide the City College community with an exceedingly rewarding college experience. "Students First!" is our philosophy.
The Division of Student Affairs offers a diverse range of support services that contribute toward our students' success. Our programs and services complements and enhances the overall educational college experience.
Professional and leadership development is an integral part of the Student Affairs perspective that embodies all that we do.
AccessAbility Center (Disability Services) The AccessAbility Center/Student Disability Services (AAC/SDS) ensures full participation and meaningful access to all of The City College of New York's (CCNY) services, programs, and activities in compliance with the Americans with Disabilities Act of 1990, The Amendments Act of 2008, Section 504 of the Rehabilitation Act of 1973, the Fair Housing Act of 1968, and other applicable Federal, State, and local non-discrimination laws.  AAC/SDS accomplishes this goal through the coordination and implementation of academic adjustments, auxiliary aids, and support services for students with disabilities.  The Center actively works toward full inclusion and the removal of access barriers in policies, procedures, and practices.  AAC/SDS engages in increasing disability awareness among members of CCNY community through workshops, trainings, and the dissemination of literature. 
Athletics The mission of the City College of New York Athletic Department is to provide an environment where student-athletes can excel academically, athletically and personally and attain a level of success that can be transferred to every facet of their growth as human beings. 
Career Professional Development Institute To provide individual as well as programmatic services to students from their freshman year to senior year to help them develop their professional identity that can result in career focused full-time employment at the time of graduation.
Center for Worker Education The Office for Student Affairs will provide supportive, caring, student services that will result in a more satisfied, engaged and successful student. Our goal is to empower students to achieve their educational, career and life goals by creating a more caring and engaging student life experience through innovative, integrated and comprehensive programming and individualized services.
Counseling Center In line with City College's vision of access to excellence, it is the mission of the Counseling Center to provide high quality counseling services that are accessible to all City College students.  We provide short-term, student-centered and culturally informed psychological services from a modern and integrative theoretical orientation, treating all students with respect and recognition of their unique strengths.  We are a liaison to the community, linking students to more intensive and longer term services when needed. We are committed to supporting faculty in the identification of students who may benefit from our services and reaching students in need.  We provide education to the City College community and work towards wellness and prevention in our outreach models. Our goal is to assist students in the resolution of any barriers that may hinder their ability to achieve their highest academic potential, while ensuring their mental health needs are met, regardless of ability to pay.
Emergency Grants The Emergency Grants Program  provides assistance to students in good academic standing who are facing unforeseen events, resulting in a financial emergency that jeopardizes their ability to persist at City College. The goal of the fund is to help students remain in school without interruption so they successfully complete their degrees.
Gender Resources The mission of Gender Resources is to provide education, outreach and resources to City College students on gender and sexuality.  Core to this mission is the building of strong campus and community partnerships with the goal of strengthening services for the LGBTQIA community, survivors of sexual assault, intimate partner violence, stalking, dating and interpersonal violence. Gender Resources provides direct confidential clinical services and resources to all City College students while promoting gender equity. 
Office of Community Standards Academic communities exist to facilitate the process of acquiring and exchanging knowledge and understanding, to enhance the personal and intellectual development of its members, and to advance the interests of society. In order to realize its purpose, the College and its members must be free from personal injury or harm; bias or harassment; intimidation or coercion; damage or loss of property; disruption of educational and social activities; unreasonable interference with the exchange of concepts and ideas; and unreasonable interference with the administrative and supporting services offered by the College.  Accordingly, all student members of the College community are expected to conduct themselves in a manner that demonstrates mutual respect for the rights and personal/academic well-being of others, preserves the integrity of the social and academic environment, and supports the mission of the College.  The College has an inherent right to address behavior that impedes, obstructs, or threatens the maintenance of order and attainment of the aforementioned goals by violating the standards of conduct set forth in the University student conduct policies noted below as well as other policies that may established by the respective Schools, Global Sites, and administrative offices of the University. 
Office of International Students and Scholar Services The Office of International Student and Scholar Services assists students and scholars who are not permanent residents in the United States with a variety of immigration, academic, counseling and advising support services. The office also assists with the acculturation process through workshops, literature, one on one advising sessions and active advocacy.
Office of Veterans Affairs The Office of Veterans Affairs (OVA) is committed to recruiting, enrolling and retaining veteran students. The OVA will work in collaboration with the various offices on campus including student affairs, admissions, disability services, financial aid, registrar, wellness and counseling center and affirmative action to assist veterans in becoming acclimated to college life while obtaining veteran educational benefits and other available resources.
Recreation and Campus Fitness​  The mission of the Department of Recreation and Campus Fitness is to provide opportunities for participation in quality recreational and sports activities that address the recreational and athletic needs of the City College community.
Student Health Services Student Health Services (SHS) is committed to delivering quality care. Clinical services provided by Registered Nurses are free and confidential to all currently enrolled CCNY students. 
Student Life and Leadership Development The Department of Student Life and Leadership Development is responsible for promoting extracurricular and co-curricular programs that complement and enhance activities, each student's academic experience and personal organizations. Student Life assists in the coordination of all the club activities that promote the academic experience as well as create student leaders making for a well-rounded graduate. Our department works closely with 200+ student-run organizations, formulating and recommending policies in conjunction with both the undergraduate and graduate student governments. The development of student leaders in collaboration with academic departments helps our students be responsible and be prepared as professionals. 
Undergraduate Student Government Our mission is to serve as representatives on behalf of the students to the faculty and administration of the college, and to the persons or groups outside of the college whenever such representation is called for. We are also here to promote the development and organization of the City College community, financially supporting student organizations, representing student interest, and advocating for student rights.
Graduate Student Council The Graduate Student Council is the governing body of the graduate students at the City College. We represent the interests of all graduate students and function as a liaison between the graduate student body and the College's administration.
Celia P. Lloyd
Vice President Student Affairs & Enrollment
Wille Administration Building
Room A 204
160 Convent Avenue
New York, NY 10031
p: 212.650.5426
f: 212.650.7080