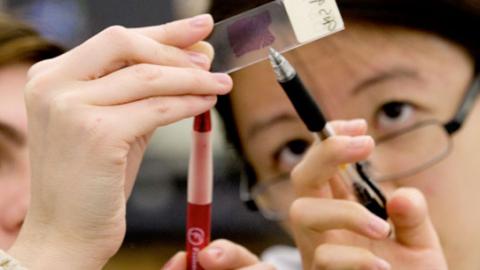 Using light to control the spin of an atom's nucleus to move us closer to ultrafast quantum computing… finding a link between diabetes and Alzheimer's …discovering the connection between the prevalence of obesity and the supermarket economy… commercializing the City-Climber, a mobile robot capable of climbing walls and running alone ceilings…exploring the role of online dating in building lasting relationships… treating those with PTSD and addiction… developing a new aspirin to fight cancer… and electronic stimulation to combat migraines…These are just a few of the most recent exciting discoveries of City College faculty.
As City College transforms itself from a master's to a doctoral institution, a significant research agenda is intrinsic to all departments and programs. The Grove School of Engineering, the Division of Science, and the CUNY School of Medicine are leading the way in bringing in external research funding in the areas of biomedical science and engineering; environmental science, climate change and remote sensing; macromolecular assemblies and structural biology, materials science and nanotechnology; neuroscience; photonics; and sustainable energy. These are buttressed by traditional and emerging strengths in transportation and infra- structure, computer networks and communications, robotics, computational and theoretical physics, and cellular and molecular biology. Significantly, the number of faculty members across the College's schools and divisions who involve undergraduate students in their research has made City College the largest undergraduate research program in the New York metropolitan area.
Last year City researchers brought in more than $59 million in externally funded programs. New York State has invested nearly a billion dollars in two new state-of the-art research centers that are scheduled to open in 2014 on City College's South Campus: The CUNY Advanced Research Center and the City College Center for Discovery and Innovation. 
College-wide Research Vision Initiative
The Office of Research of the City College of New York announced on October 1, 2021 a competition for seed funding and invites the CCNY community to harness paradigm shifting fundamental research to address challenging real-world problems by connecting diverse disciplines, techniques, and ways of thinking.  To achieve these objectives, faculty from different disciplines must share knowledge, ask questions from multiple angles, collaborate on research, and tear down academic barriers. The College-wide Research Vision (CRV) aims to remove academic silos and foster research that addresses the toughest questions facing humanity and that has practical implications for New York City, the nation and the world.  CRV will support researchers as they form inter-divisional teams tasked with investigating urgent issues, the results of which will have direct impact.  We are looking for work that may portend solutions attainable in less than a decade.  These projects must be rooted in collaboration to produce practical solutions to social, environmental, economic, cultural, political and humanitarian challenges. The collaborative team must commit to seek funding to grow and sustain the effort during and after an initial three-year period of internal funding. For more details and timeline of this initiative, please visit The College-wide Research Vision (CRV) page.