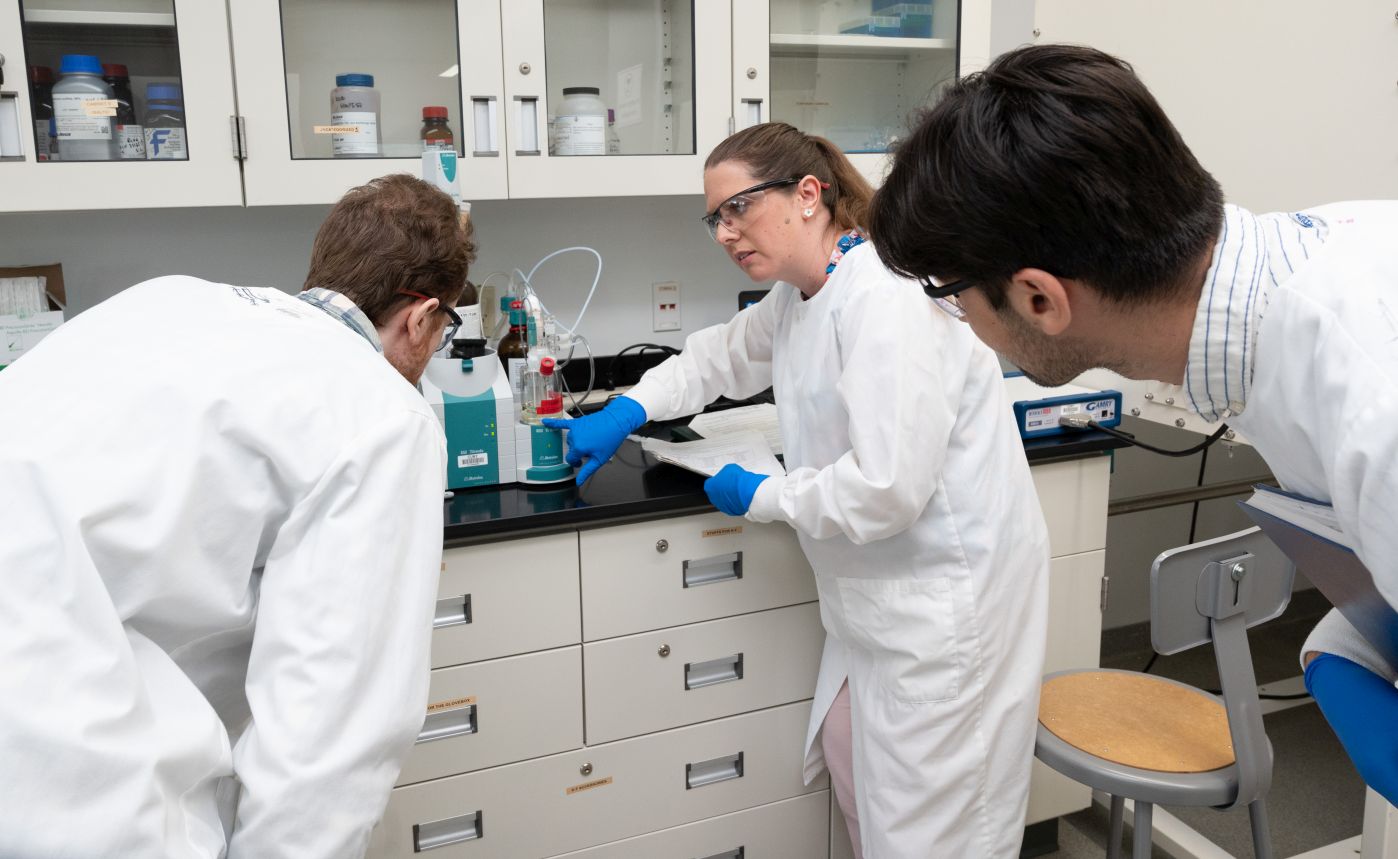 Research at the City College​
Home to eight schools and divisions, CCNY is dedicated to the advancement of research and knowledge discoveries.
---
CCNY is well-known for its earth sciences, remote sensing and energy research. Its NOAA-CESSRST program is a Cooperative Science Center (CSC) funded by NOAA to educate and train a diverse cadre of students and early career scientists and engineers to become highly competent professionals in NOAA related STEM sciences. NOAA-CESSRST involves faculty and researchers from across engineering and science. The CUNY Energy Institute located at CCNY is to create a better energy future for the society by accelerating a just global energy transition to net zero by Attracting, developing and equipping the diverse future energy workforce, Informing energy decision-making through convening expertise and advice, and Enabling industry and consumers to make energy lower carbon, safer and more efficient. CCNY strives to develop better batteries for energy storage, smart grids for more efficient and resilient energy infrastructure and advanced technologies to address global warming challenges. Collaborations across engineering, physical sciences and social sciences at the City College, faculty members from the Grove School of Engineering, Division of Science, School of Architecture, Division of Humanities and Arts, led by Dr. Yana Kuchev, an assistant professor of sociology from CCNY's Colin Powell School for Civic and Global Leadership, embark together on a CCNY-funded research initiative called the "College-wide Research Vision Initiative" (CRV) to conduct interdisciplinary research that provide forward-looking views and identify new opportunities at the forefront of research and innovation. This CRV-2022 project titled "Energizing Equity: Co-creating Scalable Urban Resilience via Climate Solidarity" is to answer a framing question: Imagine if solidarity surrounding climate actions were leveraged to reimagine and co-create a future for New York City?
In quantum research, researchers at the Division of Science and Grove School of Engineering are hard at work to develop advanced materials, better understanding of photonics, novel quantum computing algorithms and control of the spin at the atomic level. In cybersecurity, Grove School of Engineering faculty and students are in pursuit of technologies to identify threats and secure network security. Research teams across various disciplines at CCNY are either applying Artificial Intelligence technology or developing better algorithms to their research fields, such as developing better biosensors or more capable robotic devices in assistive living technologies. CUNY School of Medicine, Division of Science, and Grove School of Engineering at CCNY are leading the charge in discoveries in life sciences, from spinal cord injury, neuroscience and engineering, to cardiovascular engineering and musculoskeletal biomaterials.

Cyber-physical systems, autonomous navigation, 3D simultaneous localization and mapping as well as assistive living and swarm robotics are part of CCNY's robotic research efforts, led mainly by the engineering faculty members in GSOE. Transit-related and infrastructure research for transportation are part of the engineering research focus by the CUNY  Institute For Transportation Systems (CITS) and the University Transportation Research Center (UTRC) at CCNY

These are only a fraction of research activities at the City College.  In addition, the number of faculty members across the College's schools and divisions who involve undergraduate students in their research has made City College the largest undergraduate research program in the New York metropolitan area. The City College of New York is an R2 University:  Doctoral Universities – High research activity in the Carnegie Classification, and a designated Minority-Serving Institution (MSI) and a Hispanic-Serving Institution (HSI).
Contact Information
Dr. Rosemarie Wesson
Associate Provost for Research
Ms. Yvette Duran
Research Manager/Administrator
Administration Building, Room 218-F
160 Convent Avenue
New York, NY  10031