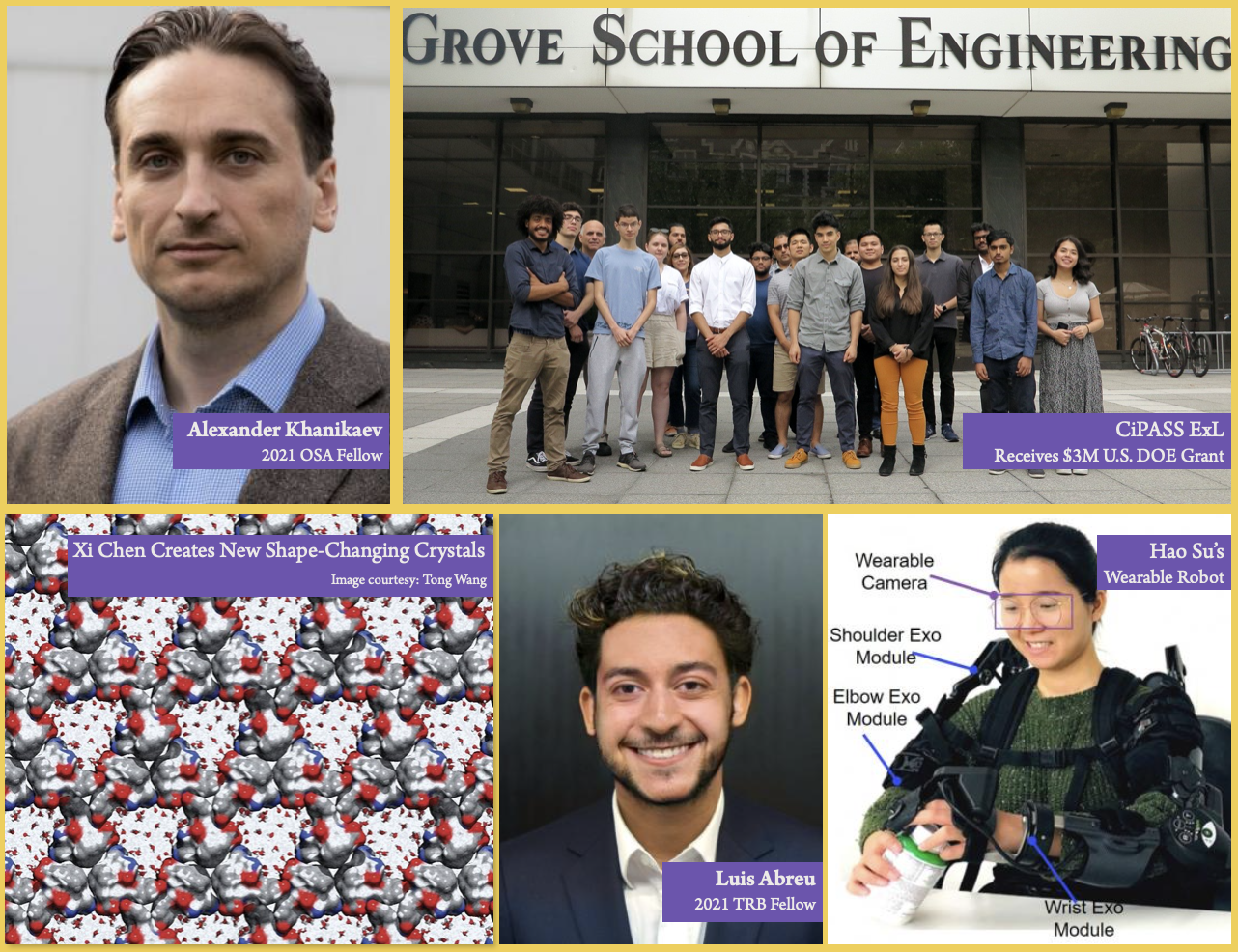 .............................................................................................................................................................................................
The future is engineered here.
Grove engineers are applying innovative solutions to the greatest challenges of our times.  Whether you are just beginning your undergraduate career or finishing up your doctorate, at the Grove School of Engineering you will work with world-renowned engineering mentors on cutting edge research—no surprise, as Grove faculty oversee 15 research institutes in fields that range from energy and sustainability, nanotechnology, and materials engineering to transportation and remote sensing. These institutes and other labs provide an unmatched training ground for City Engineers in the making.
Long the most popular area chosen by our undergraduates, engineering at City offers students a full complement of degrees—BE, BS, ME, MS, MIS, and PhD—in a broad range of fields.  They also have the opportunity to work with world-class mentors in advanced research laboratories.
Grove supports its students through professional development, student clubs that compete on a regional and national level, and study abroad opportunities that range from our Engineers Without Borders, whose students built a clean water system in El Salvador over several summers, to our membership in the U.S. Global Engineering Education Exchange, which will enable our students to spend a semester or a year at a foreign university.
Coronavirus Response Update - Resources for Students
Coronavirus Response Update - Message to Staff
The Grove School will follow a telecommuting/ work-from-home model that will support the physical distancing proven effective in slowing the spread of the coronavirus until further notice. 
Telecommuting – Action Required
The College requires that we document the plans in place for employees who are telecommuting. All staff members who will be working remotely or on a modified schedule must complete and submit the attached Telecommuting/ Flexible Schedule Request Form to their supervisors. 
Directory Contact Information 
All staff members working remotely are expected to frequently monitor their emails and respond to calls/voicemails. In an effort to ensure that those who attempt to contact us receive a timely response, I ask that you review your contact information in the college directory (name, title and contact information) for accuracy.
Communication
Positive and effective communication will be critical during this shift to remote operation. Please be sure schedule regular check-ins with your supervisors and ensure that all office voicemails are up-to-date. Instruction to check voicemail and set up call forwarding are found below and full telecom instructions can be found here: https://www.ccny.cuny.edu/it/start
Monitor the college and CUNY websites to stay abreast of the latest updates.
Read the latest messages from Interim Dean Couzis here.
To Check Your CCNY voicemail remotely:
1.     Dial into the voicemail system: 212-650-8778  
2.     Follow the prompts to enter your extension number
3.     Enter your passcode
4.     Dial 1 to hear new messages or  5 to listen to saved messages. After the message has been played, follow system prompts for saving, deleting or forwarding the voicemail message.
To setup Call Forwarding (all calls):
1.     Lift the handset or press speaker to receive dial tone
2.     Press the line (extension) that you want to forward calls 
3.     Press the CFA button,  or  #9  if CFA button is not available, and receive stutter dial tone
4.     Dial the internal extension or the outside number to which you want the calls to forward. For outside numbers, include 9-1 area code and number.  (Ex.  cell # (91-646-123-4567) 
5.     Hear a different tone indicating calls are now forwarded and on the phone screen you will see "forward set"
To Cancel Call forwarding  
1.     Lift the handset or press speaker to receive dial tone 
2.     Press the line (extension) that you want to cancel the forwarding on
3.     Press CFA key or *9 if no CFA button available 
......................................................................................................................................................................................................................................................................
Alexander Couzis, Professor of Chemical Engineering (1994 - Present), was named Interim Dean of The Grove School of Engineering effective July 1, 2020. He succeeds Dr. Gilda A. Barabino who was appointed Olin College of Engineering's second president.
Read more about Interim Dean Couzis here: www.ccny.cuny.edu/engineering/interim-dean
Welcome Message from Interim Dean Alexander Couzis
Dear Colleagues, Students, Alumni and Friends,
I am honored and humbled to have been appointed interim dean of The Grove School of Engineering at The City College of New York, during so perilous a moment in our city's history. It was only 100 days ago that the world shifted beneath our feet. Our resilience will continue to be tested, and these new challenges will demand the best of us. Great obstacles lie ahead, yet I am confident that together, with the work of our faculty, staff, students, alumni, partners, and friends, we will persevere and reaffirm our shared mission and values.

I want to thank Dean Gilda Barabino for her thoughtful leadership, vision, and transparency. Under Dean Barabino's leadership enrollment reached at an all-time high even as CCNY had been forced to make do with budget cuts. Despite these odds, The Grove School of Engineering improved retention and graduation rates, developed new and innovative programs, and moved up in rankings. As interim dean, my goal is to build on that momentum and use our collective talents to navigate through a new reality for engineering education in a post-COVID-19 world.

I joined the CCNY School of Engineering faculty in 1994. From 2008 to 2013 I served as the Chair of the Department of Chemical Engineering. During that time, we accomplished great things at CCNY: we secured ABET accreditation, founded the CUNY Energy Institute, and completed a multi-million-dollar capital project that upgraded laboratory space for teaching and research. In 2013, I took a five-year hiatus from academia to help establish a clean energy start-up, Urban Electric Power (UEP), that spun-off from our research work at CCNY. As CEO and CTO of UEP, we secured over $20M in funding and grew from five engineers to a company of more than 30 with a 40,000 sq ft pilot manufacturing plant in Pearl River, NY.

Since returning as faculty in 2018, I have spent much of my time listening to students, colleagues, and alumni, to reacquaint myself with the college's ongoing evolution, and to better understand their experiences, expectations, and hopes for the direction of the school. I've learned that it's our shared desire to thrive, to build on this rich history, and develop an inclusive community of faculty and student scholars.

I look forward to working with each of you as we continue to navigate the many challenges with an unwavering spirit of practicality, innovation, and optimism. There will be challenges ahead, but our work at The Grove School of Engineering is now more critical than ever. I am inspired by this opportunity, and I hope you'll share your thoughts insights and recommendations in the days to come.
Sincerely,
Alexander Couzis, PhD
Interim Dean of The Grove School of Engineering 
Departing Message from Outgoing Dean Gilda Barabino
Dear Grove School Community, Alumni and Friends,

Despite being in the midst of a global pandemic and a period of unrest across our nation in response to persistent inequities, I write this final communication as dean of The Grove School of Engineering with a great sense of hope for our future—not only for us as individuals, but for us as a society and for us as the Grove School Community. While moving on to serve as president of Olin College of Engineering, I will forever remain part of the Grove School Community.
 
I am immensely grateful for the privilege of having served as dean of the Grove School and for having had the opportunity to lead such a dedicated, driven and resilient faculty, student body, and administrative staff.  Since my arrival in 2013, under my leadership, we have doubled the rate of retention of our students; implemented new graduate programs in translational medicine, data science and engineering and cybersecurity; increased partnerships with the Harlem community; enhanced our research footprint; and led the nation in the production of work ready engineers from diverse groups. We are the only public school of engineering in the city of New York and we have a 100-year history of undergirding the city through contributions from Grove engineers.
 
Throughout the past century and during these unprecedented times, The Grove School of Engineering has carried on in serving its mission to provide a readily accessible and high quality education while also stepping up to address our society's most pressing challenges.
 
My words alone could not do justice the actions of our faculty, staff and students. Each remarkably stepped up, doing what engineers do, adapting, learning, and problem solving. We managed to transition a fully face-to-face instruction and service operation to a remote one that ensured continuity of education and service, with some difficulty, but with much dedication, cooperation, and grace.
 
Faculty and students alike stepped up in response to combat Covid-19, which included making PPE for healthcare workers; shifting the production of a private company to produce hand sanitizer; developing technology to help address the anticipated ventilator shortage; and helping set up the mobile medical facilities; and, more recently, with contact tracing. Then the death of George Floyd flooded our television screens and was plastered across the front pages of newspapers and magazines shinning a light on the harsh reality of racial inequity and health disparities—topics that I have spent my entire career bringing to the forefront, especially as they apply to STEM and higher education. Here, our community stepped up again, many joining peaceful protests and others in leading the conversations on our role as the only public school of engineering in NYC.
 
With social distancing measures in place, we were unable to hold our traditional commencement exercises however this in no way diminished the accomplishments of the class of 2020. If you have not yet done so, I encourage you to view the virtual GSOE Class of 2020 Graduation Celebration. Class of 2020, during the most trying of times you achieved what you set out to do, congratulations! I have seen the power of building – and maintaining – strong connections, I encourage you to become involved with the Engineering School Alumni and stay connected with us on LinkedIn.
 
I am pleased to be succeeded by my colleague and good friend Professor Alexander Couzis who has been appointed as interim dean. As a member of the City College chemical engineering faculty since 1994, few know the college and the Grove School as Alex does, and those who know him, know I leave the school in more than capable hands.
 
I will end by noting what anyone who has ever heard me speak of the school has undoubtedly heard me say, here at the Grove School, human capacity is our greatest strength—our talent is boundless and our resilience is unmatched. The impact of our students, faculty, and staff extends far beyond the confines of our walls, more evident than ever in these past few months.
 
Thank you for being part of our Grove School family—and thank you for accepting me as one. I will forever hold a special place for Grove in my heart. Continue transforming the city, the nation, and the world.
 
With gratitude and best wishes to all,
 
Gilda A. Barabino, PhD
Dean
Daniel Berg '50 and Frances Berg Professor
Steinman Hall
160 Convent Avenue
New York, NY  10031