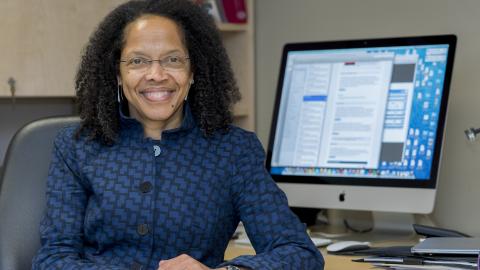 Coronavirus Response Update - Resources for Students
As part of The City University of New York's response to the COVID-19 pandemic, all students shall have the option to convert any or all of the (A-F) letter grades they earn in their classes, during the spring 2020, to Credit/No Credit grading.  
Before choosing this grading option for one or more of their classes, students will consult with their academic and financial aid advisors regarding potential impact to their financial aid, licensure requirements, and graduate school admissions.
Students will be able to make this decision up to 20 business days after the University's final grade submission deadline or the date of actual grade posting, whichever is later.
A passing letter grade will convert to 'CR' with credit for the class being awarded, while a failing grade will convert to 'NC', with no credit awarded.  Credit/No Credit grades will not impact the student's GPA.
Students with Credit/No Credit grades will be able to transfer those courses across colleges within CUNY, per current policy.
This policy will override all program-level grading policies currently in effect at CUNY institutions, including those related to courses within the major, pre-requisite courses, honors courses and maximum number of credits that a student can earn with Credit/No Credit grades.
The grade glossary, attached to each transcript, will be updated to include a notation denoting that Spring 2020 grades, including CR or NC, were earned during a major disruption to instruction as a result of the COVID-19 pandemic.
This policy was approved by the CUNY Board of Trustees at their March 30, 2020 meeting. It is effective on April 1, 2020 and applies to all CUNY institutions except the School of Law and the School of Medicine, which will implement their own Pass/Fail policies to conform to norms in legal and medical education.  The University Provost has discretion to extend this policy to future terms if indicated.
 
View Complete Credit/No Credit Policy

View Credit/No Credit FAQ
Coronavirus Response Update - Message to Staff
Following is Dean Barabino's communication to all GSOE staff (March 18, 2020).
I'd like to start off by thanking you for the level of support and professionalism you've exhibited since the onset of what is now known as the COVID-19 pandemic. I saw many of you earlier this week in what was a clear effort to ensure the continuity of services to our students and our colleagues—and I know several more began their transition to support distance learning efforts and a telecommuting work model. 
As we continue to work together to navigate through this crisis, I want to provide a brief update on how the Grove School will operate and the steps we need to take in order to be successful. 
The Grove School will follow a telecommuting/ work-from-home model that will support the physical distancing proven effective in slowing the spread of the coronavirus until further notice. While the campus remains open, individuals who may need to pickup materials/personal belongings or drop off documents will be able to do so. In the event, documents need to be dropped off, first please be sure to contact the office ahead of time to coordinate when and where the materials should to be dropped off. 
Telecommuting – Action Required
The College requires that we document the plans in place for employees who are telecommuting. All staff members who will be working remotely or on a modified schedule must complete and submit the attached Telecommuting/ Flexible Schedule Request Form to their supervisors. The completed forms, which require supervisor approvals, must then be emailed to Grove@ccny.cuny.edu  by 3pm today, March 18th for the Dean's approval. This form will need to be completed for each week that the telecommuting schedule is in effect.
Directory Contact Information 
All staff members working remotely are expected to frequently monitor their emails and respond to calls/voicemails. In an effort to ensure that those who attempt to contact us receive a timely response, I ask that you review your contact information in the college directory (name, title and contact information) for accuracy. Please send any corrections to Tannan Wilson ( twilson1@ccny.cuny.edu ) who will compile and submit a list for updating.
Communication
Positive and effective communication will be critical during this shift to remote operation. Please be sure schedule regular check-ins with your supervisors and ensure that all office voicemails are up-to-date. Instruction to check voicemail and set up call forwarding are found below and full telecom instructions can be found here: https://www.ccny.cuny.edu/it/start
It has come to my attention that some email broadcasts are sometimes delayed or not received by all GSOE staff members, so I ask that you monitor the college and CUNY websites to stay abreast of the latest updates.
I recognize these unprecedented times are stressful and anxiety inducing for many of us and I encourage us all to be patient and compassionate with one another. Thank you once again for your service and commitment to our students and our mission. Please reach out to your supervisors if you have any questions and feel free to reach out to me if any uncertainty remains.
Thank you and above all stay safe.
Gilda A. Barabino, Ph.D..
Dean of Engineering 
Daniel and Frances Berg Professor
The Grove School of Engineering
The City College of New York
To Check Your CCNY voicemail remotely:
1.     Dial into the voicemail system: 212-650-8778  
2.     Follow the prompts to enter your extension number
3.     Enter your passcode
4.     Dial 1 to hear new messages or  5 to listen to saved messages. After the message has been played, follow system prompts for saving, deleting or forwarding the voicemail message.
To setup Call Forwarding (all calls):
1.     Lift the handset or press speaker to receive dial tone
2.     Press the line (extension) that you want to forward calls 
3.     Press the CFA button,  or  #9  if CFA button is not available, and receive stutter dial tone
4.     Dial the internal extension or the outside number to which you want the calls to forward. For outside numbers, include 9-1 area code and number.  (Ex.  cell # (91-646-123-4567) 
5.     Hear a different tone indicating calls are now forwarded and on the phone screen you will see "forward set"
To Cancel Call forwarding  
1.     Lift the handset or press speaker to receive dial tone 
2.     Press the line (extension) that you want to cancel the forwarding on
3.     Press CFA key or *9 if no CFA button available 
......................................................................................................................................................................................................................................................................
The future is engineered here.
Grove engineers are applying innovative solutions to the greatest challenges of our times.  Whether you are just beginning your undergraduate career or finishing up your doctorate, at the Grove School of Engineering you will work with world-renowned engineering mentors on cutting edge research—no surprise, as Grove faculty oversee 15 research institutes in fields that range from energy and sustainability, nanotechnology, and materials engineering to transportation and remote sensing. These institutes and other labs provide an unmatched training ground for City Engineers in the making.
Long the most popular area chosen by our undergraduates, engineering at City offers students a full complement of degrees—BE, BS, ME, MS, MIS, and PhD—in a broad range of fields.  They also have the opportunity to work with world-class mentors in advanced research laboratories.
Grove supports its students through professional development, student clubs that compete on a regional and national level, and study abroad opportunities that range from our Engineers Without Borders, whose students built a clean water system in El Salvador over several summers, to our membership in the U.S. Global Engineering Education Exchange, which will enable our students to spend a semester or a year at a foreign university.
......................................................................................................................................................................................................................................................................
Steinman Hall
160 Convent Avenue
New York, NY  10031