Division Of Science
The Division of Science at City College has a proud legacy and a proud future.  Nine Nobel Laureates studied science and mathematics at CCNY.  World-renowned physicists like Myriam Sarachik, who serves on the governing council of the National Academy of Sciences, and well-known author Michio Kaku teach our students, and distinguished professors conduct cutting edge research on everything from climate change to structural biology to sustainable energy, and everything in between.  City College students, even as undergraduates, have an unprecedented opportunity to work in these labs.  In the past 8 years the Division has produced two Rhodes Scholars and several Goldwater and Truman scholars, as well as graduates who have gone on to the most prestigious graduate schools, supported by grants from the National Science Foundation to pursue their research.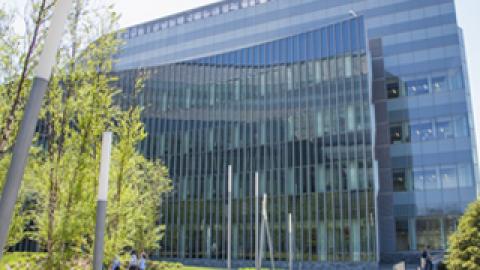 Excellence in Teaching and Research
273
Bachelors Degrees Awarded in 2020
76
Graduate Degrees Awarded in 2020
Latest News from the Division
Read the latest issue of our newsletter "Science Matters"
Presenting the 2021 Valedictorian from the Division of Science
Tzippora Chwat has been named the 2021 Valedictorian from the Division of Science. She is graduating from Macaulay Honors College with a major in Biology and minors in English and Jewish Studies. Tzippora is passionate about research and will attend the Weill Cornell Graduate School of Medical Sciences' Program.
Single Photon Switch Advance
Dr. Vinod Menon's group has demonstrated for the first time the use of "Rydberg states" in solid state materials (previously shown in cold atom gases) to enhance nonlinear optical interactions to unprecedented levels in solid state systems. This feat is a first step towards realizing chip-scale scalable single photon switches.
Dr. Black Studies India's Deccan Traps
To arrive at better estimates of carbon dioxide release from Deccan volcanism that occurred before the Cretaceous-Paleogene mass extinction event, the study's lead author, Andres Hernandez Nava, a CUNY Ph.D. student mentored by Benjamin Black, analyzed tiny droplets of frozen magma known as melt inclusions trapped inside olivine crystals in erupted lavas.
Division of Science Diversity Statement
For over 150 years, The City College of New York has provided access to excellence in the scientific disciplines for the diverse population of New York City, molding sharp minds from all backgrounds into a potent STEM workforce to meet national needs. Today, the Division of Science aspires to ensure a diverse and engaging environment, knowing that the creative energy and innovative insights that result from diversity are vital for the intellectual rigor and social fabric of the College, and are requisite for a highly effective scientific workforce of the future. As a scholarly community, the Division welcomes people of all racial, ethnic, cultural, socio-economic, national and international backgrounds, without regard to religion, age, gender, gender identity, sexual orientation, or political affiliation.
Undergraduate Students
CCAPP Office 
160 Convent Avenue
Marshak Science Building, Plaza Level
New York, NY 10031
p: 212-650-5780
f: 212-650-5773
Graduate Students
Division of Science Office
160 Convent Avenue
Marshak Science Building, Room 1320
New York, NY  10031
p:  212.650.6850
f:  212.650.7948
Main Office
Division of Science Office
160 Convent Avenue
Marshak Science Building, Room 1320
New York, NY  10031
p:  212.650.6850
f:  212.650.7948