If you need to speak to a Division of Science advisor about Fall registration, including removing a hold, please make an appointment using the link on the Office of Student Success website.
Dean's Office Hours:
In person: Monday - Friday 9:00am - 5:00pm (Walk in)
Zoom: Monday - Friday 2:00pm - 3:00pm (Prior registration required.)
Division Of Science
The Division of Science at City College has a proud legacy and a proud future.  Nine Nobel Laureates studied science and mathematics at CCNY.  World-renowned physicists like Myriam Sarachik, who serves on the governing council of the National Academy of Sciences, and well-known author Michio Kaku teach our students, and distinguished professors conduct cutting edge research on everything from climate change to structural biology to sustainable energy, and everything in between.  City College students, even as undergraduates, have an unprecedented opportunity to work in these labs.  In the past 8 years the Division has produced two Rhodes Scholars and several Goldwater and Truman scholars, as well as graduates who have gone on to the most prestigious graduate schools, supported by grants from the National Science Foundation to pursue their research.
Departments
Associated Programs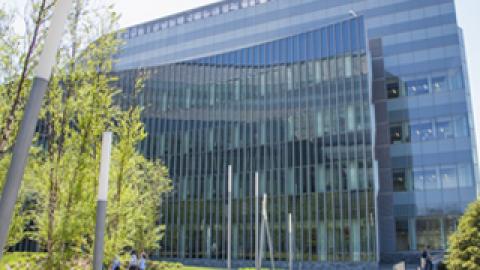 Excellence in Teaching and Research
273
Bachelors Degrees Awarded in 2020
76
Graduate Degrees Awarded in 2020
Latest News from the Division
Read the latest issue of our newsletter "Science Matters"
Chemistry Professor Awarded $1 Million from NSF
A City College of New York project led by biochemist David Jeruzalmi that engages students in DNA repair-related research is the recipient of a $979,864 grant from the National Science Foundation (NSF). The support for the project entitled "Molecular machinery of the bacterial nucleotide excision repair pathway," is over four years.
Biology Professor Wins National Mentoring Award
Biology Professor Mark Emerson recently received an Early Career Mentor Award from the Council on Undergraduate Research. Emerson, whose research is on the genetics of development of vertebrate eyes has mentored several dozen undergraduates in his lab and directs a science outreach program for middle schoolers.
Dr. Teresa Bandosz Appointed Distinguished Professor
A Fulbright Senior Scholar, author of 6 patents and over 400 publications,  Dr. Bandosz has been a member of CCNY Chemistry Department since 1996. Her recent research interests include synthesis of Graphene/ MOF, Graphene/hydroxide composites for separation and energy harvesting applications, visible light photoactivity of carbonaceous materials, energy storage, and CO2 sequestration and reduction, development of carbon  based sensors and ORR catalysts. 
Division of Science Diversity Statement
For over 150 years, The City College of New York has provided access to excellence in the scientific disciplines for the diverse population of New York City, molding sharp minds from all backgrounds into a potent STEM workforce to meet national needs. Today, the Division of Science aspires to ensure a diverse and engaging environment, knowing that the creative energy and innovative insights that result from diversity are vital for the intellectual rigor and social fabric of the College, and are requisite for a highly effective scientific workforce of the future. As a scholarly community, the Division welcomes people of all racial, ethnic, cultural, socio-economic, national and international backgrounds, without regard to religion, age, gender, gender identity, sexual orientation, or political affiliation.
Undergraduate Students
CCAPP Office 
160 Convent Avenue
Marshak Science Building, Plaza Level
New York, NY 10031
p: 212-650-5780
f: 212-650-5773
Graduate Students
Division of Science Office
160 Convent Avenue
Marshak Science Building, Room 1320
New York, NY  10031
p:  212.650.6850
f:  212.650.7948
Dean's Office
Division of Science Dean's Office
160 Convent Avenue
Marshak Science Building, Room 1320
New York, NY  10031
p:  212.650.6850
f:  212.650.7948